Stories
Emily swimming her way to Paris Paralympics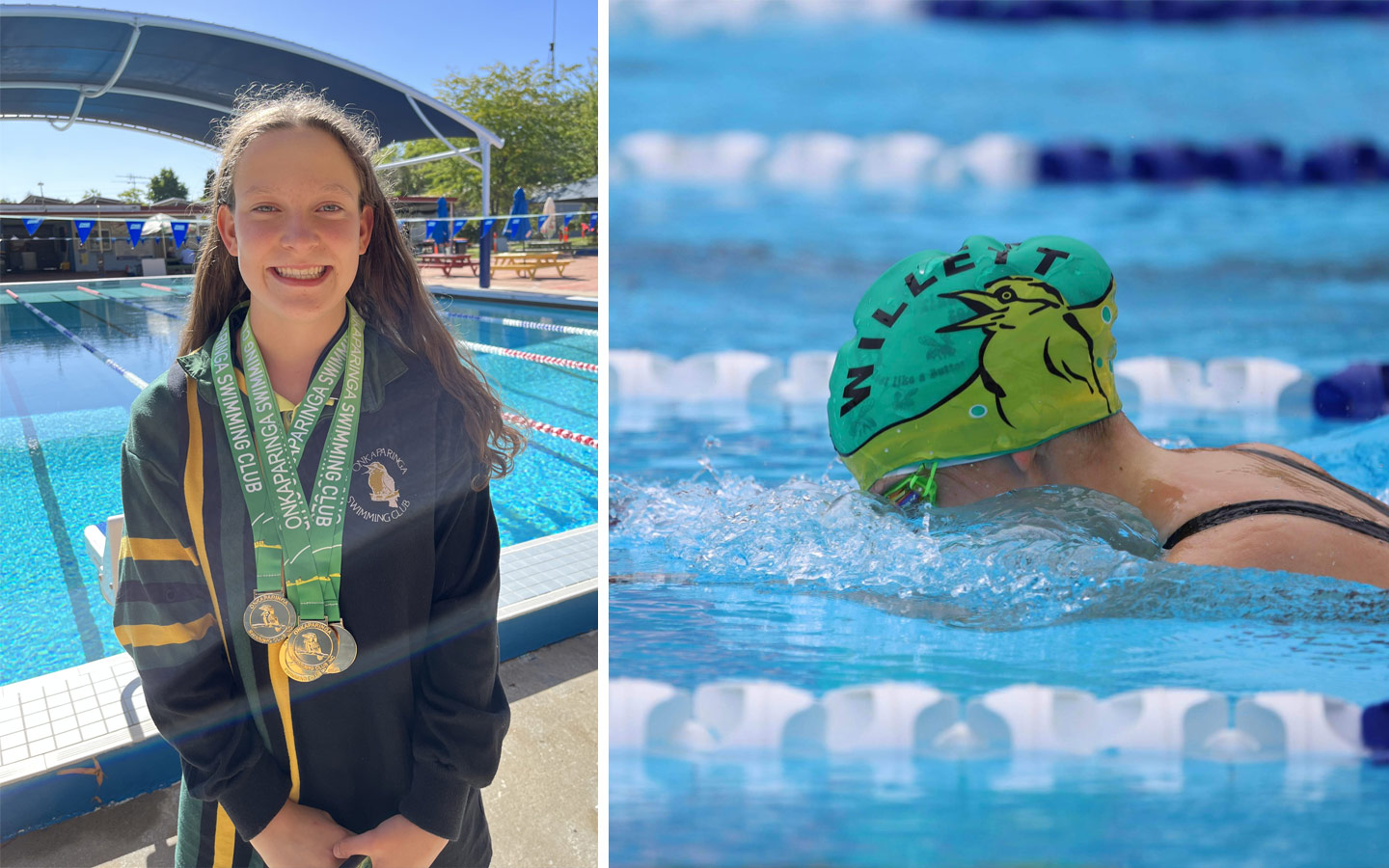 15-year-old Emily Willett has come a long way since starting hydrotherapy sessions with Novita's Hills and Murray Bridge therapy team in 2014.
Emily lives with cerebral palsy, and in those early hydrotherapy sessions anxiety prevented her from putting her head underwater. Today, she is setting personal best times in her favourite swimming events and has a dream to represent her country at the Paralympic Games in Paris in 2024.
Emily's amazing progress saw her nominated by her Novita therapists Jodie McDonough and Jenny Chan for the Michael Wooley Recreational and Sporting Achievement Award in last year's Novita Achievement Awards. The Award recognises a Novita client of any age who has shown determination to achieve in a sporting or recreational capacity.
The nomination stated:
"It took Emily several years to feel comfortable and able to sit on the edge of the pool and lean forward to enter the pool… now Emily has Paralympic classifications and (last April) went to the National Swimming Championships in Queensland and achieved eight personal best times and was a finalist in two events."
Emily's mother Joanne says she started hydrotherapy at an early age.
"There would always be pools where she could not touch the bottom and she never felt safe, so she was very apprehensive to extend herself. She would jump into the pool like a bomb, but she wouldn't float on her back because she thought she would drown," says Joanne.
"We did finally find a pool where she could touch the bottom and therefore, she felt a lot safer, and as she got older her therapists challenged her to do more.
"She now swims for the Onkaparinga Swimming Club in multiple Paralympic classifications. Last year she made the state team and has qualified to swim at the National Age Championships at the SA Aquatic & Leisure Centre at Oaklands Park in April.
"The sky is the limit for her. She is talking about the Paralympic Games in Paris in 2024 – I'm a little apprehensive about that, but she is so determined, and she invests so much of her time into swimming. So, if she's selected, there's no stopping her.
"She said very early on that her body feels free in the water, and her legs don't let her down in the water."
Joanne says Emily has cultivated some close friendships through her swimming.
"She also considers her competitors in her Paralympic classification events to be part of her friendship group as well. The mums and dads in the grandstand clap and cheer for all the multi-class swimmers from other clubs and interstate because we want them to do well and succeed.
"However, Emily won't let anyone come and watch her swim. She gets very anxious knowing that family and friends are watching. She tells us that we can stay home and watch it on TV."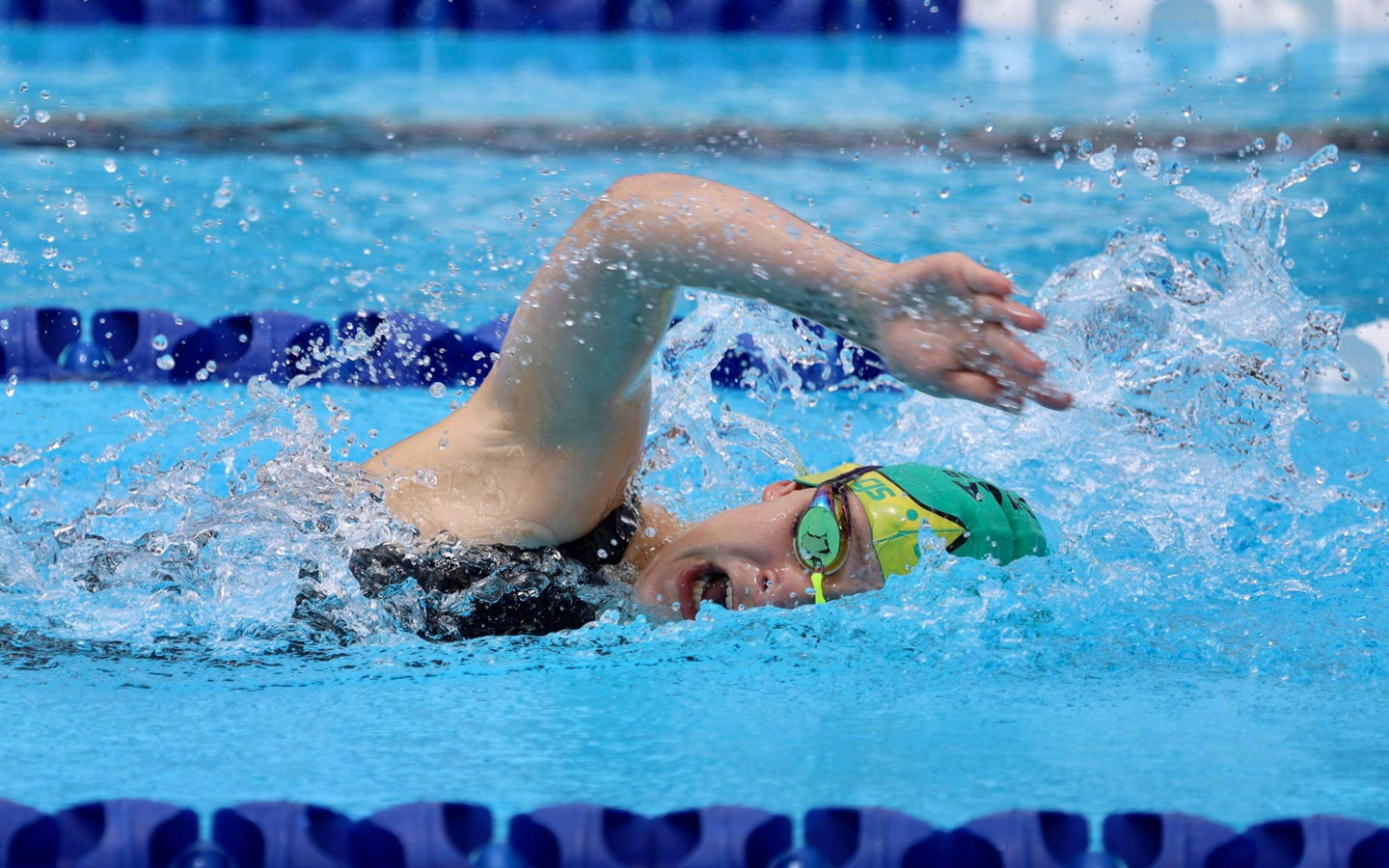 Emily – who has a twin sister – says she became passionate about swimming about four years ago.
"It's quite mesmerising when I look back on it because it has happened so quickly. I never really thought I could excel this far," she says.
Freestyle and butterfly are Emily's main strokes, over 100-metres and 400-metres. Fellow Novita kid and Paralympic swimmer Isabella Vincent (who at just 15 was the youngest member of Australia's swimming team at last year's Tokyo Paralympic Games, winning a silver and a bronze medal) is an inspiration.
"We're quite good friends and being able to see her excel has been quite amazing. We're in the same classification so I have someone to compare my times with and look up to."
Emily says she is training hard for the National Age Championships and to achieve her goal of being selected in the Australian swimming team for the Paris Paralympics.
"It's two times a day, except Friday and Saturday afternoons, and there's no training on Sundays. You must be very dedicated," says Emily.
"I like to spend time with my dog Oscar and my family and friends when I'm relaxing. Rest is also very important.
"My twin sister and I are very different, but we do some things together. We're not in the same class anymore, which is good, but we do swimming together and we used to play netball together until I quit to focus on my swimming."
And what about that 'ban' on family and friends watching Emily when she competes?
"I don't like family and friends coming to watch. That sounds quite harsh, but I don't. When they do come along, I feel like there's a lot of pressure on me, and I need to be in my zone, which is a place just for me and my coach. The swimming pool is my world."
You can find out more about Novita's hydrotherapy services here.
If you would like to speak to us about hydrotherapy, contact our Customer Experience Team on 1300 668 482 or email services@novita.org.au
More information about the National Age Swimming Championships in Adelaide is available here. More information about the Onkaparinga Swimming Club is available here.