News
Novita's Murray Bridge team supports Jemma's Paralympic dreams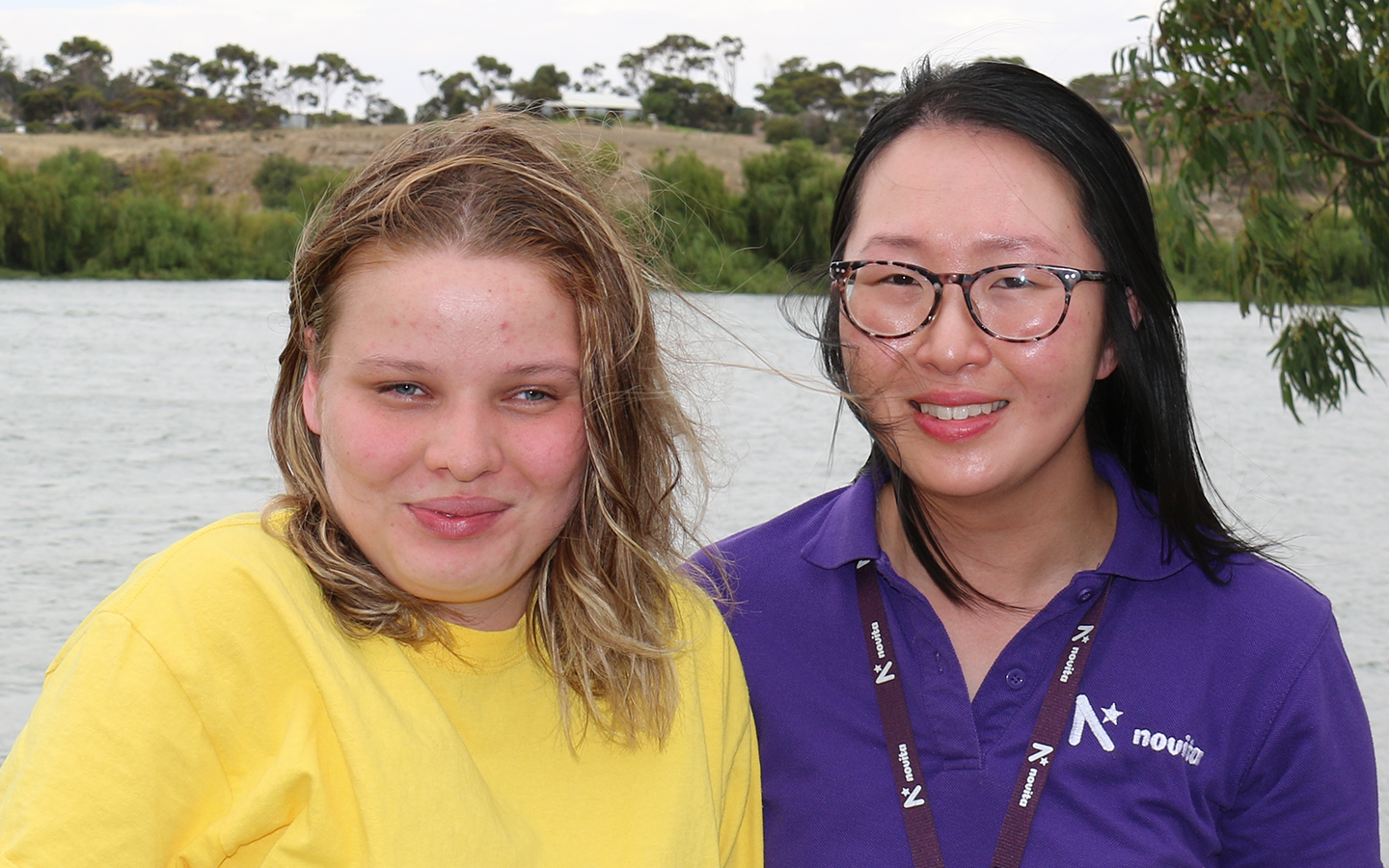 Novita's Murray Bridge team is supporting 24-year-old Jemma Lee to achieve her goal of representing her State and country in para-athletics.
Jemma lives with cerebral palsy, and was a long-term Novita client during her childhood. Today she is benefitting from Novita's therapy services for adults.
Jemma is working with the Murray Bridge team – especially physiotherapist Jenny Chan – on maintaining her strength and mobility, as well as preparing for the national para-athletics championships next year.
"I just started para-athletics – doing seated shot put and javelin. My short-term goal is the nationals, and longer-term I want to represent Australia," says Jemma.
"The Novita team at Murray Bridge has been really good and very helpful. Jenny has been really supportive with my goals and helping me maintain my mobility."
Jemma's mother Loreene says it's been a big thing for the family for Jemma to be able to access adult therapy services from Novita.
"Novita was always a big part of our family because when Jemma was young she had all of her therapists under the one umbrella. We always worked as a team for everything she needed," says Loreene.
"When Jemma became an adult and had to use other providers, they had to get to know her and understand her disability, whereas at Novita the therapists understand her needs and what areas to focus on and work on.
"Jemma is a real go-getter. She used to do athletics and then she gave it up for a few years, and now she has decided to go back and it's pushing her even further.
"Jemma definitely doesn't let her disability hold her back – she uses it to make things better for her and to give her more opportunities."
Novita physiotherapist Jenny Chan says Jemma is a very motivated individual.
"When I first started working with Jemma she didn't use a walker or any gait aides, but she identified that she was struggling with her walking and not feeling very safe or balanced," says Jenny.
"Working together we were able to trial some walkers and she is now using one which makes a really big difference to how far she can walk and her confidence.
"Jemma is great at telling me what she would like to work on. She's fantastic at problem-solving with me so we can work together towards achieving her goals."
Jenny says Jemma's sporting goals are very impressive.
"Jemma works very hard with me and her athletics trainer to get stronger for her seated throws. Between us we work together to help improve her arm strength, leg strength and mobility so she can achieve her athletics goals," says Jenny.
"We often talk about the movements she needs to do in her sport, and exactly what positions she needs to be in so we can tailor the strengthening work."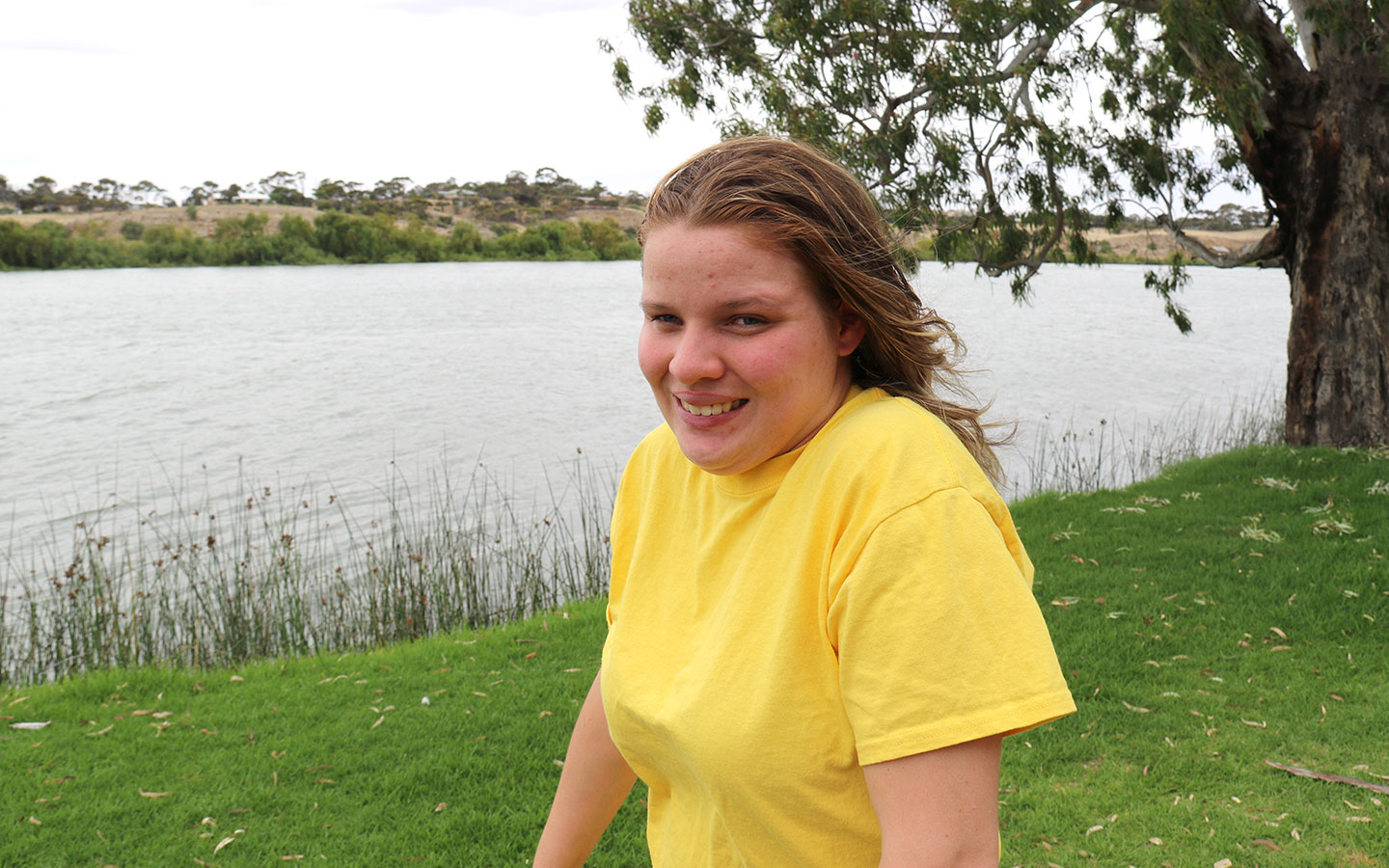 New home for Novita Murray Bridge
Novita's Murray Bridge hub has moved!
From Monday 29 March Jemma and all of Novita's clients and families in the Murray Bridge region are benefitting from a new home for Novita's services at 95 Swanport Road – opposite the Murray Bridge Hospital.
The new, larger hub will initially offer all of the usual services delivered by the Murray Bridge team, with plans in place to develop a range of new services and activities to support kids, young people and adults living with disability – and their families and carers – throughout the Murray Bridge region.
This continues Novita's commitment to ongoing investments in improved facilities and services in regional communities to significantly enhance the Novita experience for our clients and their families.