Helpful Information
4 Easy & Fun Art + Craft Activities for Kids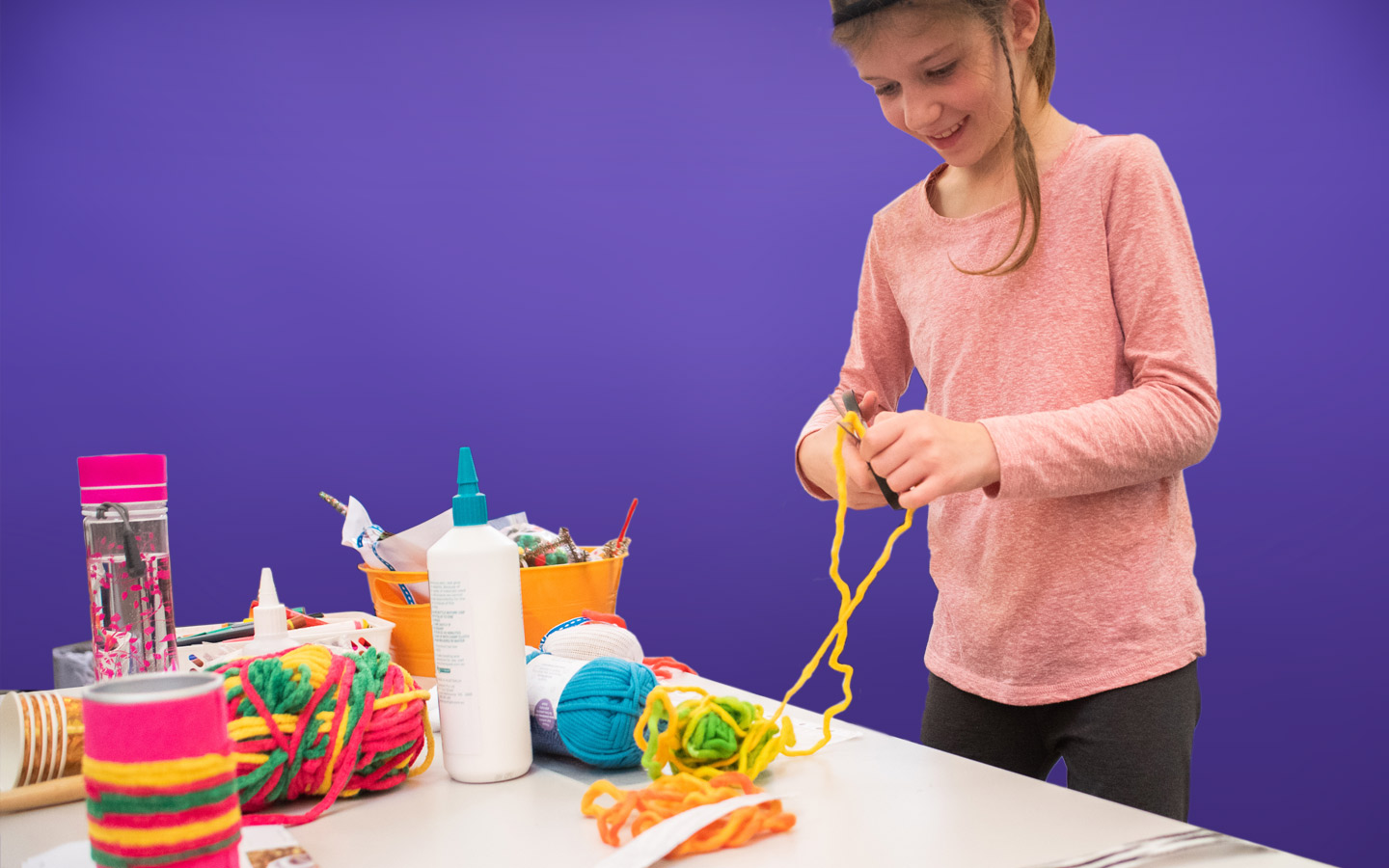 For kids living with disability, being creative can be a wonderful and fun way to support their personal development.
Art gives kids the opportunity to express themselves in a way that other therapies can't.
Taking part in arts and crafts can build self-confidence, develop listening skills and develop trust in other people such as teachers, support workers and family members.
Kids benefit from exploring all the different sensations too, which they experience when using different art equipment.
Benefits include strengthening muscles in their hands and fingers when they colour-in or developing the planning skills needed to prepare a painting or drawing.
We have put together four of our favourite arts and crafts activities, to take the thinking out of coming up with ideas to keep your kids entertained at home.
Enjoy… you can thank us later!
No cook playdough (edible)
This recipe is perfect for kids, because making the playdough as well as being able to play with it, is all part of the fun! They may need a hand from a supervising adult with the boiling water, but otherwise it's hours of art-inspired fun for the kids!
WHAT YOU'LL NEED
2 cups of flour
1 cup salt
2 Tbsp cream of tartar
2 Tbsp oil
Food colouring
2 cups boiling water
Glitter and/or essential oils (optional)
INSTRUCTIONS
1. Grab a big bowl (perhaps a sterling silver bowl or wooden bowl) and pop in all of the dry ingredients, including flour, salt and cream of tartar.
2. Make a well in the middle and add the oil and the colouring. You could even try to mix two colours like red and blue together to make purple!
3. Here's the part where the kids will need some support – carefully pour the boiling water into the bowl and mix all ingredients together.
4. Don't be surprised if it looks like a goopy mess. You might think that you need to add more flour, but you don't. Let it settle for a few minutes and it will firm up and make the perfect playdough.
5. Take the dough out of the bowl and knead it a bit to form a ball. If you want to add glitter or essential oils, pop them in at this point, while you're kneading the playdough.
You're done! You can now use your playdough to create all sorts of different shapes, creatures, humans or objects. Happy making!
THERAPEUTIC BENEFITS:
Kids will love engaging their senses including sight, smell, taste and touch with this crafting activity. Playing with playdough also allows them to develop the muscles in their hands and fingers needed to hold pens and pencils correctly, and to be able to do up buttons and zips.
Playdough also allows kids to develop cognitive (thinking) skills, social and emotional skills and even language and communication skills.
Encouraging kids to share their thoughts and feelings when playing with playdough and asking questions such as: What have you made with the playdough? Why did you choose to make the sun, flower, worm etc., will support your kids to draw out their imagination, language skills and help them to learn.
Painted rocks
Painted rocks which you can keep forever!
WHAT YOU'LL NEED
Rounded rocks (you might be able to find rocks the right shape and size in a local park, wetland or if you're lucky, in your very own backyard!)
Acrylic paint – in any colours that you'd like to use
Paintbrushes
INSTRUCTIONS
1. Make sure that you cover the surface you want to paint on properly so that no spilt paint can cause any damage – newspaper might be a good idea here and also make sure all painters are wearing smocks or old t-shirts.
2. Take your rock and paint the base coat (with your acrylic paint) in one colour of your choice. Make sure you cover the entire rock with the paint and then once you're happy with your base coat, leave it out to dry.
3. When the rock is completely dry, you can then start to draw patterns, pictures or shapes on your rock in all different colours.
4. Once the kids are happy with their designs, leave them out to dry in the sunshine or by a heater if it's a cool day. When the rocks are dry enough to be touched without any paint coming off, they are ready to put on display!
THERAPEUTIC BENEFITS:
While painting offers great therapeutic benefits including the boosting of creativity, critical thinking skills and a positive mindset, there are some specific benefits that kids with autism and cerebral palsy will experience too.
Improvement of concentration, boosting of non-verbal communication skills like eye contact, gestures and movements, tone of voice, and physical touch, perseverance and improved self-confidence are all therapeutic benefits that painting can assist with.
Egg Carton Very Hungry Caterpillar
The Very Hungry Caterpillar by Eric Carle is a classic children's book that has remained a favourite over many years.
As part of this activity, make sure you read the book before or after creating your own caterpillar. This is helpful for many reasons including tying the crafting activity to the book, which gives relevance and reading the book has literacy benefits through the reading of the story, but can also target creativity/shared interaction through art.
This craft activity is great for young children who love books, caterpillars or just to get creative with all different sorts of different materials.
WHAT YOU'LL NEED
1 x row of egg cups from an egg carton
Red paint
Green paint
Any other paints if you want your caterpillar to be a variety of colours
2 x googly craft eyes
1 x small black pipe cleaner
Glue
INSTRUCTIONS
1. Make sure that you have all of your crafting items together on the table in easy reaching distance and that you have covered all working bench or tabletop space with newspaper to avoid making a mess.
2. An adult should cut a row of six egg cups from the carton. Trim and tidy the cups using a craft knife and you'll be left with a nice caterpillar shape, which the kids can then get painting with!
3. Use the green and red paint to make the egg carton look like a caterpillar. Start with the green paint and use this to paint five of the egg cups from one end to the other, leaving the head un-painted.
4. You can now use your red paint to paint the head of the caterpillar.
5. Once the caterpillar is entirely red and green you will need to wait until the paint has completely dried so that you can then attach your eyes and pipe cleaner.
6. Attach your googly eyes to the head of your caterpillar, by putting a small dab of glue on the back of each eye. Stick them onto the front of the head of the caterpillar, pressing them down hard to make sure they stick on either side of the front of the carton (just make sure they're not too far apart).
7. Once the eyes have been glued on, poke two small holes into the top of the caterpillar head with the top of the craft knife about half a centimeter apart from each other. Then, cut the black pipe cleaner in half and poke each piece of pipe-cleaner into the holes that you've just cut.
8. There you go! You now have yourself a caterpillar ready to eat everything in sight!
THERAPEUTIC BENEFITS:
Given the broad nature of this activity, there are plenty of benefits that kids can experience from both reading the book and creating their own Very Hungry Caterpillar:
Families/caregivers can use activities like this one as a guide for what to do in arts and craft time
There are lots of opportunities for caregiver/parent/child interactions with more 'complex' tasks, for example, cutting more difficult/odd-shaped materials, it's helpful as a means of initiation communication with requests for example: "I need help" or developing motor tasks/strength as well as helping kids to follow longer and more complex instructions
Conversation and sharing of opinions, for example, like and don't like descriptions
Ability to follow longer and more complex instructions
Sharing how something feels in texture, which opens up lots of opportunities for sensory developments
Candle Painting
There aren't many things that can compare to the idea of magic – especially when you're a kid. So why not bring the magic yourself these school holidays and create some candle painting?
The secret image will be revealed (just like magic) as soon as you paint some water paint over the 'plain paper'.
WHAT YOU'LL NEED
White paper
Plain white candle
Watercolour paint
Paintbrush
Jar of water
INSTRUCTIONS
1. Gather all of the supplies listed above to start creating candle magic and make sure that the surface you're creating your artwork on is protected (maybe with some newspaper) to avoid accidentally spilling on furniture.
2. With the blunt (non-wick end) of the candle, draw a picture, write a letter or just doodle some patterns and shapes on your piece of paper.
3. Dip your paintbrush into the water and then into the watercolour shade of your choice, until the brush is relatively thick with paint. Make sure that the paint isn't too watery; otherwise, the image won't show up properly. Once you're happy with the consistency of the paint on the paintbrush, paint over the paper and the wax will resist the water. You will then end up with colours surrounding the image drawn with the candle – magic!
4. A little tip here is to make sure that you switch your picture with your crafting buddy so that once you've drawn on it with your candle, you can all experience the magic of this art activity!
THERAPEUTIC BENEFITS:
Candle painting offers an opportunity for self-expression and a reduction of stress in kids living with disability. Art therapy also offers a sense of accomplishment gained through the mastering of a skill which they might not have had the opportunity to learn before.
The interactive nature of candle artwork offers further physical and psychological benefits which include:
Self-awareness
Intellectual stimulation
Improving of cognitive skills and coordination
Reducing anxiety and stress
If you would like to find out more about the therapy services that Novita offers, then give us a call on 1300 668 482 to speak directly to one of our friendly staff or you can reach us at services@novita.org.au.