Novita's Bingo sessions are the best in town! Our game prizes are excellent, sessions range from 20 to 30 games and there is a large Jackpot in the last game of every session. We also have raffles and break-open Instant Bingo tickets available at all sessions to help your chances of winning.
We also have 60 Programmable Electronic Tickets (PET9) at our venue for the enjoyment of our patrons!
Novita Bingo is now easier to play than ever!
Come along and check out our new custom-made Novita Bingo books! We are super excited about them, but what does this mean for you? 
1. All 'Line Games' are now pre-marked and highlighted
A Bingo ticket has 15 numbers placed in a 3×9 rectangle. A "Full House' is when you mark all 15 numbers off and then get to yell 'Bingo!'
'Line Games' are played before a 'Full House' and are a specific combination of numbers. If you manage to mark off the certain combination, you can also win. There are 22 different combinations all up at Novita Bingo, but don't worry, you don't have to remember them all! With these new tickets, we have done the work for you.
We are the only Bingo in SA with these easy to use books – which will make things easier whether you're a first timer, or a seasoned player.  
So, once someone has won the line game, we continue with the SAME ticket for the Full House. Think of it like 2 games in 1. Here is what the combinations look like on your ticket: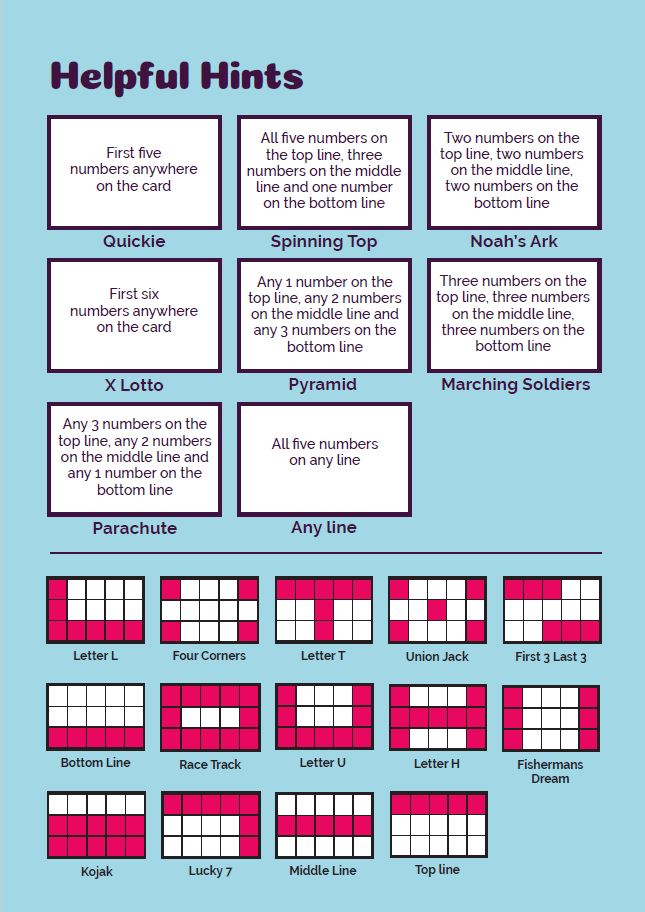 Here is an example of what a ticket would look like when you are playing the 'L' combination. If all of your blue numbers get called out, you win the Line Game!

2. All session information is in one place
At Novita Bingo we have optional Extra Games for you to help increase your chance of winning. This is great, but you need to know when these games are happening as times change depending on the day.
On the front of our new Bingo Books we have included all of this information, so you know exactly what is happening and when.
3. Larger and clearer numbers
We have listened to your feedback and made sure our new Bingo Books have larger, clearer numbers – which means you can mark them off faster!
We would love you to come and visit us and let us know what you think of the new books! Leave us your feedback so we can continue to improve your Bingo experience whether it is your first time or 1000th time!
If you are a regular Novita Bingo player, why not join our Supporters' Club? It's completely free to join. You will receive your own membership card. Bring your card when you play and be in the running for special lucky draws at every Novita Bingo session you attend.
To join the Supporters' Club, simply ask for a form when you are next at Novita Bingo.
To stay up to date with all the exciting events happening at Novita Bingo, make sure to like us on Facebook!