From the very beginning to the early 1960s
When we launched in 1939 under a different name (the Crippled Children's Association of South Australia) we had a single, remodeled home on the Esplanade, Somerton Park with 27 beds, called Somerton Home.
The home accommodated a maximum of 50 children living with polio, and all up, our staff supported around 200 kids through day programs and a vocational guidance program.
The South Australian Government supported the running of the home through an annual grant of £2,000.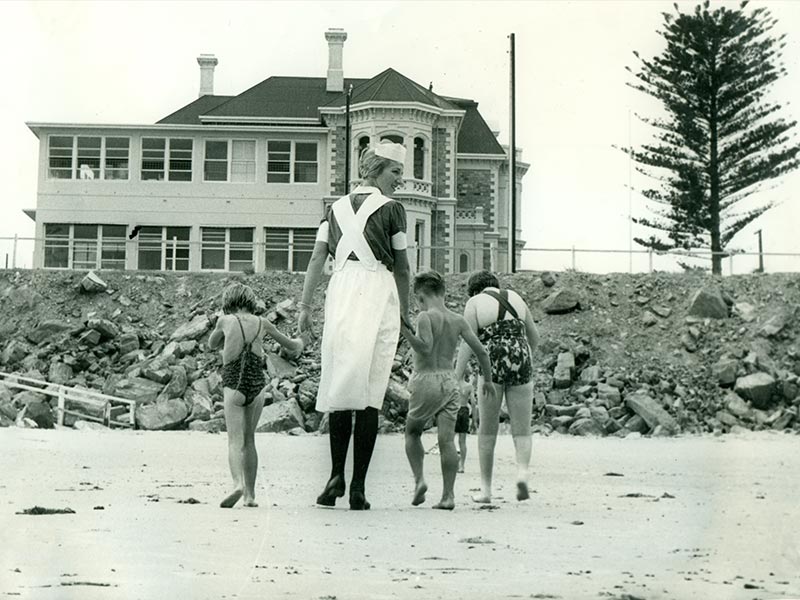 Kids on the beach outside the Somerton Home
In 1944 we expanded our supports to kids living with cerebral palsy before opening the first school for kids living with cerebral palsy at the Adelaide Children's Hospital, along with a clinic, on 6 March 1946. The school was founded under the guidance of Director, Miss Daphne Lorraine Gum, who was later awarded an OBE and OAM for her groundbreaking work and tireless dedication.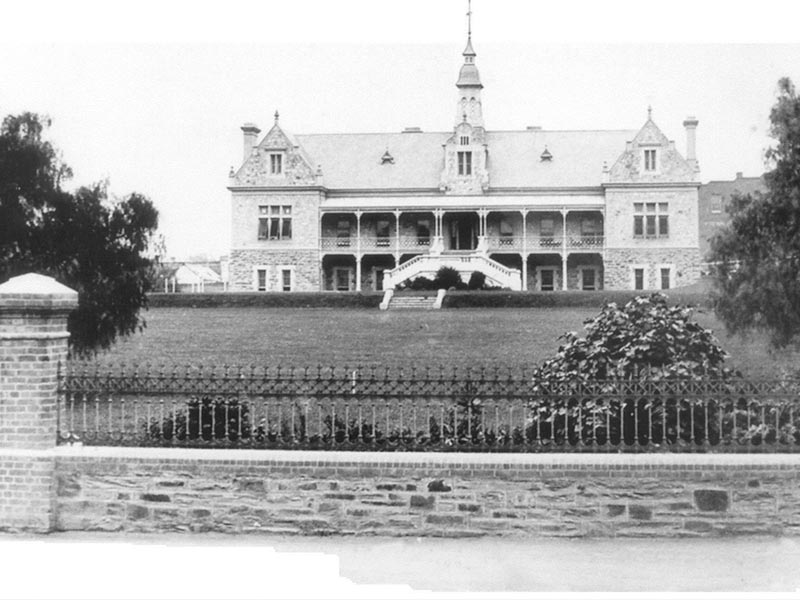 The Adelaide Children's Hospital from Sir Edwin Smith Avenue, about 1880
In 1951 we began offering services to children living with neuromuscular diseases.
In 1952 we purchased Ashford House at 87 Anzac Highway, Ashford, with assistance from the State Government and used it as a school and therapy centre for children living with cerebral palsy.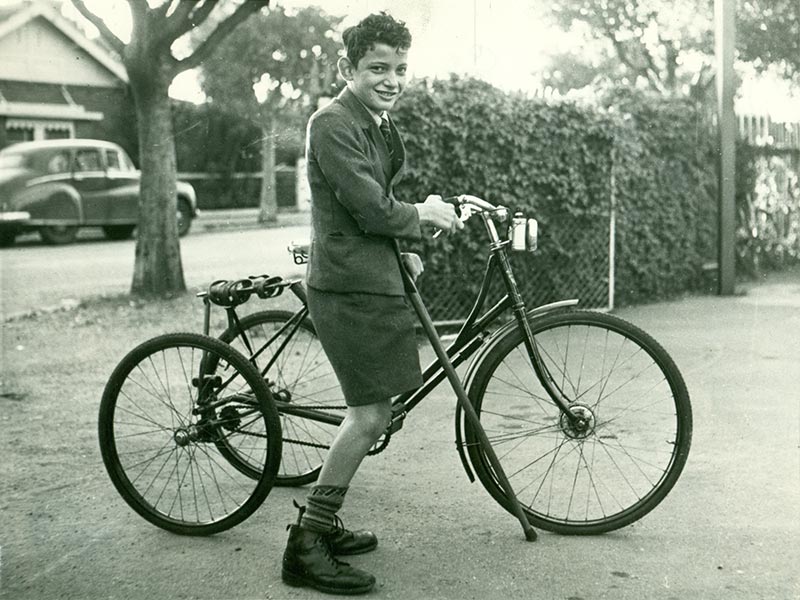 Ashford House student in 1954
Between 1956 and 1957 rates of polio dropped significantly because of the introduction of a vaccine.
In 1965 we purchased a property adjoining the grounds of Somerton Home, to be used as an Occupational Therapy Department and kindergarten. In the same year, we also acquired Marshfield House, located at 10 Mortimer Street, Kurralta Park, which was used as a residential annex for the children and families of Ashford House.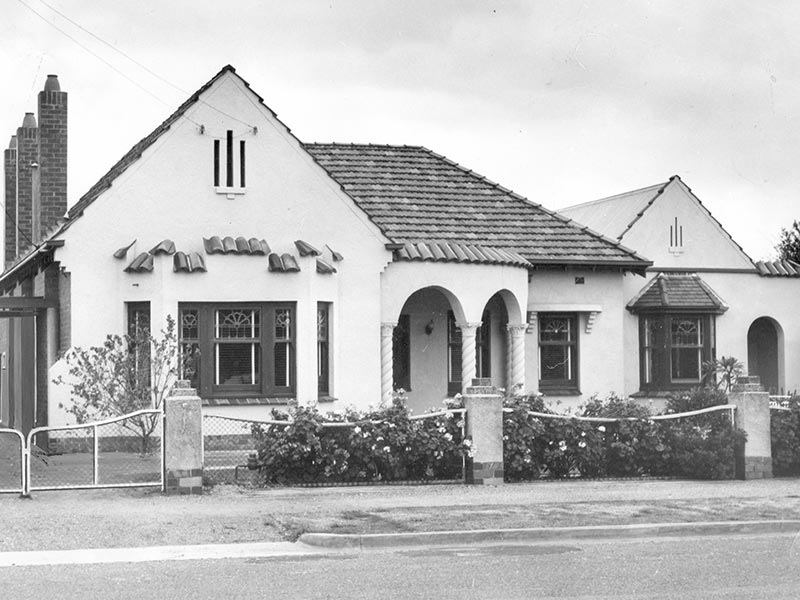 Marshfield House
In 1966, we opened our new head office at 67-69 Franklin Street in Adelaide's CBD.
Growing into the 70s and 80s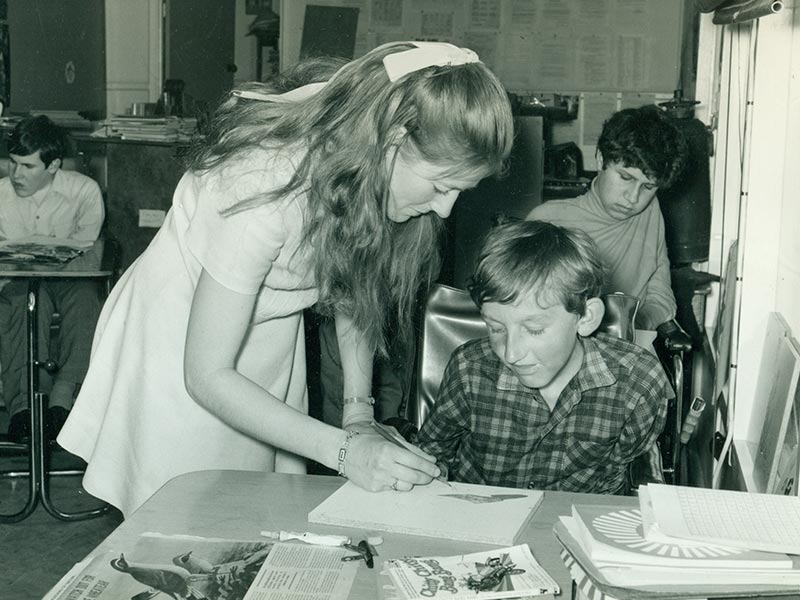 Miss Telethon visits our kids in 1970
In 1970 a committee was formed to look for a larger hub for Novita, and in 1971 the South Australian Government allocated 8.1 hectares of land at Islington (now called Regency Park) for us to build a new, state of the art, centre for excellence in 1973.
In December of 1973, construction started on the new building, that we still use, at 171 Days Road Regency Park, and in 1976 our kids from Somerton Home and the Ashford House School moved in. The total building cost of $5.4 million was subsidised by the Building Fund Appeal, run by Novita, which raised $2.25 million in donations from the South Australian community. This building incorporated residential accommodation for country clients, a school and therapy services for 147 children living with physical disability.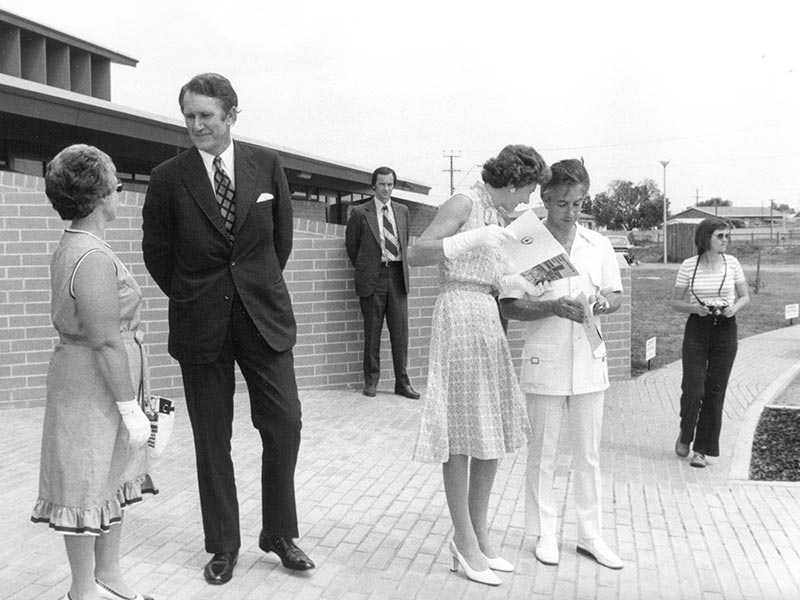 Our Regency Park office in 1976
We also established our Orthotic Department in 1976. The department's work included making and repairing braces, special seating, walking aids, wrist supports and shoes. In 1976, Dr Barry Seeger, a Biomedical Engineer, was appointed the Chief Engineer of Orthotics and Orthotics Research, and in 1978 the department was renamed Rehabilitation Engineering. By the late 70s, we were supporting 242 children.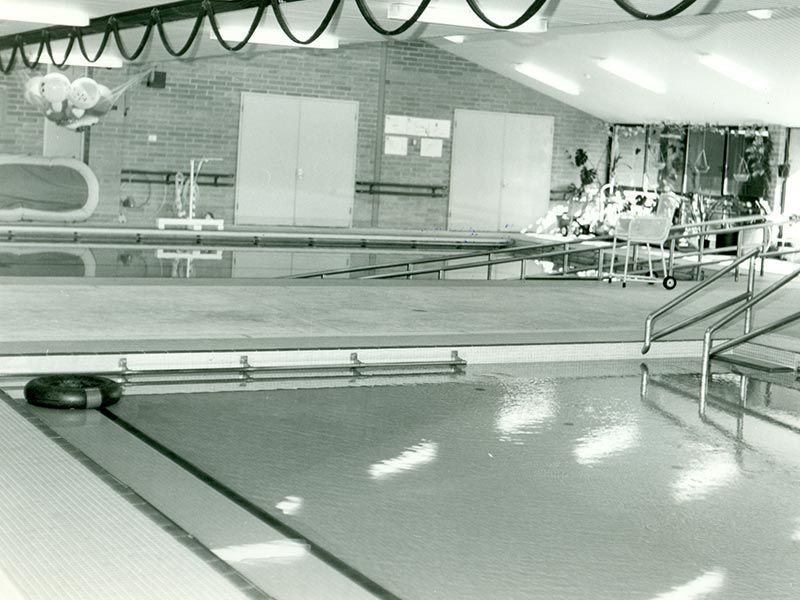 Therapy pools at Regency Park in 1979
In 1980, the Research Unit was established by Dr David Caudrey, a research psychologist, with the assistance of Miss Denise Wood, a social worker. The unit was responsible for investigating the needs and feasibility of establishing mobile teams and independent living for young adolescents and adults living with disability in South Australia. Research undertaken by the unit was funded by grants from the Channel 10 Children's Medical Research Foundation (now the Channel 7 Children's Research Foundation).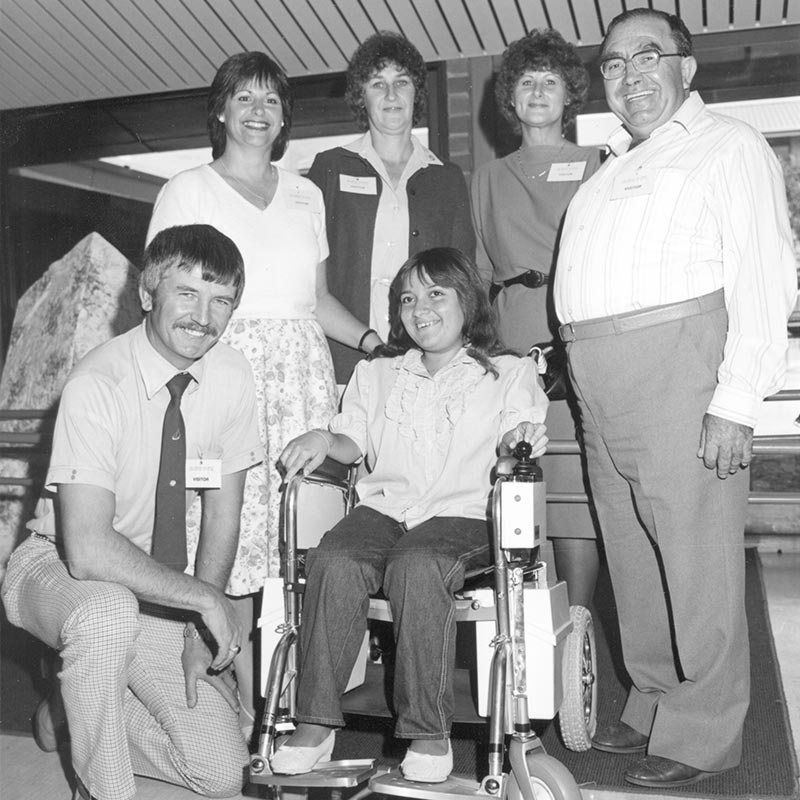 Presentation of a motorised wheelchair in 1983
In the mid-80s we started providing services to kids in regional South Australia. We celebrated our Golden Jubilee in 1989. By now, we employed 330 staff and supported 196 day students at the Regency Park school and 516 kids across South Australia. We also supported 118 families in their homes, 158 people in employment and training programs, and 24 people in independent living arrangements.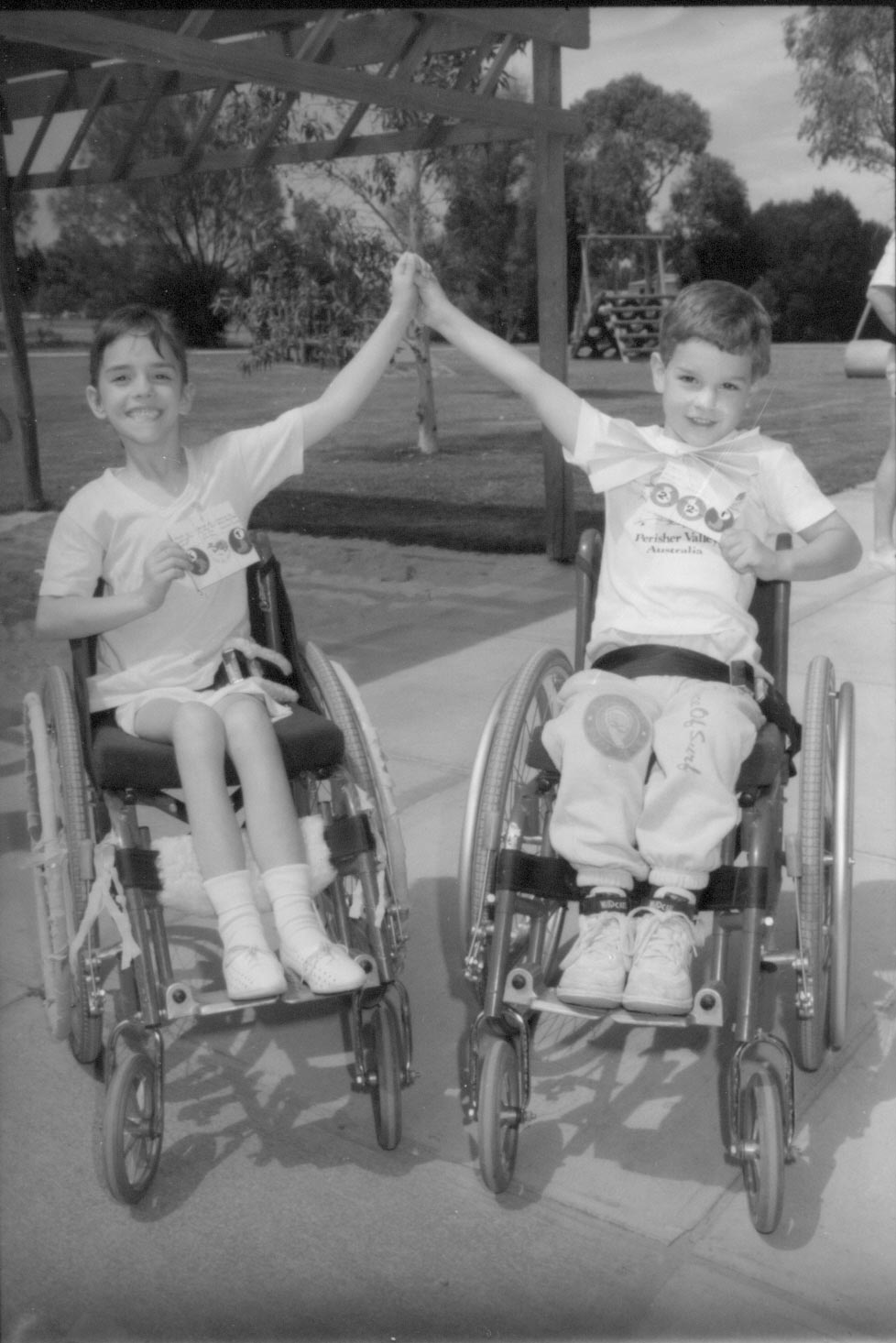 Sports Day 1987 at Regency Park
Also in 1989, we established what is now called the Novitatech Test laboratory at Regency Park. It was created to assist the International Standards Organisation (ISO) and Standards Australia produce a range of quality and performance standards for wheelchairs and other rehabilitation equipment.
The Test Laboratory still operates today and is accredited by the National Association of Testing Authorities (NATA). It provides independent testing of medical and disability products to Australian and International Standards.
The 90s and the noughties
In 1992 the Regency Park Centre residential facility was closed to focus on inclusion of kids within the community. A year later, services were exchanged with the Spastic Centre of South Australia (SCOSA), and we increased our therapy services by providing therapy for all SA kids living with physical disability. In 1997 we commenced working with the Women's and Children's Hospital to provide medical rehabilitation services to children living with disability, recovering from surgery. Also that year, a senior researcher with a background in allied health joined the team and Novita expanded its research activities to include clinical research projects – our first foray into a multidisciplinary approach to therapy and rehabilitation.
In September 2002, the Board approved a redevelopment project at Regency Park to upgrade the day centre, and carry out significant maintenance to comply with current building and fire safety codes. As part of the redevelopment, the villa complex was sold to the Port Adelaide Central Mission and space in the day centre was leased to the Intellectual Disability Services Council for the Western Options Co-ordination Office.
In 2003, we undertook a strategic review of our service delivery policy. We decided to focus on our core business, namely the provision of therapy, equipment and family support services to children living with disability. As a result, a decision was made to transfer our adult therapy operations, Communication and Therapy Services (CTS) to the Disability Services Office, before it was transferred to the Independent Living Centre.
2004 was a turning point for the organisation when we changed our name to Novita Children's Services. 'Novita' is a combination of two Latin words – 'nova' (meaning new) and 'vita' (meaning life).
In 2005, through the Australian Government-funded Inclusion Support Program, Novita further expanded its services. The program enabled 400 children living with disability, Indigenous children and children from culturally and linguistically diverse (CALD) backgrounds to better access community-based services such as childcare, Out of School Hours Care and vacation care through Novita. Novita supported close to 100 childcare centres across the State to equip their staff with the skills and knowledge needed to create quality, inclusive environments for children.
In 2011 we opened a new hub for our kids and teens at St Marys and established a wholly owned subsidiary, CareFirst Pty Ltd, to support our entry into the fee-for-service market. In 2012 we acquired a new business and renamed it Community Options SA (COSA) – subsequently renamed Novita Community Inclusion - to provide day options, respite, recreation and in-home care to children and adults living with disability.
2013 saw the introduction of the National Disability Insurance Scheme and the commencement of trials in a range of geographical sites across Australia to different age cohorts. The trial in South Australia focussed on children up to the age of 18, which saw Novita heavily involved in the early development and transition to the NDIS.
By the time the NDIS commenced its official rollout across Australia in July 2016, Novita had the majority of its clients already on NDIS plans.
In 2017 we opened a new office in Elizabeth, Whyalla, Port Lincoln and Broken Hill, and expanded our services to young adults living with disability. We also launched a refreshed, contemporary brand.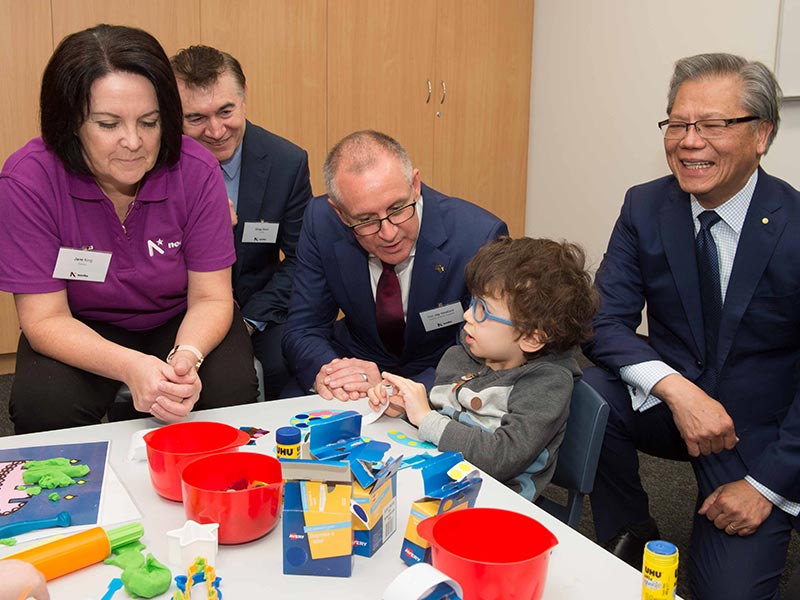 One of our Novita kids at the launch of our Elizabeth Hub, with Novita CEO Greg Ward, the Honourable Jay Weatherill, MP, Premier of South Australia, and Novita Patron, His Excellency the Honourable Hieu Van Le AC, Governor of South Australia.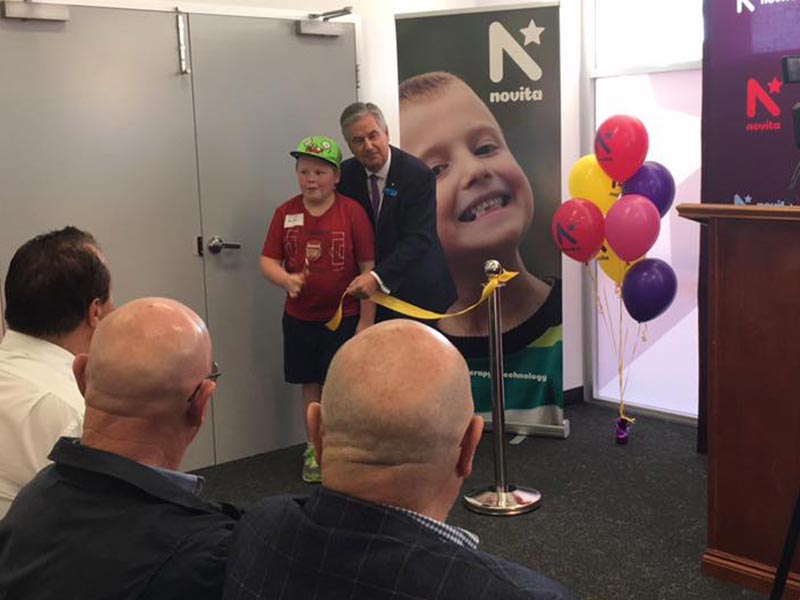 One of our Novita kids, nine year old Bodhi Forsythe, cutting the ribbon to officially open our new Whyalla hub with Novita President, Rear Admiral the Honourable Kevin Scarce AC CSC RAN (Rtd).
Things have changed a lot since the 1930s, not just at Novita.
The introduction of the Disability Discrimination Act in 1992, the ratification of the United Nations Convention on the Rights of Persons with Disabilities in 2007, and the launch of the National Disability Insurance Scheme have been life changing for people living with disability and their families. With continued advocacy, innovation, technology and inclusion, the possibilities are endless for young people living with disability.
We're excited about the future!
The evolution of our brand
1939-2004
The Crippled Children's Association of SA Inc.

2004-2017
Novita Children's Services

Present
Novita

history
Let's travel back through time …
Somerton Home opened for kids living with polio.

A school opened for kids living with cerebral palsy at the Adelaide Children's Hospital.

Our services expanded to children living with other disability types, such as neuromuscular disease.

Novita purchased Ashford House with assistance from the State Government, to use as a school and therapy centre for children living with cerebral palsy.

The Ashford House Activity Centre was officially opened by Sir Thomas Playford. Also in 1960, the Down Every Street Appeal involved more than 2000 collectors and a Telethon conducted by Channel 9.

Official opening of the new swimming pool at Ashford House School.

Somerton Home purchased a property adjoining the grounds to be used for occupational therapy and as a kindergarten.

Our Head Office opened in Franklin Street in Adelaide.

Building of Regency Park Centre commenced.

Princess Anne visits Riding for the Handicapped where she met with Novita children.

Regency Park opened for kids who transferred over from Somerton Home and Ashford House School. The Centre was officially opened by His Excellency the Governor of South Australia Sir Mark Oliphant. Regency Park Engineering was established.

Novita ran a Biofeedback research program. We also ran clinics on orthopaedics, spina bifida, ophthalmology, dentistry, rheumatology, neurology and muscle disorders.

The Down Every Street Appeal was launched by Sir Douglas and Lady Bader who visited Australia specifically for the launch. The Auxiliaries raised $64,000.

Her Royal Highness the Duchess of Gloucester toured the Regency Park Centre.

We celebrated International Year of Disabled Persons. We also established a Research Unit under Dr David Caudrey, assisted by Miss Denise Wood. The H.E.T.A Handicapped Employment Training Assistant Unit continued to operate following a pre-pilot program. We also held the annual Beachathon at Henley Beach.

The Mrs South Australia Quest Fund raised $88,046 and the Down Every Street Appeal raised $181,000.

The Housing Division, a major research and development project, took place with accommodation for nine residents. Also this year, Sir Donald Bradman visited to launch his book and the H.E.T.A program officially opened.

We celebrated our Golden Jubilee Year and launched what's now called Novita Tech.

Our residential facility was closed to focus on inclusion of children living with disability within the community and the facilities sold to Anglicare SA.

Services were exchanged with the Spastic Centres of South Australia (SCOSA) and Novita assumed responsibility for occupational therapy, physiotherapy, speech pathology, psychology, paediatrics and equipment. The SCOSA workshop moved to Rehabilitation Engineering at Regency Park and Novita's respite and accommodation services were transferred to SCOSA. Also in 1993, the Mrs. South Australia awards changed to the Community Achievement Awards.

As well as Regency Park, Novita has four regional officers in Salisbury, Holden Hill, Morphett Vale, Woodville and the Community Directors Program at Evandale.

We entered into partnership with the Women's and Children's Hospital for the provision of paediatric, rehabilitation and medical services. During this year also, the Research and Development department separated from Rehabilitation Engineering.

We changed our name to Novita Children's Services.

We celebrated 70 years of supporting kids living with disability.

Our St Marys hub opened.

The NDIS trial launched in South Australia to kids living with disability, and Novita was one of the first organisations to offer services under the NDIS in the State.

We celebrated our 75th Anniversary.

The NDIS was introduced progressively around Australia.

We opened new hubs in Elizabeth, Whyalla and Port Lincoln, refreshed our brand and expanded our services to young adults living with disability.
Novita Patrons, Patronesses and Presidents
Novita has, and continues to be, guided by a Board of dedicated professionals, led by a Novita President, and we have had the honour of hosting notable Novita Patrons, Patronesses, Vice Patrons and Vice Patronesses.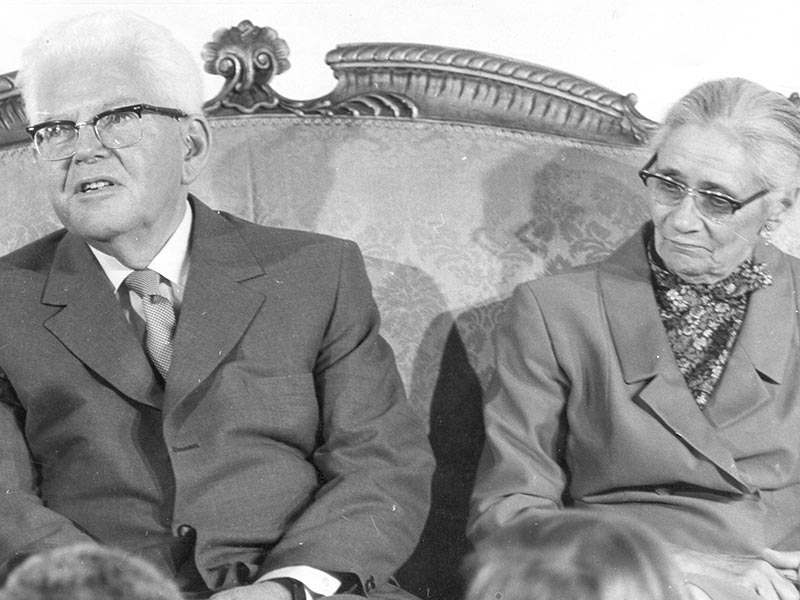 Sir Mark Oliphant and Lady Oliphant
Novita Patrons and Patronesses 1939 – present
1939-1944 Sir Charles Barclay-Harvey KCMG and Lady Barclay-Harvey 1944-1952 Lt Gen Sir Charles Norrie KCMG CB DSO MC and Lady Norrie 1953-1960 AVM Sir Robert George KCMG KCVO KBE CB MC and Lady George 1961-1968 Lt Gen Sir Edric Bastyan KCMG KCVO KBE CB and Lady Bastyan 1968-1971 Maj Gen Sir James Harrison KCMG CB CBE and Lady Harrison 1971-1976 Sir Marcus 'Mark' Oliphant AC KBE and Lady Oliphant 1976-1977 Sir Douglas Nicholls KCVO OBE and Lady Nicholls 1977-1982 Sir Keith Seaman KCVO OBE and Lady Seaman 1982-1991 Lt Gen Sir Donald Dunstan AC KBE CB and Lady Dunstan 1991-1996 The Hon Dame Roma Mitchell AC DBE CVO 1996-2001 The Hon Sir Eric Neal AC CVO 2001-2007 The Hon Marjorie Jackson-Nelson AC CVO MBE 2007-2014 RADM The Hon Kevin Scarce AC CSC RANR Rtd. 2014-present The Hon Hieu Van Le AC
Novita Presidents 1939 - present day
1939-1940 Mr Chas Edmunds 1941-1946 Mr Norman Taylor 1947-1950 Mr Roland Jacobs 1951-1953 Mr Wilfred Snow 1954-1955 Mr E Milner 1956-1957 Mr T Martin 1958-1969 Mr K Benger 1970-1984 Sir Dennis Patterson 1984-1989 Mr John Jenkinson 1990-1996 Mr William (Bill) Dawson 1996-2000 Mr Andrew Sutherland 2000-2005 Mrs Jane Hyde 2006-2007 Mrs Elizabeth Robinson 2007-2014 Prof. Andrew Downing 2014-present RADM The Hon Kevin Scarce AC CSC RAN (Rtd.)
Novita Vice Patrons and Patronesses 1971-present
1971-1972 The Right Hon The Lord Mayor, Mr W H Hayes and Lady Mayoress, Mrs Hayes 1973-1974 The Right Hon The Lord Mayor of Adelaide, Robert W Clampett, Esq. and the Lady Mayoress, Mrs R W Clampett 1975-1977 The Right Hon The Lord Mayor of Adelaide, John J Roche, Esq. and The Lady Mayoress, Mrs. J J Roche 1977-1979 The Right Hon the Lord Mayor of Adelaide, Mr G Joseph and Vice Patroness, The Lady Mayoress, Mrs Joseph 1979-1981 The Right Hon the Lord Mayor of Adelaide, J.V.S. Bowen Esq. and Vice Patroness, The Lady Mayoress, Mrs Bowen 1981-1983 The Right Hon The Lord Mayor of Adelaide, Dr. John Watson and Vice Patroness, The Lady Mayoress, Mrs John Watson 1983-1984 The Right Hon The Lord Mayor of Adelaide, Mrs Wendy Chapman 1984-1986 The Right Hon The Lord Mayor of Adelaide, Mr James Jarvis 1986-1992 The Right Hon The Lord Mayor of Adelaide, Mr Steve Condous 1993-1996 The Right Hon The Lord Mayor of Adelaide, Mr Henry Ninio KOM 1996-2000 The Right Hon The Lord Mayor of Adelaide, Dr Jane Lomax-Smith AM 2000-2002 The Right Hon the Lord Mayor of Adelaide, Mr Alfred Huang 2003-2010 The Right Hon the Lord Mayor of Adelaide, Mr Michael Harbison 2010-2014 None appointed 2014-present The Right Hon The Lord Mayor of Adelaide, Mr Martin Haese