Helpful Information
Cooking with kids has more benefits than just filling bellies + 4 of our favourite easy recipes!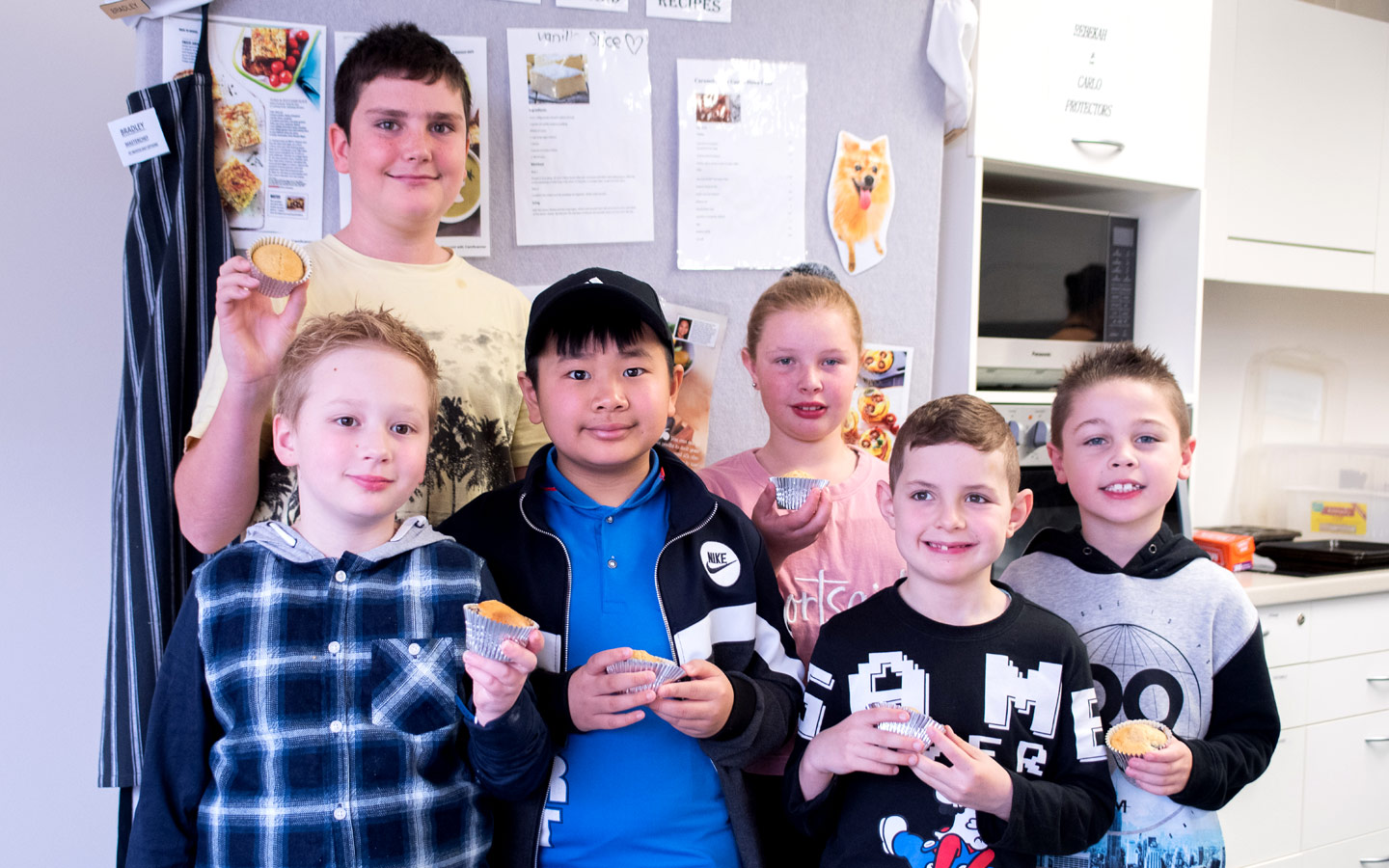 Cooking doesn't have to be a boring chore; it can be a fun and creative activity that can keep your kids entertained for hours.
Even better, is that cooking can support your kids to develop valuable life skills – both social and physical, which can benefit kids all the way through life.
There are plenty of benefits to getting your kids cooking and some of our favourites are:
Improves verbal communication skills
As you and your kids start to make the recipes, the labeling of the ingredients can increase your kids' vocabulary, while they also follow directions, which enhances receptive language skills (ability to understand information including words, sentences and the meaning of what others say or read). While you're cooking, explain to your kids what they are actually doing to further support them to enhance their communication and language skills. For kids who are more advanced with their learning, you can have them predict what will happen next in the method or what the next ingredient will be to further improve their vocabulary and thinking skills.
Enhances fine motor skills
When kids mix the ingredients, roll the dough or use the cookie cutters, they are actually strengthening their fine motor strength and control. These skills are great for supporting kids to develop other skills such as writing, cutting and colouring. You can support kids to improve these skills even more by getting them to pour ingredients into a bowl or quickly mix ingredients together, while some older kids might be able to help you do more difficult steps such as flipping pancakes!
By cooking with your kids, you can have them read the recipes out loud, which will help them to learn to read new words or get better at recognising ones that they already know.  For younger kids, you can start with numbers, for example: "2 cups of flour" or "4 tablespoons of butter".  For older or more advanced readers, you can have them read each step aloud and then follow the directions – this will also support their reading comprehension.
Increases focus and attention
As your kids make their way through their recipes, they will need to keep focus and pay attention to each detail or the recipe might end up being a flop! Because of this, kids will quickly learn that they have to pay attention if they want to eat something delicious at the end.
Supports kids' independence
Cooking is a skill that can support kids to understand the need to be independent, especially as they head toward adulthood. Kids can learn to make their own sandwich, pour some milk, or heat up something in the microwave. Older kids might be able to make simple meals for their family. Cooking can also teach kids various safety lessons such as not to touch a hot stove or how to use a stove correctly.
Reinforce positive hygiene messages
Before preparing food you can encourage your kids to make sure they wash their hands properly with soap which is something that is good for a whole range of reasons!
When kids start to cook, it ultimately supports them to learn what foods are healthy and what aren't, through discussions with parents/family/carers and by reading recipes and learning about different foods. It allows them to try new foods that they might not have otherwise and encourages them to eat at home instead of out because that can sometimes lead to unhealthy choices.
When kids are able to successfully complete a recipe or make a meal for themselves or a family member, they feel a sense of pride and confidence. As kids continue to cook, their level of independence increases, which ultimately boosts their level of self-confidence and self-esteem.
Cooking is something that the entire family can get involved in. You can make a routine to cook Sunday dinners together each week or on Friday nights you could make it 'cook your own pizza' night. Cooking can bring families together in a fun and delicious way.
With all of these benefits in mind, we have listed a few of our favourite recipes to get you and the kids started on your cooking journey – bon appetite!
French bread pizzas
Prep time: 30 minutes
Cook time: 12 minutes in an oven at 180 degrees
If you love pizza, then we have the perfect twist for you on a crowd favourite!
Make sure you have a working oven, plenty of bench space and all the ingredients and you're ready to go!
Ingredients to make 6 individual servings:
3 whole French bread sticks or hotdog rolls
1 bottle of pizza sauce
1 jar of pre-made pesto
1 bag of shredded mozzarella cheese
1 bag of parmesan cheese
1 tablespoon of butter
½ an onion sliced
1 pack of pepperoni slices
3 rasher of bacon
Tinned sliced pineapple
3 Roma tomatoes, sliced
Jar of sliced Kalamata olives
Method:
Preheat the oven to 180 degrees
Slice the rolls in half and lay them, with the flat side you've just sliced upward on a large baking sheet
Top each of the halves with generous portions of either pizza sauce or pesto – whatever takes your fancy
Once you've got all of your ingredients as listed above chopped up, you can pop each on top of your breadstick
Then, once you've got all your delicious ingredients assembled on top of your bread, you can add whichever (or both) of the two cheeses that takes your fancy!
Once you've placed the cheese on top, you can put the tray into the oven for about 12 minutes, keeping an eye on them for when they turn golden brown! You can assist the kids to do this part of the method, otherwise, for older kids who are capable of putting the tray into a hot oven; make sure they have the correct heat proof protection on such as oven mitts.
Once you see the cheese bubbling and the bread turning golden brown, take the tray/s out of the oven.
Let them cool right down as they will be very hot and then they are ready to serve up!
ENJOY!
Baked parmesan zucchini fries
Prep time: 10 minutes
Cook time: 15 minutes in an oven at 180 degrees
It can be really hard to get kids excited to eat their vegetables, even less so when it comes to their greens. If this sounds like your kids, then we have the perfect recipe that will have them eating their greens and cooking them too!
Ingredients needed:
4 zucchinis, cut into quarters, lengthwise
½ cup of parmesan cheese
½ teaspoon of dried thyme
½ teaspoon of dried oregano
½ teaspoon of dried basil
½ teaspoon of garlic powder
Salt
Black pepper
2 tablespoons of olive oil
2 tablespoons of freshly chopped parsley leaves
*Please note that if you don't have all of these herbs, or your kids don't like lots of different flavours it won't matter! You can pick and choose which herbs to include as you wish.
Method:
Preheat your oven to 180 degrees.
Coat your baking tray with baking paper or nonstick spray
In a small bowl, combine the parmesan, thyme, oregano, basil , garlic powder and salt and pepper (if you are using herbs) and give everything a quick mix
The, place your zucchini pieces onto a baking sheet.
Drizzle your olive oil over the top of the zucchini and then add your parmesan mixture on top.
Pop the trays of zuchini (you might need to give kids a hand with this by either putting it in for them, or making sure they are wearing oven mitts) in the oven and bake until tender.
Once the cheese has gone a golden brown colour, remove the trays from the oven
Leave them to cool down for a few minutes as they will be piping hot!
Serve them as soon as they come out of the oven – the kids won't even know they're eating veggies!
Three ingredient Nutella brownies
Who doesn't love chocolate?! From your average person who can't say no to a sweet treat or the real hardcore sugar lovers amongst us, you're hard pressed to try to find someone who doesn't enjoy a choccy treat!
So, with that in mind we have decided to share a super easy, super delicious recipe that will have you and the kids watching the oven until these delicious Nutella brownies have finished baking.
Prep time: 10 minutes
Cook time: 15 minutes in an oven at 180 degrees
 Ingredients needed:
1 ¼ cups Nutella
2 large eggs
½ cup flour
Method:
Make sure that you preheat the oven before you start making your Nutella brownies to 180 degrees.
Grease a small baking tray (preferably one that's in a square shape) with either non-stick spray or some butter.
Add all your ingredients into a large bowl and mix with a wooden spoon until the batter is nice and smooth.
Then, you can pour the batter that you've just made into the baking pan and smooth over the top with a spatula.
Bake for about 15 minutes, until an inserted toothpick comes out clean – make sure that you don't bake them for too long; otherwise they are likely to dry out!
Let the brownies cool and set before you then help the kids to cut them up and serve them. Delicious!