Helpful Information
Support workers central to Ethan's independence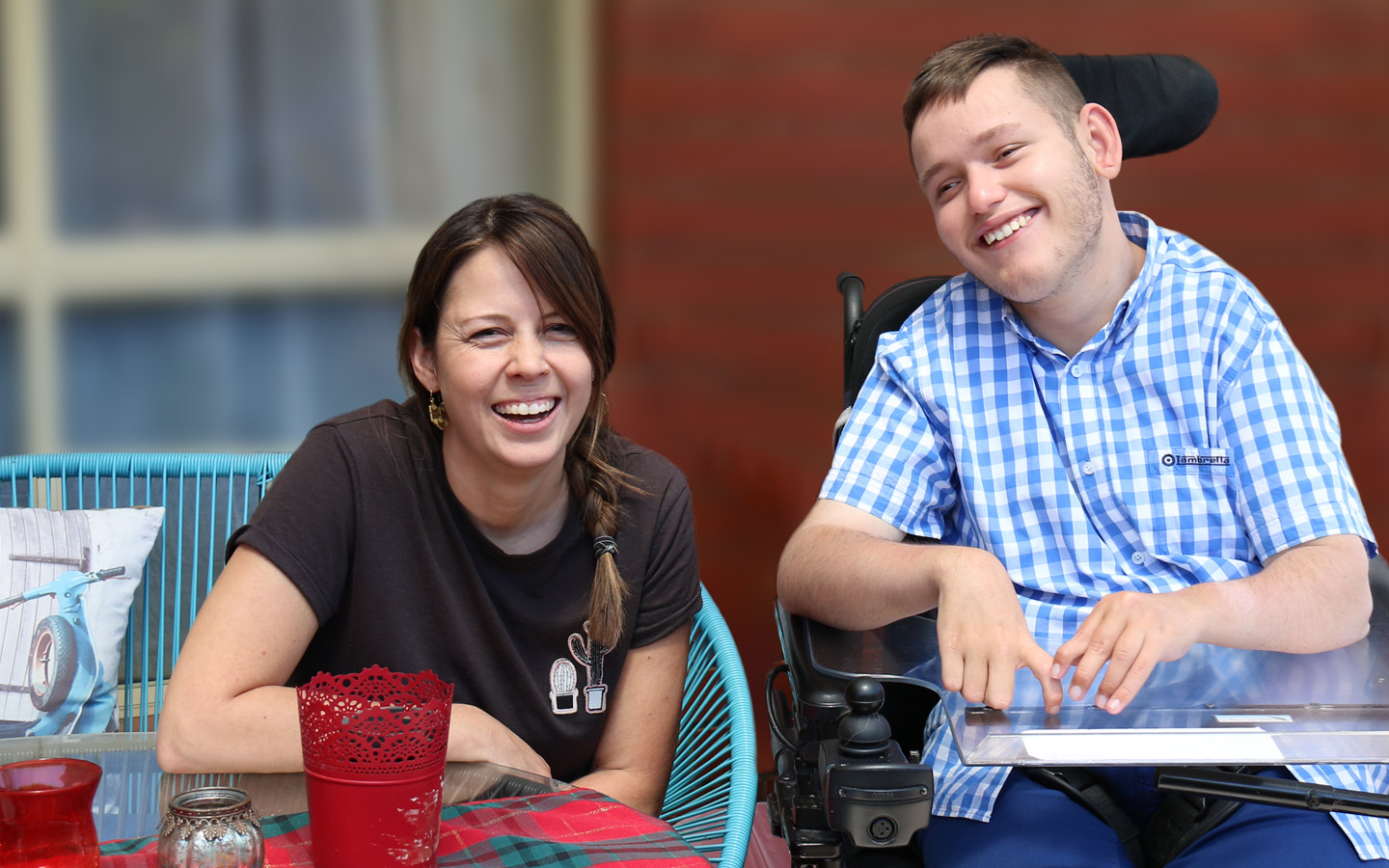 The important role and impact that support workers have is the focus of our latest story about the life experiences of Ethan Woollaston – and we meet one of Ethan's support workers, Shannon.
21-year-old Ethan says his support workers are supporting him to live more independently.
"They visit me at home and support me with my basic needs such as showering and personal care, they can do some driving for me and support me when I need to go out and about, and they're also able to help Mum out with jobs around the house," says Ethan.
"Carers are definitely helping me to live more independently, especially as I get older and want to live in my own home. It's a slow process to transition from having Mum's support during my childhood to allowing a carer to step in and provide that support.
Our family home here will eventually become my home, and the carers are supporting me to make that transition to living here independently much more comfortable.
Living independently in my own home will be a totally new experience for me, and it's going to be a challenge, but I'm really looking forward to being able to show other young adults living with disability that you can live independently without needing to go into a care home – especially with the support of great carers."
Finding the right support workers
There are a wide range of agencies and online platforms that people living with disability can use to find carers and support workers. Ethan uses an NDIS-registered website called 'Hireup' to find and book his support workers.
"Hireup allows me to choose my own support workers rather than someone else making those decisions for me. It cuts out the middle man," says Ethan.
"I usually like to book local support workers – with a 10-kilometre radius. The platform I use features photos and profiles, and most of the support workers also list things that they're happy to do for you, such as personal care or cleaning the house, and whether they are ok with pets.
There is also information about qualifications, police checks, that sort of thing, which gives you a sense of security.
I'm sure people living with disability and their families wonder whether finding and booking a support worker online is safe, compared to just ringing an agency. I was nervous the first time I tried it, but I have found that the support workers are generally honest about their qualifications and experience.
Often it's about 'gut feel' and learning from previous experiences.
I will look at the profiles on the Hireup site and decide whether I'm going to send them a message or not, and I'll ask them to come and have a meet and greet with myself and Mum. From that we'll decide whether we feel comfortable with a particular support worker, and if we do we'll go ahead and make a booking.
Over time you build a relationship with your support workers, and you get to known their routine and personal circumstances, and so you know when they are available. For example, one of my support workers also works full-time in the aged care sector, so I know her availability is limited.
You also need to factor in things like whether your support worker needs to do school pick-ups, as well as everyday things like illnesses."
Managing your support workers
Ethan says when you sign up to a support worker platform such as Hireup, all of your relevant information is included.
"You let them know how you're funded through the NDIS. Because I am plan-managed, all the invoices are sent to the plan manager, who then pays Hireup," Ethan says.
"I have found that Hireup's rates are cheaper than other agencies, and less than the recommended NDIS fees – so you're saving money by cutting out the middle man.
"Once a carer has worked with me for a while, and we are building a good relationship, I usually pay them a little more as a sign of appreciation."
Meet Shannon – one of Ethan's support workers
Shannon became one of Ethan's support workers through the Hireup platform, shortly after completing her studies in disability care.
"I had a 15-year career in the corporate world, mainly in marketing and advertising, but ultimately I realised I wasn't getting anything meaningful out of it. So I quit my job and went back to study," she says.
"I think the caring side of my personality wasn't being utilised in the corporate world, so I moved into disability simply because I wanted to work with people, and disability seemed like the right area for me to get into."
Shannon says she provides a wide range of supports for Ethan.
"I assist with Ethan's personal care and social activities, and I help Ethan's Mum with jobs around the home," she says.
"Ethan is quite unique. Sometimes I have to remember that he is only 21 years old, because he is wise beyond his years. He's also a lot of fun – he is very strong on keeping things professional, but we still enjoy great conversations together, and we spend a lot of time together during the week. I particularly enjoy his singing!
I've also noticed some big changes in Ethan in the two years that I've been working with him. He has grown in confidence and independence, and his life skills have improved significantly.
It has been quite amazing to watch Ethan's growth unfold, and seeing his resilience and determination to find those new levels of independence. I have to say I have one of the best jobs out there to be able to watch that and see that with someone."
A final piece of advice from Ethan
Ethan says he's very serious about maintaining a professional relationship with his support workers.
"It's very important to keep things professional, because you don't want to become too involved in your support worker's personal life. At the end of the day, it's their job," he says.
"If you manage the professionalism really well, then you can build a very successful working relationship with your support workers."