This World Autism Day, Saturday 2 April, we are introducing you to Dylan. Dylan is a client we are proud to support as he works to achieve his goals.
17-year-old Dylan lives in Broken Hill with his mum and dad. His sister goes to university in Wollongong.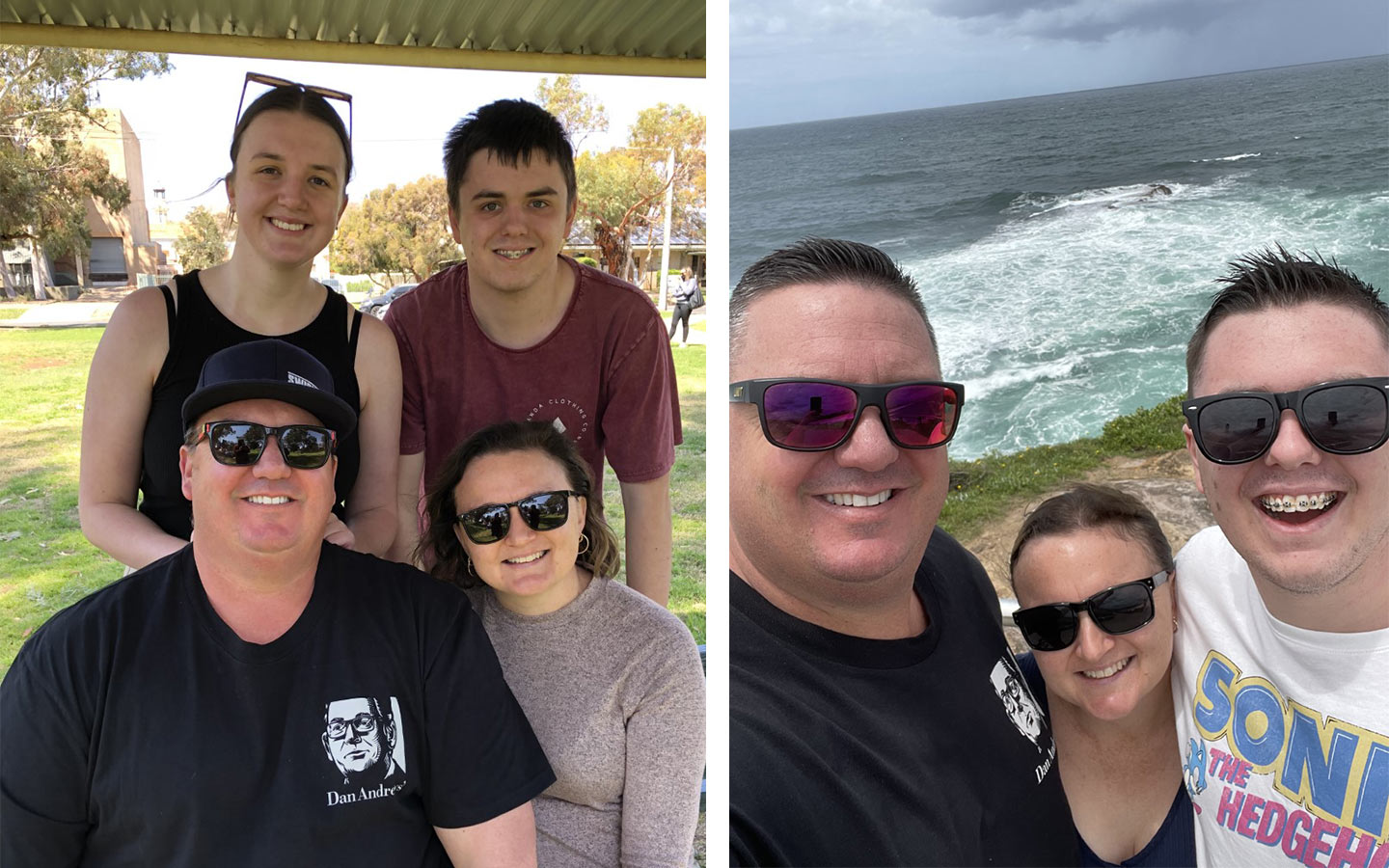 Dylan attends a Year 12 high school support unit and has lots of interests and hobbies, including going to the gym, watching and collecting movies, playing video games, hanging out with his best friend Seth, and singing and dancing to songs on Spotify. He also enjoys the local Parkrun with his family on Saturdays.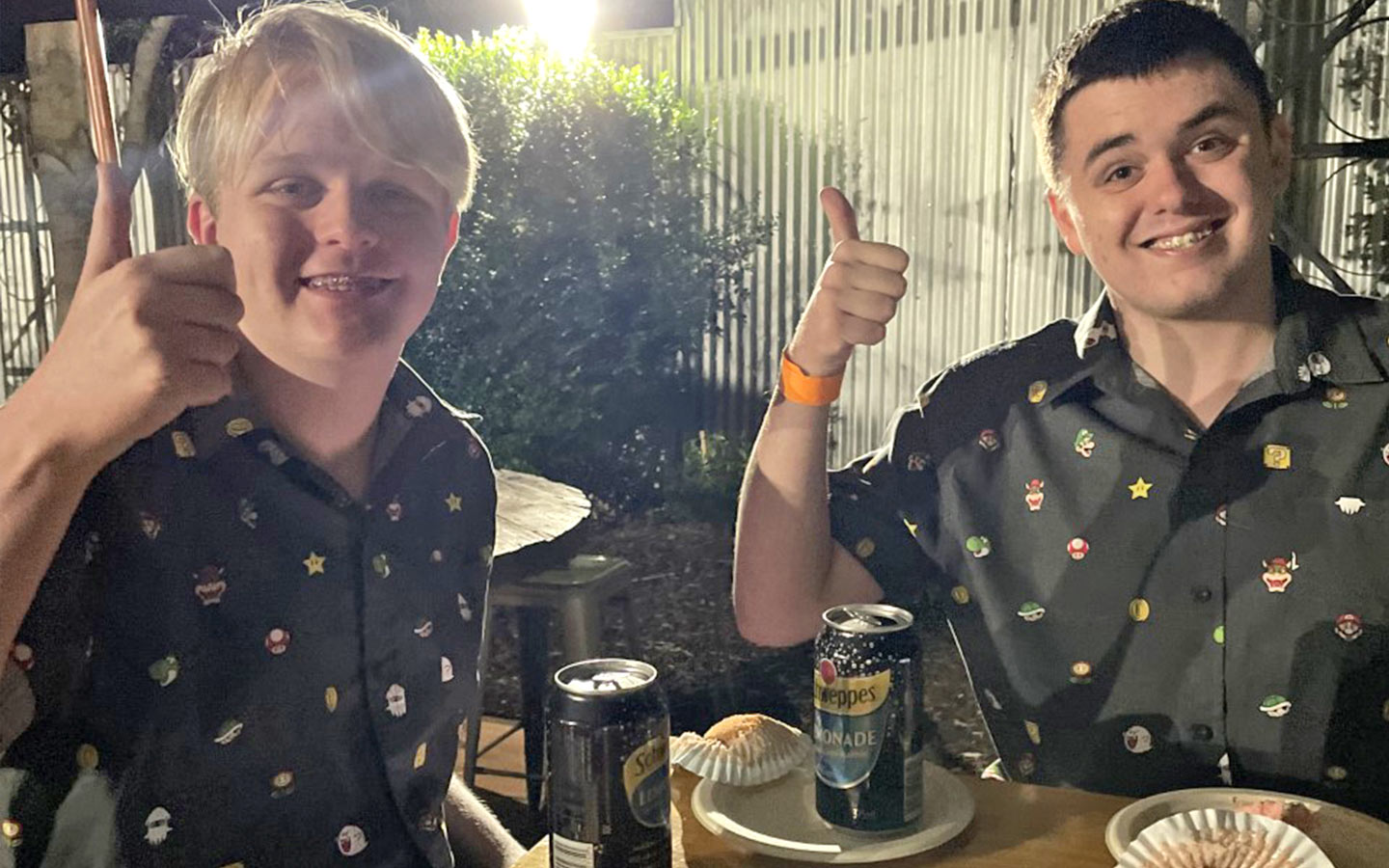 At the age of two and a half Dylan was diagnosed with level 2 autism and intellectual disability. Dylan is aware of his autism diagnosis but his mum, Stacey says "he does not really understand what it means, he just knows that he finds some things harder than others."
Dylan's personal goals are focused on gaining more independence. Stacey explains "Dylan's goals are what we consider to be pretty standard life goals for someone of his age – he really wants to live independently, work and drive a car. The difference for Dylan is that these things take a little more time and effort to achieve and he works to overcome many barriers."
Stacey and all of Dylan's family are incredibly proud of him. Stacey says "There have been ups and downs and difficult times but these are far outweighed by the pride that both Dylan and those close to him feel when he is able to achieve something he has been working on."
In the lead up to his 18th birthday in July, Dylan set some major personal goals that he is has been working hard to achieve. We are thrilled that he has recently achieved two very significant goals!
Dylan's New Job and Home
Dylan had a goal of working in a casual job while in Year 12, to help prepare for work after he finishes school. He has just started in a casual job at a local pub helping in the kitchen. According to Dylan "This is brilliant and I will soon be rich". Stacey says that they are delighted that Dylan has found an employer who has taken the time to understand Dylan and see that even though he takes longer to learn things, he is a hard worker and remembers the tasks. Dylan enjoys repetition, routine and following rules so it is a win-win for everyone as he is a great employee.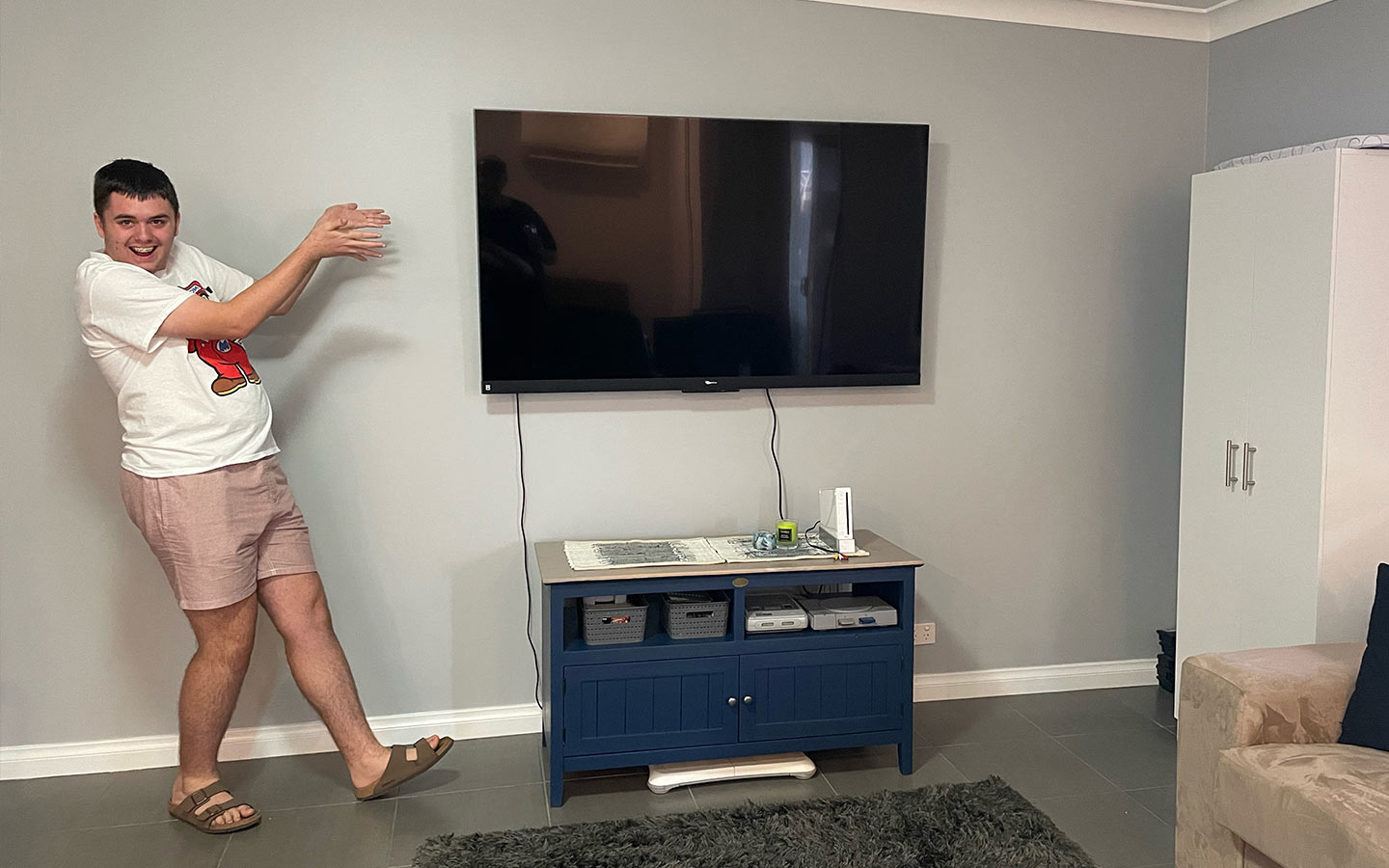 In addition, Dylan and his family had been preparing for some time for him to move into the flat at the back of their home once he turns 18 in July.  However, months earlier, Dylan has decided that he is ready for this step and now sleeps in his own 'house'.  He is so happy and proud and can be regularly seen vacuuming the floors, washing dishes and completing other chores, all without prompting. Although Stacey says that "he is not that keen on doing his own clothes washing – he is still a 17-year-old boy after all!". He is awaiting the installation of his oven and microwave so that he can prepare some of his own meals when the dinner on mum's menu does not appeal to him!  Dylan loves the independence of this new stage of his life.  He says that he is very proud of his 'back house' and that he bought many things for it himself with his own money (including a bed, an oven, a fridge, and his favourite…a 65inch TV).  Stacey laughs "Dylan has kind of ditched us now and is happy spending time in his own space, knowing that he has mum and dad close by."
What's next for Dylan?
Dylan is now working on his next goal: a Learner's Driver's License. He has wanted to drive a car since his sister got her license around five years ago and is working hard with a specialist driving Occupational Therapist (OT) and the ongoing support of his Novita OT, Kristy.  Stacey reflects "This goal is expected to take Dylan a bit longer to achieve as it is a complex skill but there is no doubt in our minds that he will get there because he is applying the same determination to this as all other goals in his life."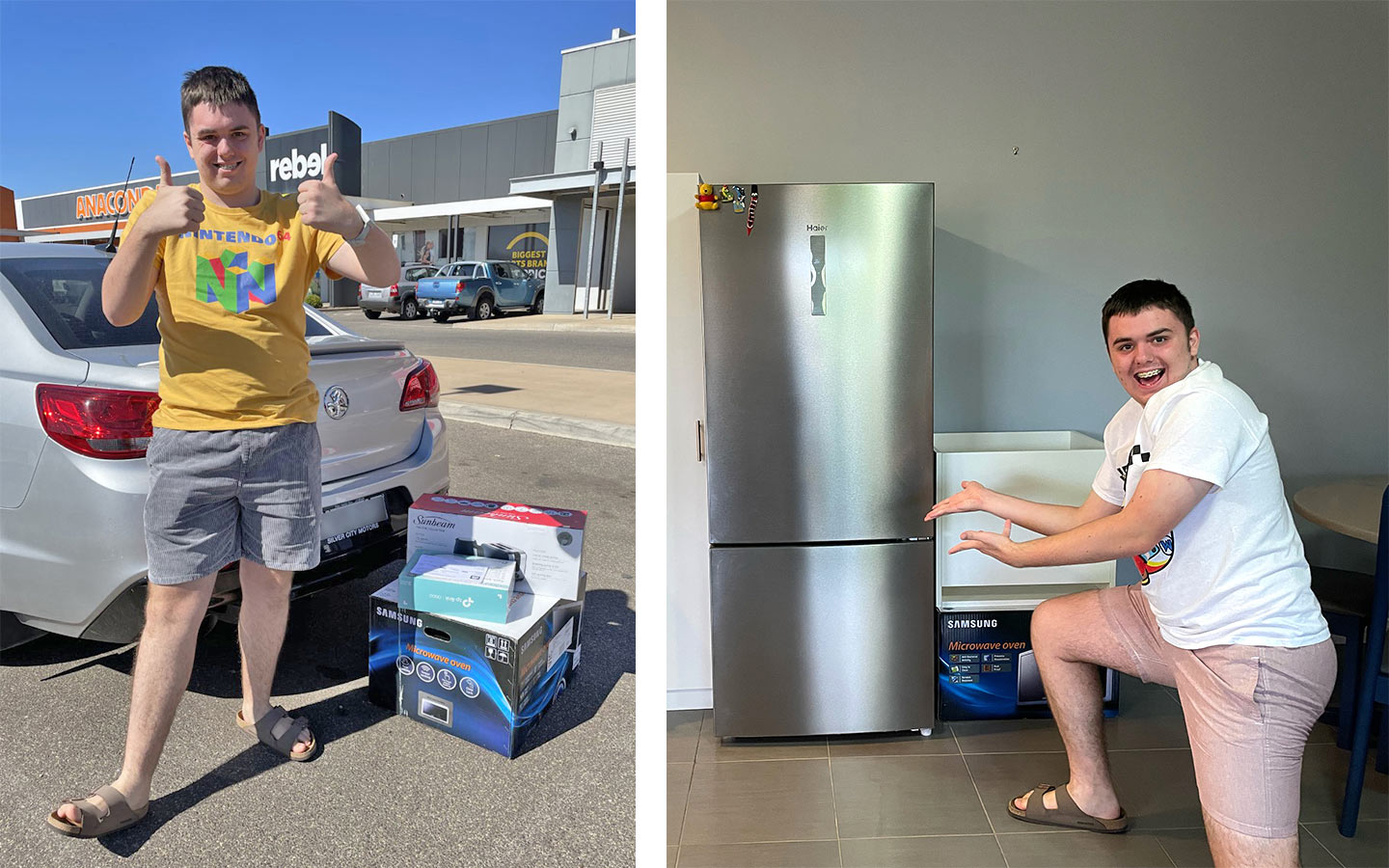 Novita Broken Hill Team Leader, Georgia Savage, is another avid supporter of Dylan and says "We are all so proud of what Dylan has achieved and can't wait to see what he does next."
Well done Dylan!
World Autism Day 2022
Stacey reflects on autism for World Autism Day:
"Living with autism has become the norm for Dylan and our family; we do not consider our life to be unusual.  However, on reflection, having a person with autism in our family has meant many things, including that we think about things very differently to how we used to – we see the world much more through Dylan's eyes and we plan and organise our lives very carefully to ensure every day runs smoothly. We have learnt the true meaning of unconditional love and acceptance and the importance of not judging a book by its cover or underestimating a person's ability.
Awareness of autism is very important, although I believe that many people think they are autism-aware but are actually not. I truly believe in the saying 'If you have met one person with autism, you have met one person with autism'. Each person is unique and will have their own strengths and challenges. There have been big improvements over the years in the overall level of general community awareness, which is great but I think there is still work to be done.
One of the most important areas for improvement, in my opinion, is challenging the perception that people with autism, and indeed any disability, may be difficult to employ. Of course, this is unique to individuals but I do believe that people with autism have a valuable contribution to make to the workforce, both paid and voluntary. With Dylan, it was a case of finding an employer who was willing to give him a go and accept that he may take longer to learn things but that once he does learn a task he will remember it and work hard.  Dylan enjoys routine and sameness so for him, doing the same tasks each week is not a problem. He is keen to work and likes to follow rules, so he is a model employee in many ways!  We are very grateful for this opportunity for him.
Improvements could always be made in ensuring that education and understanding of autism in our community is increased. Each person with autism and their family will be different in their thoughts on this but for us, we just want Dylan to be accepted for who he is and the wonderful person that he is.. It is part of him, it does not define him…different, not less!"
With regards to inclusion, and why it is so important, Stacey has some more wise words to share:
"Inclusion in every area of life is vital. In the education system, the health system, sports, employment, entertainment and as part of community and everyday life.  Dylan wants what everyone else wants, like to be able to reach his full potential and be able to fully participate in a life that he chooses. He cannot do this without accommodations being made to ensure his full and meaningful inclusion."
Autism Level UP!
At Novita we embrace all diversity, including neurodiversity, which refers to the fact that every human has a unique nervous system with a unique combination of abilities and needs. We look to the Autism Level UP! model as part of practical steps to assist the community to advocate and empower. In this, there are five levels to support people to Level UP: Awareness, Acceptance, Appreciation, Empowerment and Advocacy. You can read more here.
Novita therapists can support you and your child to learn skills to help your child to participate and reach their full potential. If you would like information or free advice, speak to someone in our friendly team on 1300 NOVITA (1300 668 482) or visit our Contact Us page for more ways to get in touch.