Participants at our Clare hub have a new way of working towards their goals, thanks to our friends at Vuly Play who have supported us in the purchase of a trampoline for use at the hub.
Not only are our participants having fun bouncing around, they are seeing improvements in their physical, emotional and mental health as they incorporate the trampoline into their daily activities.
Team Leader at the Clare hub, Fiona Mercer says the trampoline has become a favourite activity for many participants.
"Everyone has enjoyed incorporating the trampoline into their choice of activities," says Fiona.
"It has helped us to make the most of the great outdoor space we have and offers an activity that can be tailored to suit everyone's needs."
Having a trampoline in our own backyard has given our participants the opportunity to stay active at any time of the day and in the comfort of their own hub.
"It has certainly helped when we have had less access to our community because of COVID-19 restrictions," says Fiona.
Shaun is one participant in particular who, since having access to the trampoline, has made significant progress towards his health and fitness goals.
Since using the trampoline, he has seen some great improvements to his coordination, fitness and muscle strength.
"Shaun enjoys using the trampoline as it helps him work towards his health and fitness goals and he has fun at the same time," says Fiona.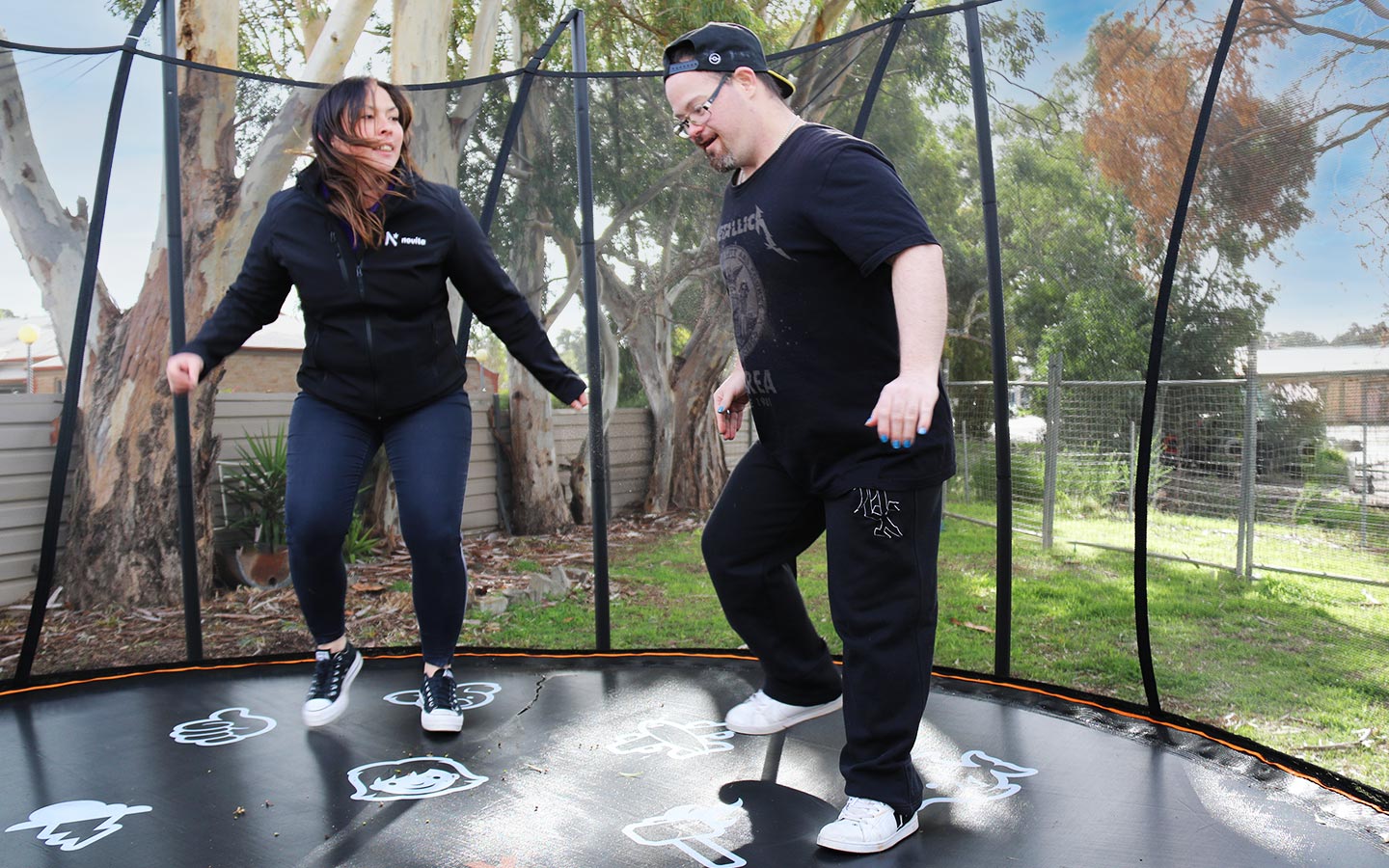 The Benefits of Bouncing
For people living with disability, bouncing on a trampoline can have fantastic benefits.
1. Increases Fitness Levels
Bouncing gets your heart rate up in seconds which can lead to improvements in cardiovascular health. Unlike other aerobic exercises such as running or jogging, jumping on a trampoline has less impact on your knees and ankles, which reduces the risk of injury and allows you to exercise for longer.
2. Improves Coordination
Jumping on a trampoline requires focus and concentration on a number of tasks at the one time: jumping, balancing, maintaining position and preparing for the next bounce. Increased coordination can improve your bilateral motor skills – the ability to use both hands and/or feet at the same time; such as kicking a soccer ball or playing basketball.
3. Strengthens Muscles
Jumping is a weight-bearing exercise, which means it is strengthening a large range of core muscles throughout your body – primarily targeting your stomach, back and legs. A strong core can lead to improvements in balance and posture.
4. Boosts Mood
As you bounce, your muscles send signals to your brain telling it to release endorphins – a chemical in your body that makes you feel happy and increases your confidence. This can assist with regulating emotions and managing stress; however, just the sheer fun of bouncing up and down is sure to put a smile on anyone's face!
5. Supports Regulation
Bouncing, or even just lying down on a trampoline, supports the regulation of your central nervous system, which can be beneficial when you are feeling stressed. The up and down movement of bouncing and the pressure provided through your feet and legs sends sensory feedback to your brain that helps to calm you down. Sometimes in busy environments, we can become overstimulated by all the sensory input our brain is processing. The net around a trampoline can help to block extra sensory feedback from the rest of the environment, to prevent us from becoming overwhelmed.
Additional Benefits Include:
Bone and joint health
Flexibility
Gross motor function
Body-awareness
Improved digestion
Boosts immune system
Removes toxins from the body
Great source of Vitamin D gained from exercising outdoors
Remember: For people living with disability, it is important to consult with a therapist before engaging in this activity.
Thank you to Vuly for their support of Novita and people living with disability.