Resources
Christy and her three kids find plenty of benefits in therapy via telehealth
Christy Brown, who has three children all living with autism, has been utilising Novita occupational therapy and speech pathology services via telehealth since the onset of COVID-19, and has been noticing plenty of benefits.
"The telehealth service has been a really good option for my children during these difficult times," says Christy.
"Whilst the children struggle to understand why they can't go into the clinic, they now look forward to speaking with their therapists in the mornings.
"The therapists are really flexible and understand the added stress the children are currently under with the huge change in their lives – they are flexible and let the children lead a lot of the sessions, the actual video has been good too and the Webex video platform works really well."
The children's therapists, Stacey and Shaidan, have worked with Christy to facilitate planning shorter sessions more frequently and in advance; the added structure has helped the children to focus when undertaking their appointments and also helped to break up long periods at home.
Christy says that telehealth has been 'vital' to strengthening the relationship between her children and their therapists, as well as continuing to make progress toward their goals.
I have been surprised at the benefits that telehealth has offered my children – Christy Brown.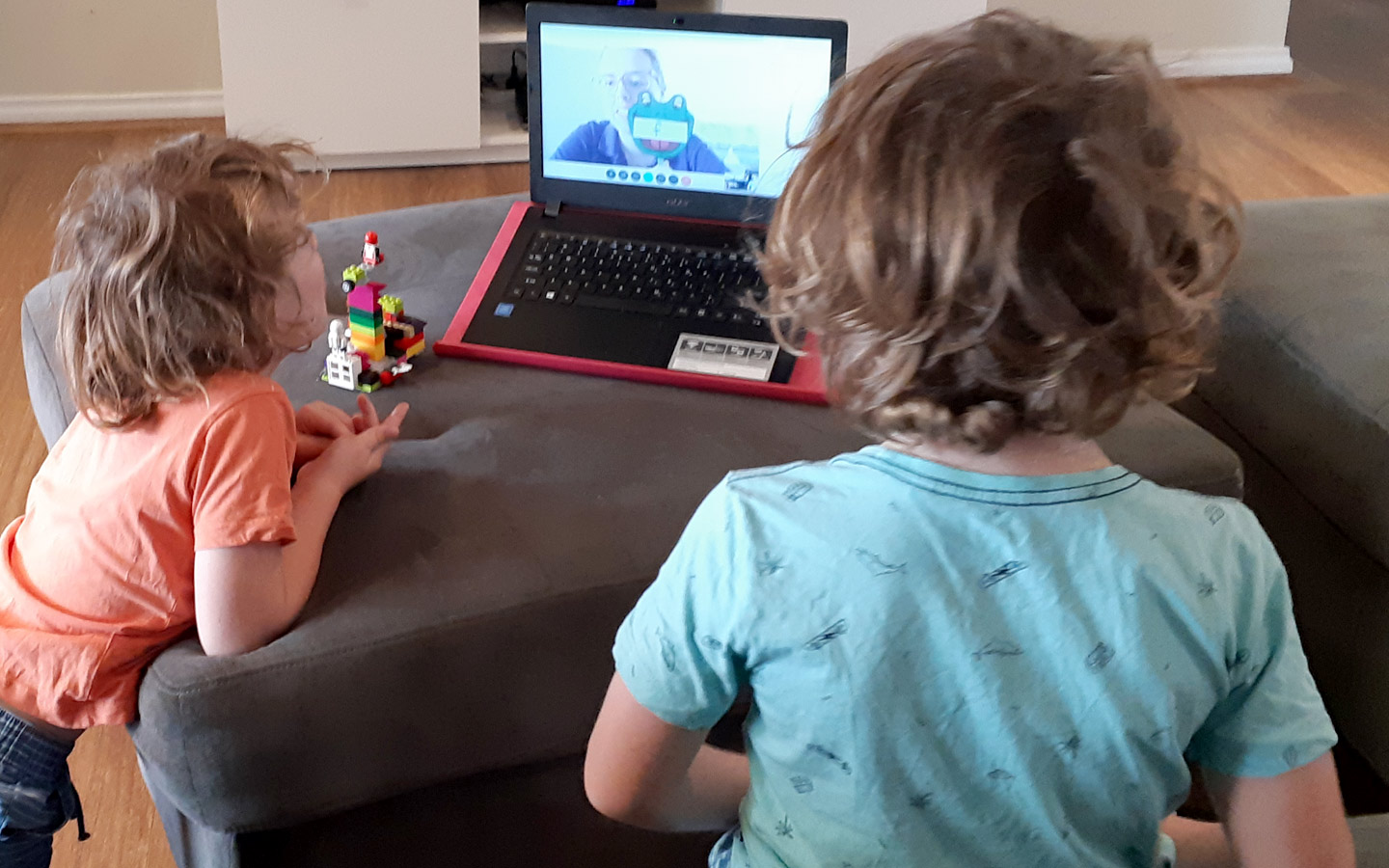 "Specifically they've been learning to focus and really listen in a conversation, and they have shown increased ability to use language to explain themselves, and have respected the need to take turns with the therapists.
"My eldest has extreme anxiety and has shown great improvement – she generally doesn't engage in movement activities, yet will do so online."
Christy's two youngest children are five year old twins who have significant language difficulties and because the camera lens used for telehealth can only show a small portion of what's going on at home they are needing to use descriptive language – ultimately resulting in an overall improvement in their communication abilities.
"The children are really enjoying seeing the therapists in their own home and they enjoy taking their therapists on virtual tours of our house, which is strengthening their relationship."
"As a family, the children are learning about each other's needs, respecting other's time to talk and recognising that they are all at different levels of learning," says Christy.
Overall, Christy says that she would recommend the telehealth service to others and her advice is to talk to therapists and discuss any concerns that they might have about switching from in person appointments to telehealth.
Novita clients and therapists alike have been experiencing improvements and developments in a variety of areas.  These have included improved ability to focus and listen to conversation, use of language and the taking of turns and by utilising Novita's telehealth services, our clients' capacity to participate in online schooling has improved significantly.
"Give it a go – you might be surprised at how well it goes," says Christy.
"We are very grateful to the therapists for the extra lengths they have gone to make this work – dropping off items on our doorstep for sessions for the children to hunt for, then contacting us before and afterwards to see how things are going and to plan for the next session."
You can find out more about our telehealth services and therapy options on our website, or give us a call and speak to one of our friendly team members directly on 1300 668 482.