Seven-year-old Thang Muan's family can't wait for the day when he can walk into church with them holding their hands.
He lives with a form of leukodystrophy, a genetic condition that impacts the brain, and the therapy team at Novita's Parafield Gardens hub is supporting him to achieve important life goals such as feeding himself, communicating with others, and improving his mobility.
Thang Muan's progress has been so impressive that occupational therapist Rebecca Appleby last year nominated him for a Novita Achievement Award. Rebecca's nomination read:
"…He has a diagnosis of Hypomyelinating Leukodystrophy and has made fantastic progress in his self-care and mobility goals. He is working hard at being able to feed himself and to walk using his walker. Thang Muan brightens up the life of everyone around him and works hard even when things are very tricky for him…"
Rebecca says she nominated Thang Muan for the 2021 President's Achievement Award because he is a joy to work with.
"He is very persistent and motivated to do things, and he is always keen to try new activities and learn new things. He persists even when the tasks and activities are hard, and he is making real progress in many areas because he is so motivated," says Rebecca.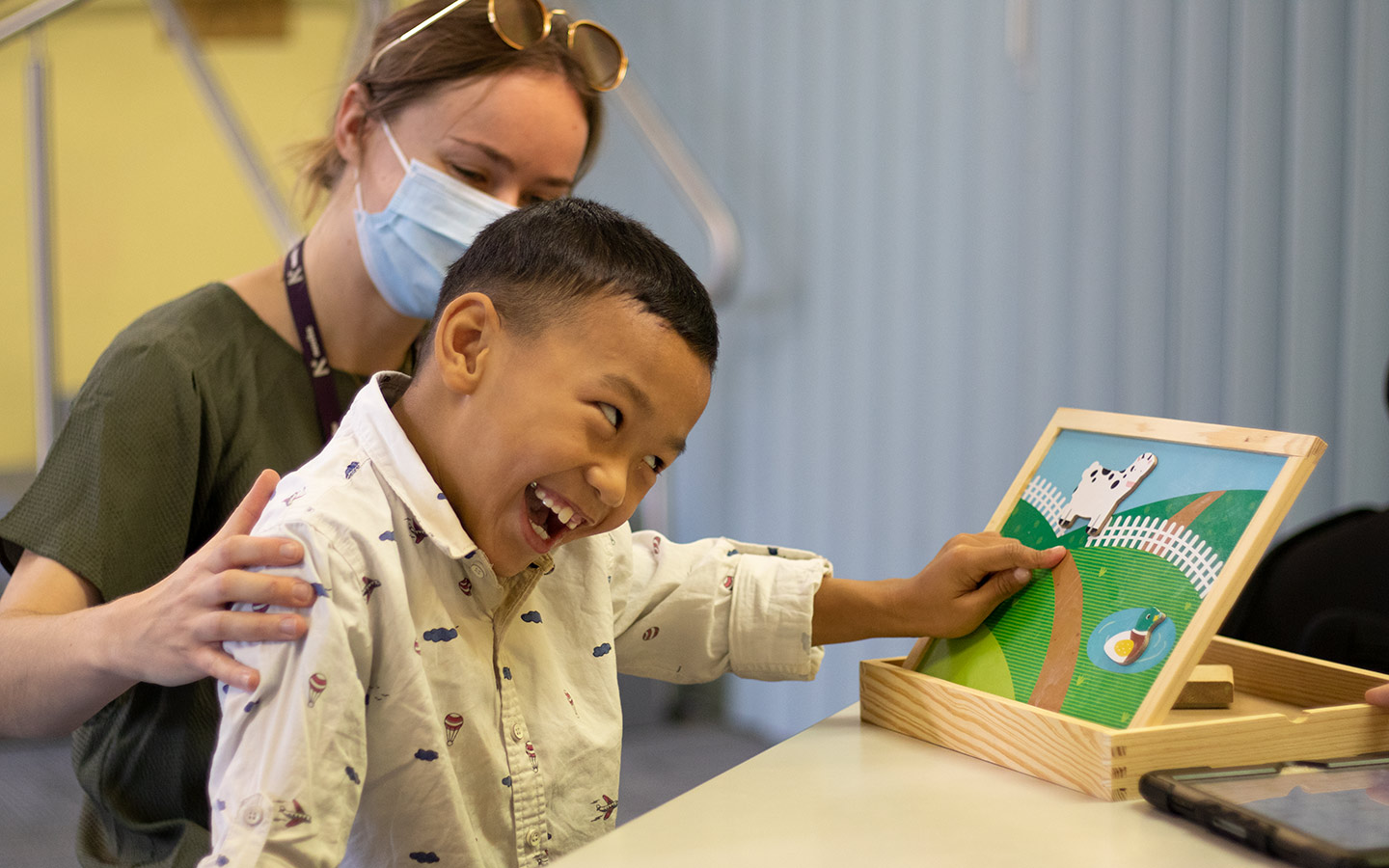 Thang Muan and his family's story is remarkable. He was born in Malaysia while the family were refugees from Myanmar, and they found their way to Australia in 2019. Thang Muan lives with his mother and father, his two brothers, and a sister. The family is currently building a new house.
"He has such a lovely and supportive family, and they have come through a lot to get to where they are today. They give Thang Muan so much support and really want the best for him," says Rebecca.
"He has such an infectious smile. He doesn't use any verbal words, but you can always tell what he wants, and he is always very expressive – and he loves having a good laugh."
Rebecca says Thang Muan's family have some specific goals that they are keen for him to achieve, with the support of the Parafield Gardens team.
"He has quite a big support team at the Parafield Gardens hub including occupational therapy, speech pathology, physiotherapy, a social worker, and he also has support for the equipment he needs, such as his wheelchair and walker," she says.
"He sees us quite regularly – he'll receive at least one of our therapy services most weeks, and we will visit him at his school and at home with his family. He also participates in intensive school holiday therapy programs, which means he will come into the hub for a full week to work on his functional goals.
"Among the family's goals for Thang Muan are being able to feed himself using a spoon and a fork, and he is also learning to become a switch user so he can communicate with others.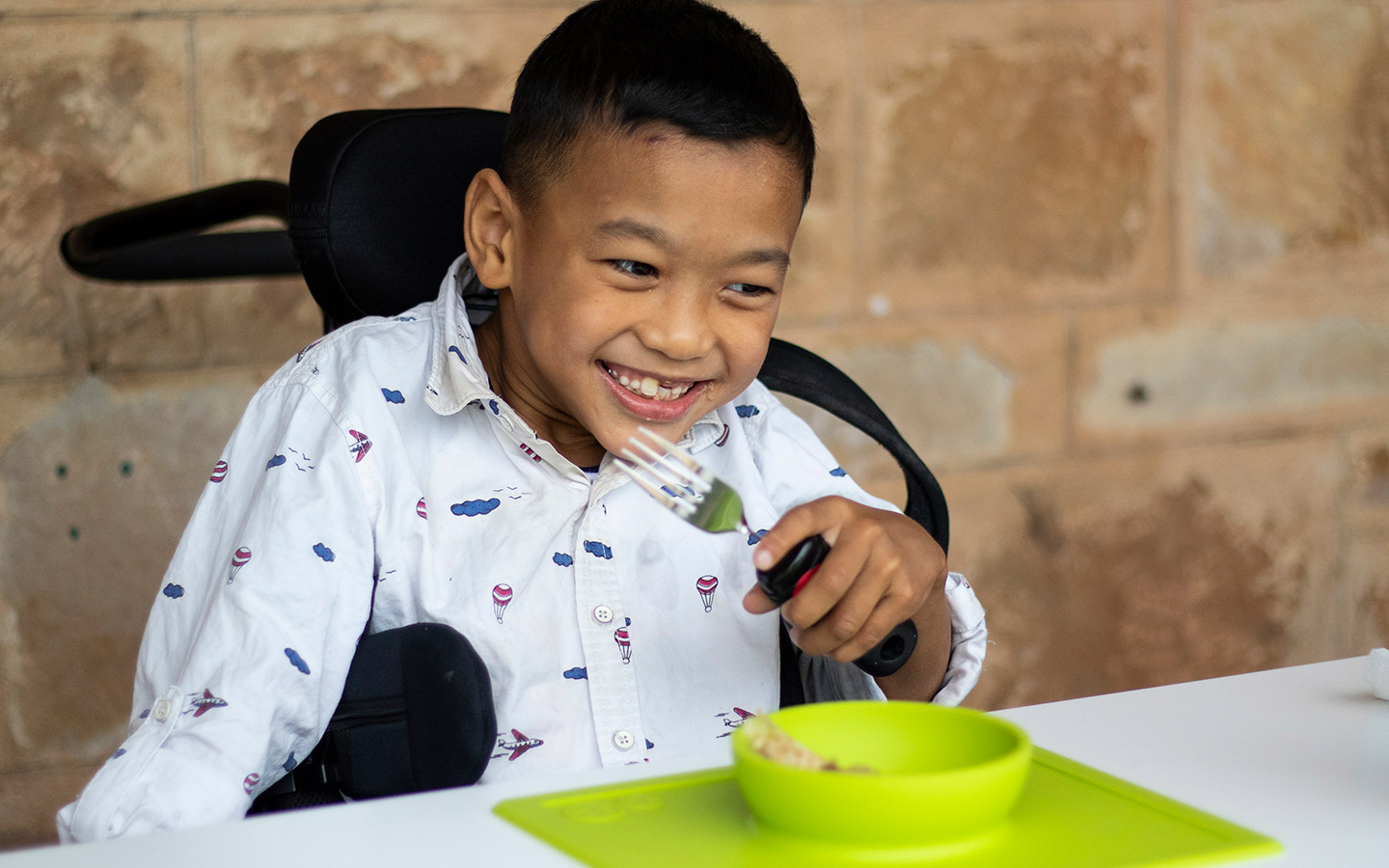 "He has such a good understanding of language, both English and Tedim Chin, and is an excellent story-teller. It's about giving him the right tools to be able to communicate socially.
"Thang Muan is also working on his mobility, including walking with support. He uses a walker at school, and at home his family would like him to be able to stand and walk short distances while they're holding his hands. They have particularly identified that it is important for Thang Muan to be able to walk into church with the family."
"He loves his school and gets along very well with his classmates and teachers. Thang Muan loves to learn, play in the sandpit at recess, and play with his teachers and friends."
The Parafield Gardens team is excited about the progress Thang Muan continues to make.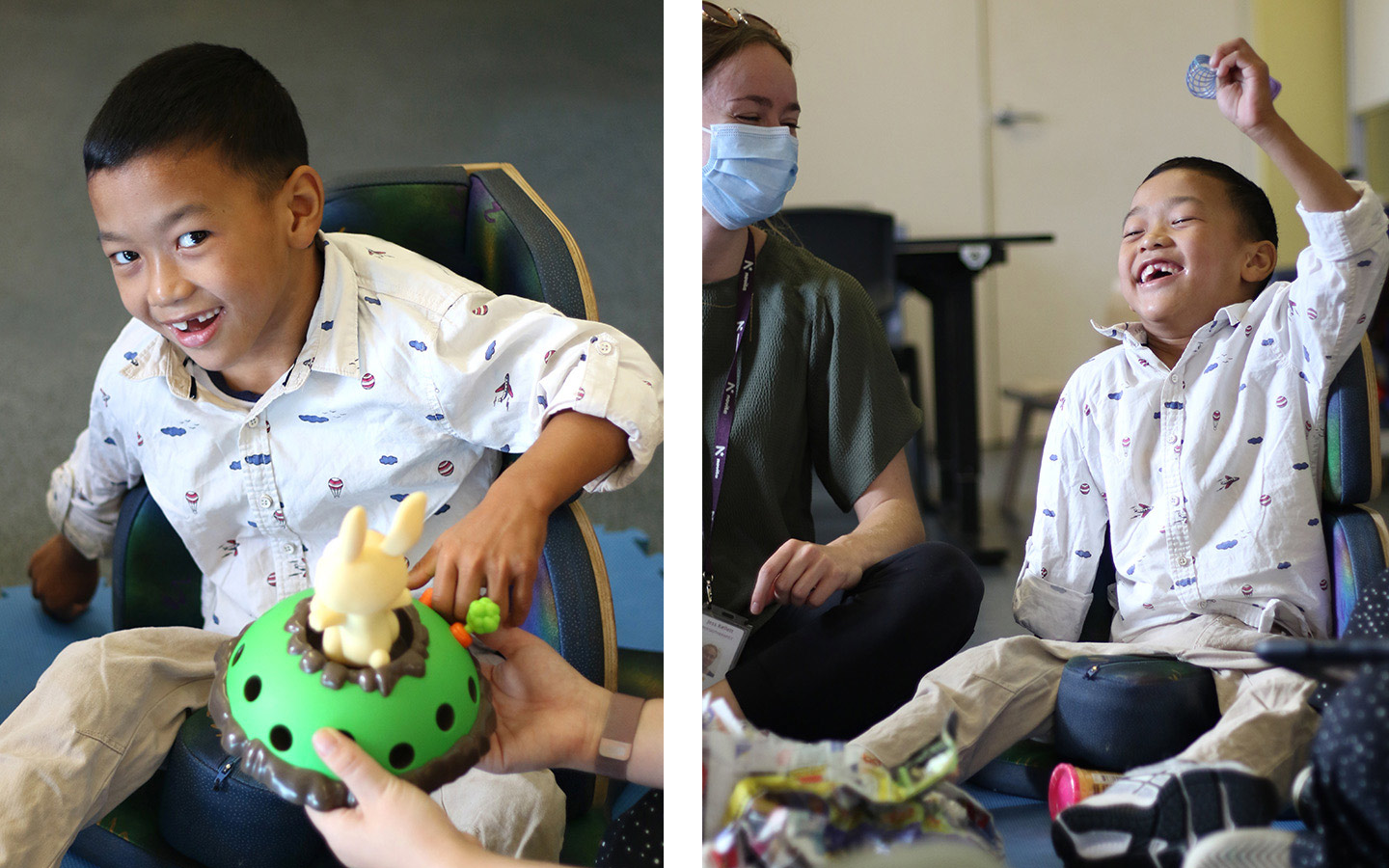 "Thang Muan is also well supported by assistive technology. He has supportive seating options that allow him to independently sit up at the table and on the floor, a manual wheelchair, walker and AFOs to support his mobility, and a shower chair that allows him to sit on his own in the shower. He also has special cutlery to help him achieve his goal of feeding himself," says Rebecca.
"We have also provided support to ensure he has appropriate seating and equipment at his school.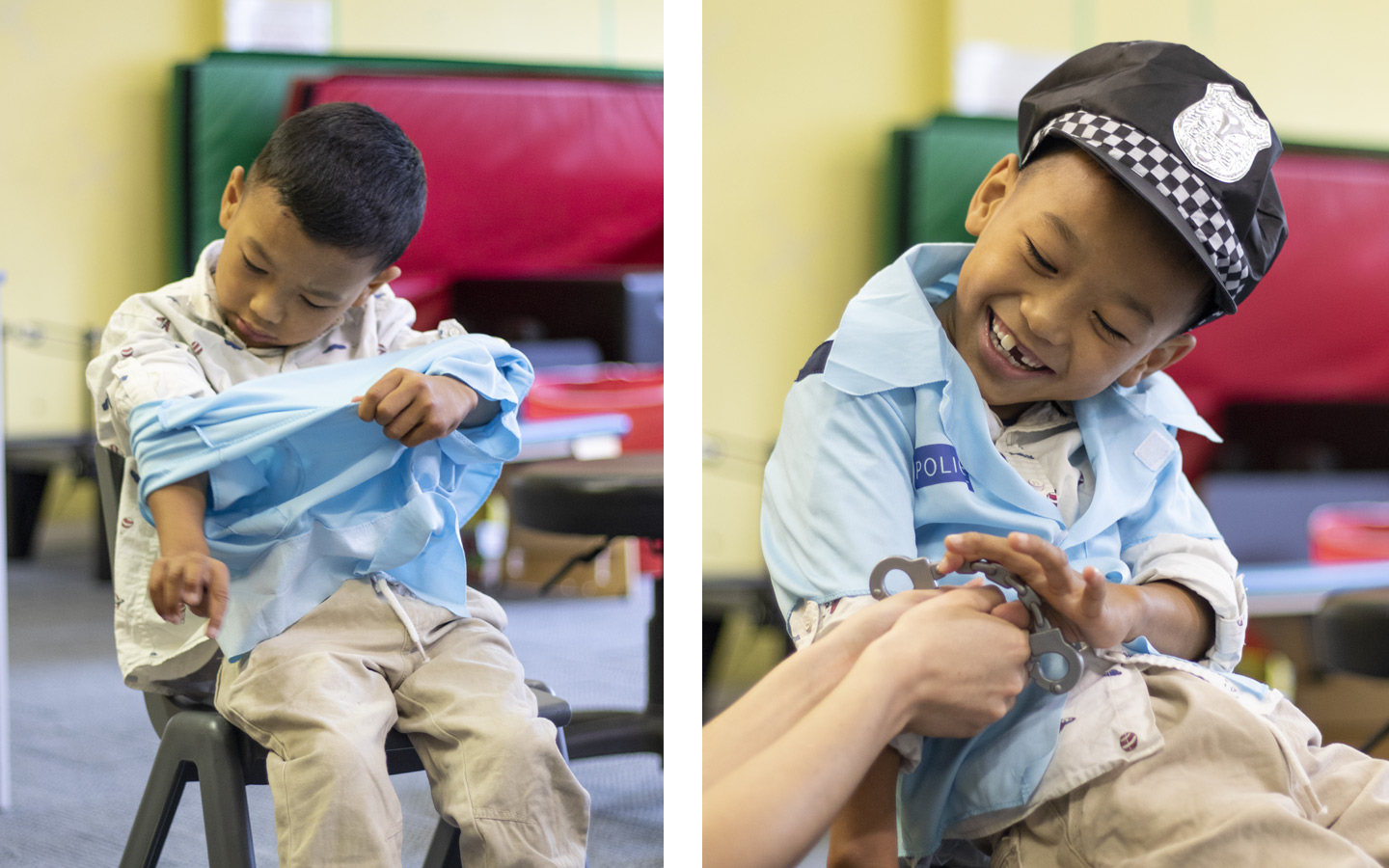 "Thang Muan also uses assistive technology to communicate. He currently has an iPad with ProloQuo2Go but is learning to use switching to operate a communication system and participate in activities like games and Youtube.
"Having all of those supports in place is enabling him to do the things he wants to do and participate with his peers and family in daily life. He is making excellent progress in all his motor skills, such as using his hands and communicating effectively, as well as taking more steps with his hands held and in his walker."