Today on World Cerebral Palsy Day we celebrate the lives of 17 million people worldwide living with cerebral palsy, bringing them, their families, supporters and organisations across 100 countries together. World Cerebral Palsy Day acknowledges people living with cerebral palsy who often face unequal rights, access and opportunities.
"Cerebral Palsy is one of the least understood disabilities and people living with cerebral palsy are often out of sight, out of mind and out of options in communities around the world. This needs to change". (worldcpday.org)
Meet Jemma
We would like to introduce you to Novita client Jemma, who reflects on her personal experience living with CP and reasons for supporting World CP Day on October 6. Jemma's story shows us that we can all do amazing things, and we can work together to make the world a kinder and more inclusive place for everyone. 
26-year-old Jemma grew up in Gawler, and has been a client at Novita since she was just 1 year old, when she was first diagnosed with Cerebral Palsy Spastic Diplegia. This condition affects both her legs moderately and mildly in her right arm. 
When Jemma was only 3 years old, she started getting a treatment called Botox. This treatment involves an injection to relax her muscles and make it easier for her to move. 
Unfortunately, the effects of Botox are only temporary and wear off over time as the muscles lose their tolerance to the point Botox can no longer support the muscles. Unfortunately, Jemma also had some side effects from the Botox injections. Her muscles became weaker, and she couldn't even open her walker with one arm.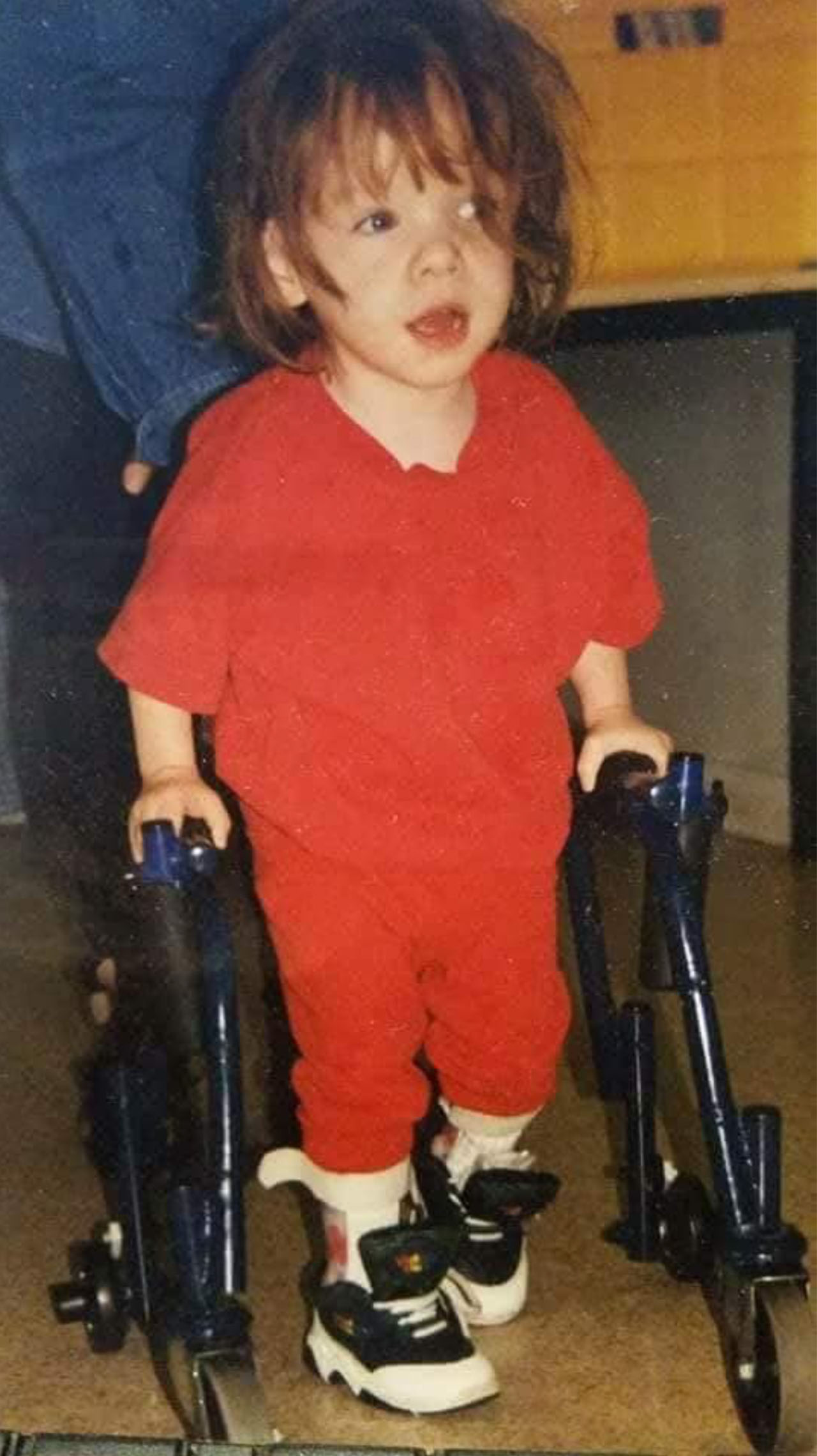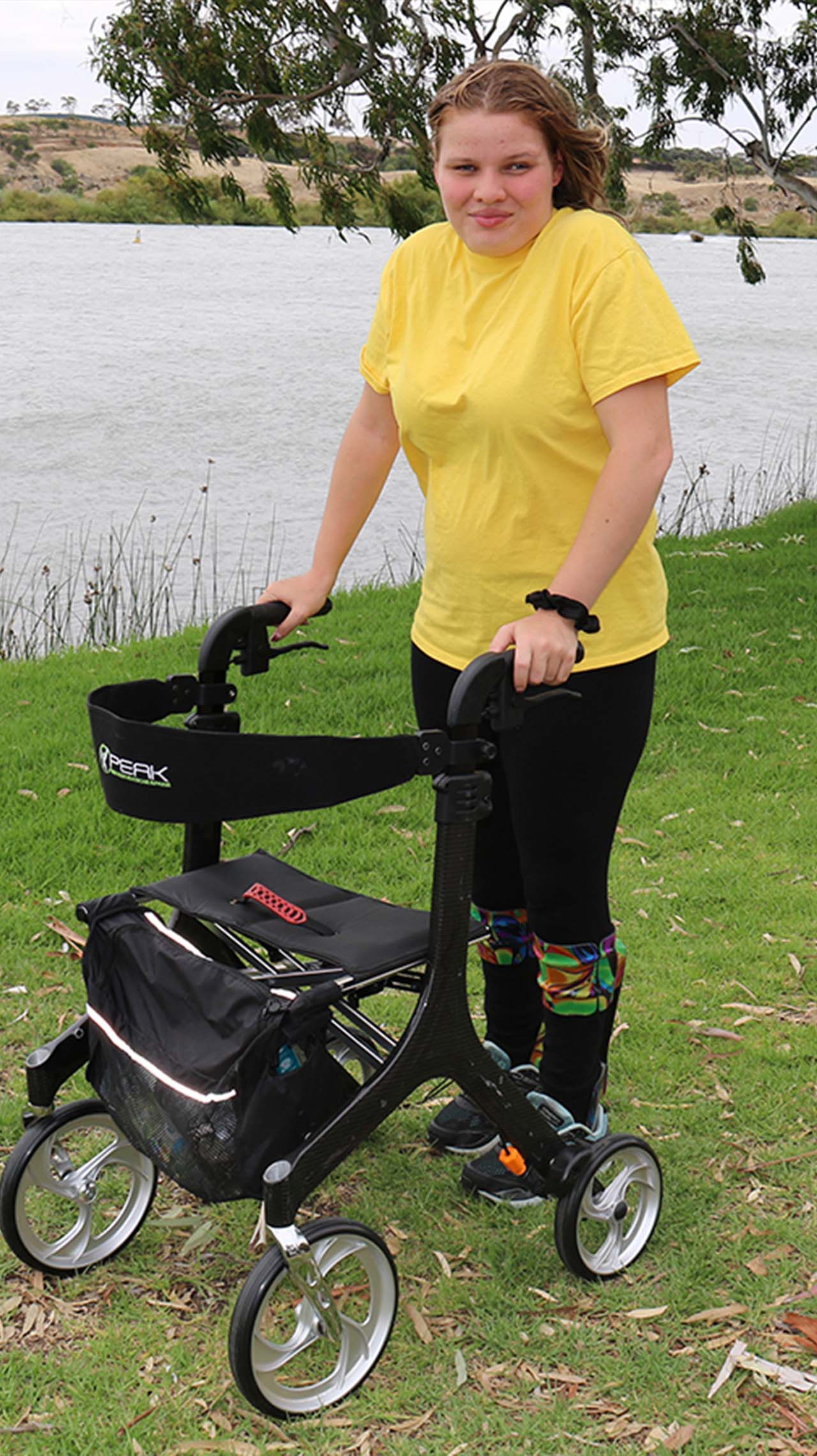 When Jemma was 11, she had multi level surgery to correct her gait which involved 5 different procedures on both of her legs.  After the surgery, Jemma had to learn how to walk all over again. Jemma was supported by Novita therapists as well as assistive technology, including splints and an ankle foot orthosis, to support her to walk. 
Jemma was determined to continue to enjoy a range of different hobbies, including athletics. Jemma excelled in athletics and even set some records in shot put, discus and long jump when she was a teenager.  
Jemma took a break from athletics, before getting back into it a couple of years ago. This time, she had to do things a bit differently because her balance isn't as stable as before. Jemma had to learn to perform her athletics events from her wheelchair. 
Jemma says, "Living with CP isn't easy, we all have good days and bad. You will find there are things you may not be able to do and that is okay! If you really want to do something, discover what you can do and work with that." All her life, Jemma has been determined to overcome any challenges to achieve her goals. 
Today, Jemma is supported through a range of services to keep her body strong and mobile. She meets with her allied health assistant Jodie, to follow a program from her physiotherapist, Jenny, every week. In these sessions, Jemma performs exercises to improve her balance and strength and keep her muscles working as best as possible. Jemma also sees an occupational therapist at Novita to assist her with stretching and show her how to use assistive technology to make her life easier.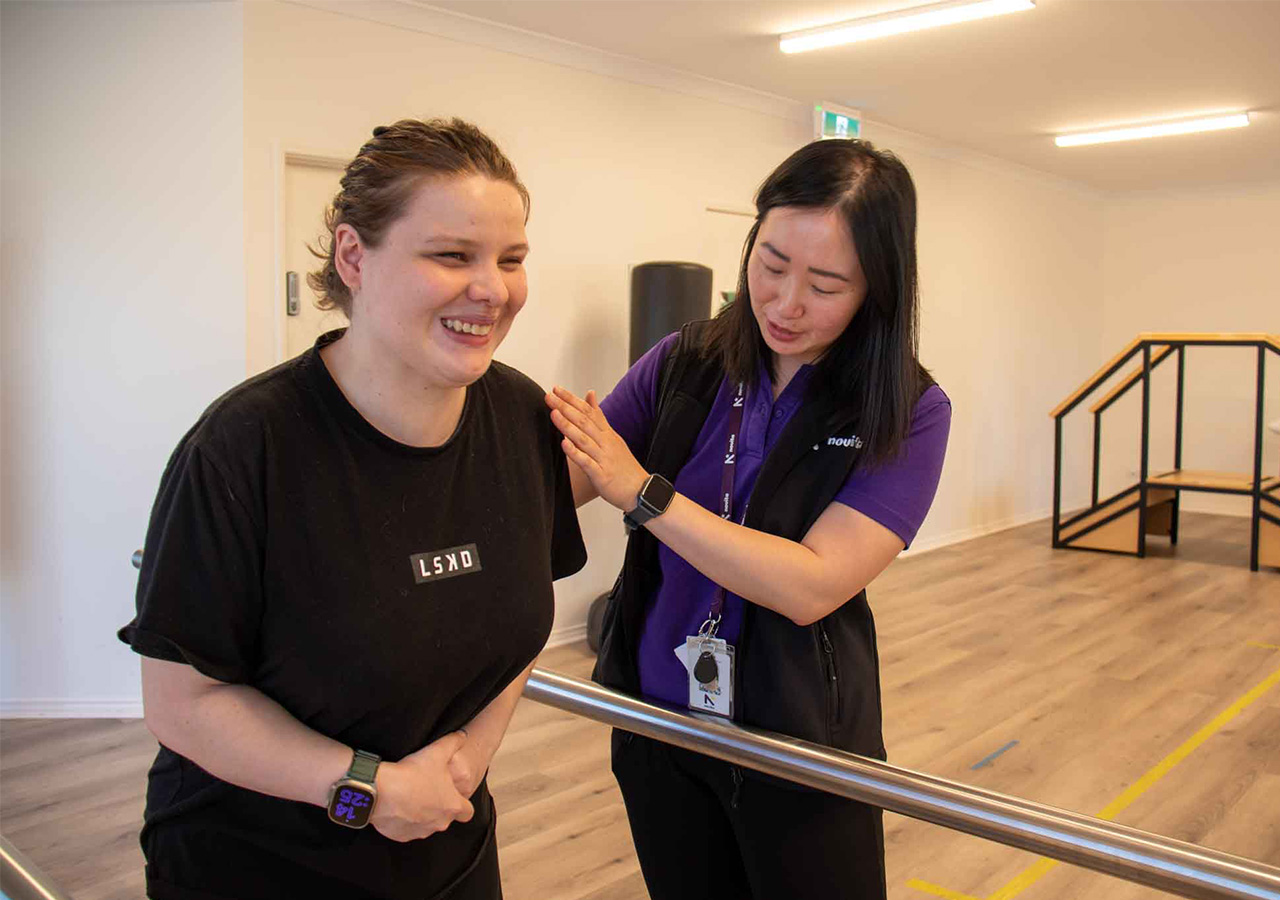 Jemma's biggest challenge is her mobility. Sometimes, she gets tired quickly, so she listens to her body and takes breaks when she needs to. But with the help of assistive technology like her walker and stick, Jemma has been able to improve her fatigue from walking a lot.
A couple of years ago, Jemma's pediatric surgeon told her that her walking was better than what he expected it to be. Jemma was really happy to hear that, knowing that her hard work had been worth it. "Even though my walking isn't as good now as it was back then, it was such a relief to hear my hard work is paying off." – says Jemma. 
Jemma has worked really hard and achieved many milestones in her life already. She's really proud of getting into university, and she even bought her first house. 
Jemma is currently studying a degree in Health and Medical Science at uni, where she's interested in the human body, and how it works especially for people living with a physical disability. She's curious about how the muscles work and why they do what they do.  
Jemma says, "I'm thinking of using my degree as a pathway to sonography, or even going down the research route working in Cerebral Palsy research."  
Jemma wants to use her knowledge to support others who are going through what she's been through. Jemma has always been interested in the work her therapists do, and she loves asking questions to learn from them. She hopes that one day, her work will make a difference for people living with CP. 
Jenny says, "Often, we will go through her lower limb measures, and she will be excited about recognising the muscle groups we are talking about. She is always excited to share her new learnings from uni (like anatomy lab!), and I love that her presence at uni supports and raises awareness for the tertiary education system on inclusiveness and participation for people living with disabilities.  
I have recently sent her several journal articles about Cerebral Palsy management and respiratory risk factors in Cerebral Palsy – usually articles that only colleagues or I read. It's exciting to work with someone who loves learning as much as I do!" 
Jemma loves taking on new challenges and stepping out of her comfort zone. She shows this by choosing to study something that is academically challenging.   
Jemma says, "Sometimes people try to question you and your ability to do certain things as they think it'll be too hard." But Jemma proved them wrong when she got into university to study what she really wanted. She felt so proud because it showed her that she could do it. 
Jemma wants to share a powerful message, "Don't let people tell you what you can and cannot do – if you believe in yourself and work hard for what you believe in and what you want to do, you can do it!"  
Jemma would like to see more awareness around CP in research, especially in adults, because she believes it's generally seen and spoken about as a childhood disability.  
She says "It doesn't stop once you become an adult, so I think further research is important. Cerebral Palsy affects us all in different ways – like everyone else we have different strengths and weaknesses. I have found for me personally, some of the general public assume my disability is intellectual as well, which isn't the case. I am aware some people with CP do have other disabilities but that isn't the case for everyone." 
Jemma is supporting World CP Day to raise awareness that just because you have cerebral palsy, this shouldn't stop you from chasing your dreams. She believes that if you want to do something and you work hard at it, you can do it, even if there are challenges along the way.  
Jemma is an amazing young woman, and she has a message for other people living with CP, "Don't let your CP stop you – you can achieve whatever you want to achieve, there may be hurdles and you may need extra support – but if you put your mind to it you can achieve anything, don't let people tell you what you should be doing.". We couldn't agree more with Jemma! 
Novita has many therapists who specialise in supporting people living with CP, including occupational therapists, physiotherapists, psychologists, social workers, educators and speech pathologists. We can support you, or your child, with motor skills, mobility, communication, family support, daily routines, self-care, and much more. We can also provide assessments, early intervention and transition support from preschool to school and equipment.
If you would like more information, speak to someone in our friendly team on 1300 668 482 or email services@novita.org.au