Stories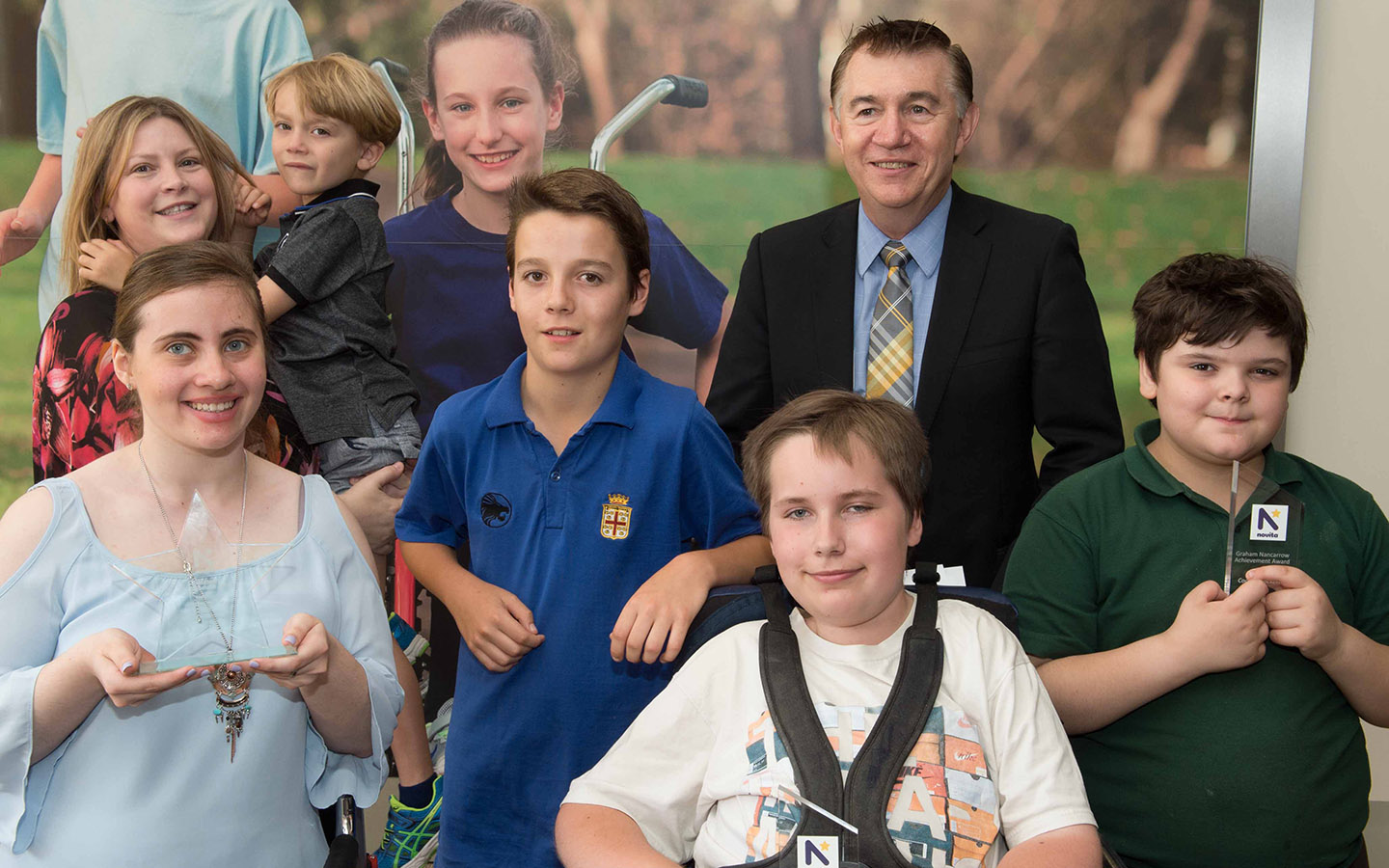 Our kids achieve amazing things every day and we take enormous pride in celebrating their outstanding success.
Each year, we present a number of our Novita kids and young people with awards to acknowledge their extraordinary achievements.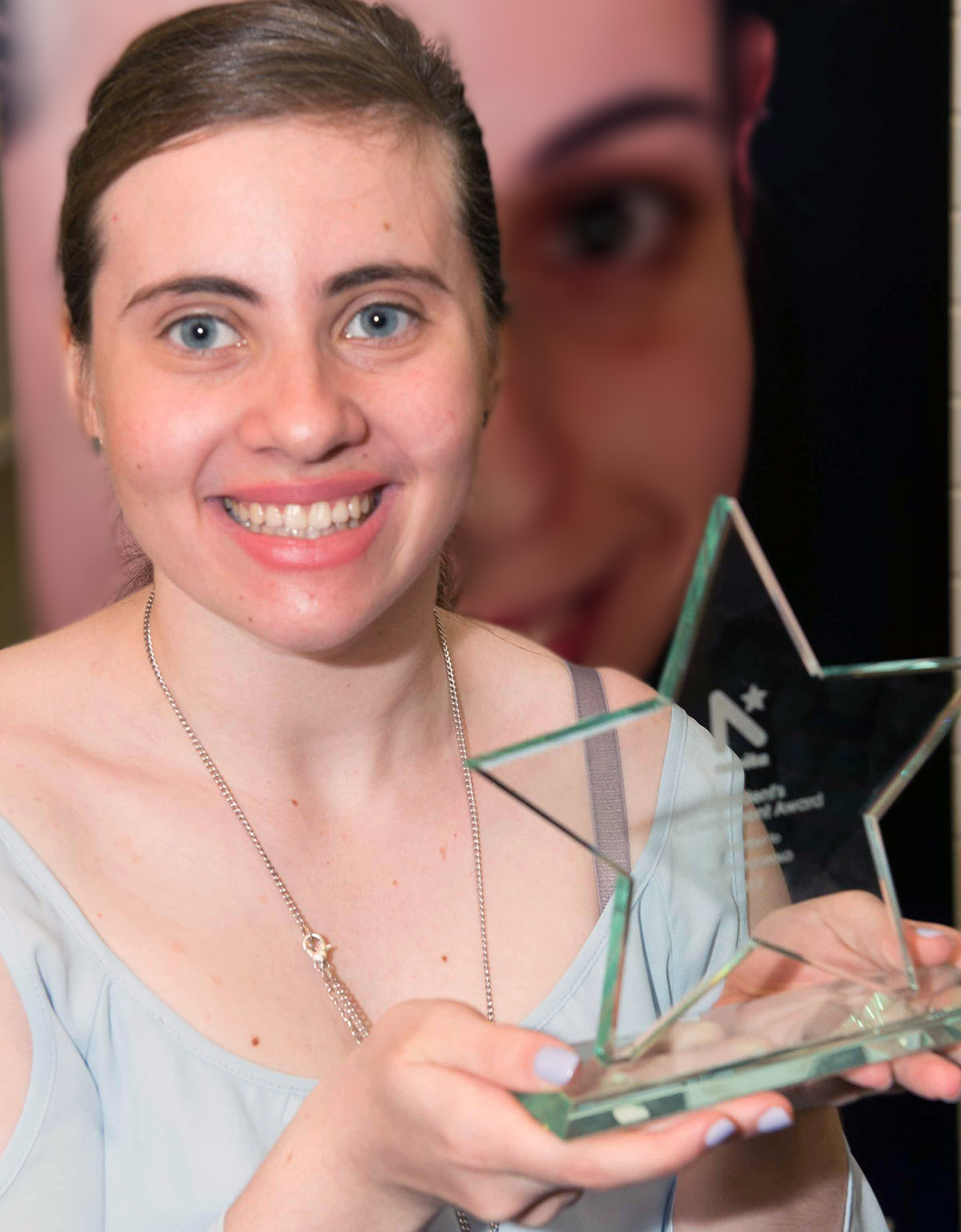 PRESIDENT'S ACHIEVEMENT AWARD
The President's Achievement Award is presented to a Novita client who lives with physical disability and has made outstanding progress in their rehabilitation.
The 2017 President's Achievement Award goes to
Alyssa Puopolo
19 year old Alyssa, who lives with cerebral palsy, has worked diligently with her Novita physiotherapist over the past year to achieve some specific mobility goals that have changed her day-to-day life.
They began working together in December 2016, meeting every week at Novita's Rehabilitation Gym at Regency Park. At the time, Alyssa was dependent on her walker for all her mobility, and required adult assistance with transfers.
She told her physiotherapist that she had three functional goals she wanted to achieve, to increase her independence.
Goal one, was to be able to go to the supermarket with walking sticks and push a trolley.
Goal two was to work on her standing balance while stirring a pot on the stovetop and being able to step independently between kitchen benches.
Alyssa's third, and ultimate goal, was to be able to move independently without her walker, by either using walking sticks or taking independent steps.
Through dedication and hard work, Alyssa improved her walking speed, over 150 metres using two walking sticks, by 35 minutes. She also improved her distance over six minutes, using two walking sticks, by 22 metres.
These outcomes show a large improvement in Alyssa's functional independence using her walking sticks. Her increased speed and confidence mean she's comfortable using her walking sticks when she goes to friends' houses, and out in the community. And, Alyssa achieved her goal of going to the supermarket with just her sticks!
Alyssa's next goal is to increase her number of independent steps so she can move around the house without needing her sticks or walker.
Alyssa, we are so proud of what you have already achieved over the past year and we wish you all the very best in achieving your next goal!
Congratulations Alyssa.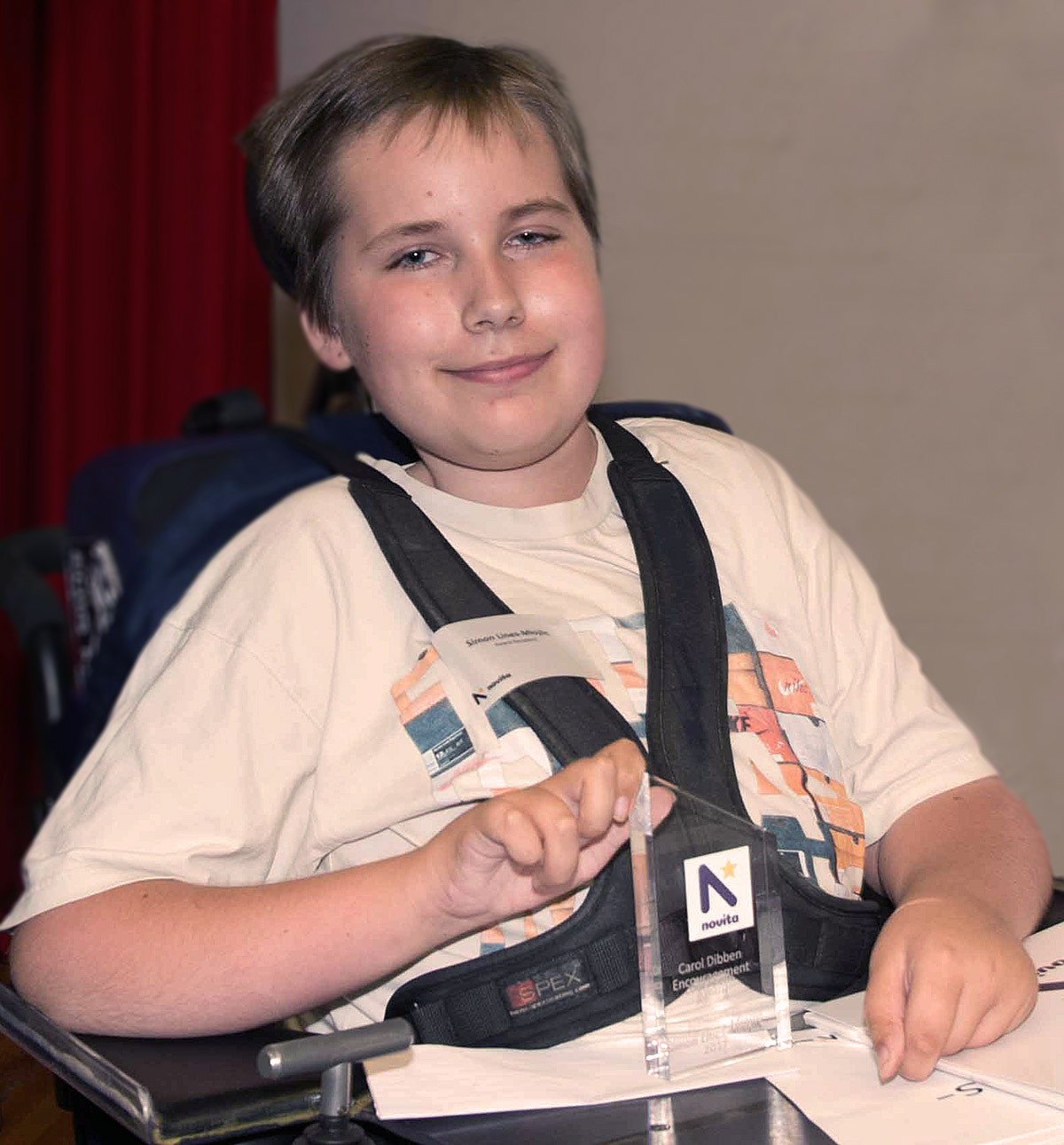 CAROL DIBBEN ENCOURAGEMENT AWARD
The Carol Dibben Encouragement Award is presented in memory of Carol Dibben, a former client and long-term employee of Novita, to recognise a senior student who has worked diligently to achieve their personal goals.
The recipient of the 2017 Carol Dibben Encouragement Award is
Simon Lines-Miojlic
13 year old Simon is a remarkable young man who, over the past year, has worked wholeheartedly to achieve his personal goals.
Simon lives with spinal muscular atrophy types 2 and 3, which affects the muscles in his arms and legs.
During the year, he committed to undertaking a home exercise program to develop his upper limb strength and hand dexterity.
Simon also participated in an aquatic therapy program at his local pool, where he enjoyed the freedom of movement he had while in the water.
He also successfully transitioned to a mainstream high school where he has been able to demonstrate consistent academic achievement, and was able to attend his very first school camp!
Simon has also demonstrated great maturity this year. After having his technology, including his personal tablet and games console stolen, Simon eloquently put the event in perspective, by saying they "were just material things".
Simon, we are very proud of what you have achieved this year, and your persistence to achieve your personal goals.
Congratulations Simon.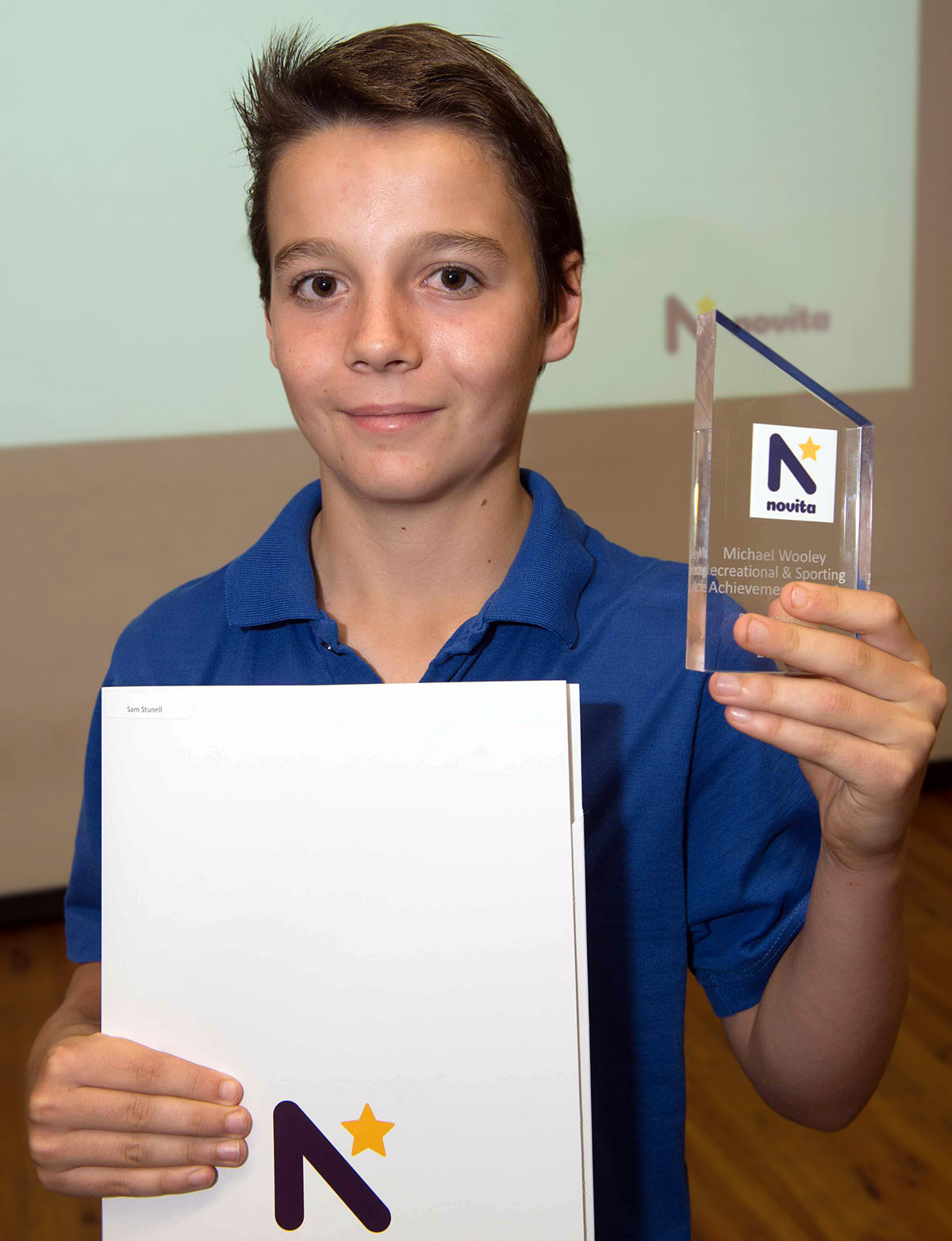 MICHAEL WOOLEY RECREATIONAL AND SPORTING ACHIEVEMENT AWARD
The Michael Wooley Recreational and Sporting Achievement Award is presented in memory of Michael Wooley, a past client, Board Member and Honorary Life Member, who had a passion for sport. The award is presented to a Novita client who has shown determination to achieve in a sporting or recreational capacity.
The recipient of the 2017 Michael Wooley Recreational and Sporting Achievement Award is
Sam Stunell
10 year old Sam, who lives with cerebral palsy hemiplegia, leads a very active life, competing in mainstream football, soccer, athletics, and as a coxswain for the year eight Prince Alfred College rowing team.
It was through a chance encounter with a previous recipient of the Michael Wooley Recreational and Sporting Achievement Award that Sam learnt about the opportunities available to him through para sport.
This year, Sam qualified for the SAPSASA Cross Country State championships and won Bronze State Champion for his age group (10-12 year olds) and came first in the 11 year old division. Subsequently, he was selected to represent South Australia at the Cross Country National championships in Tasmania in August, where he won gold, and was named National Champion in the time trial event.
Sam's hunger for success led him to compete in the SAPSASA Athletics State Championships, where he not only won gold in the 100m, 200m and long jump, but also broke the Australian record for the 100m and 200m in his classification T37! Sam will now represent South Australia at the Pacific School Games.
Aside from his sporting accolades, Sam admirably demonstrated his courage and determination over the past year when faced with a significant challenge – undergoing surgery on his lower limbs which results in a lengthy rehabilitation and limited physical function.
Wow Sam – what an impressive record of sporting achievements! We have no doubt you will continue to succeed through your determination, talent and resilience.
We can't wait to see what the future holds for you.
Congratulations Sam.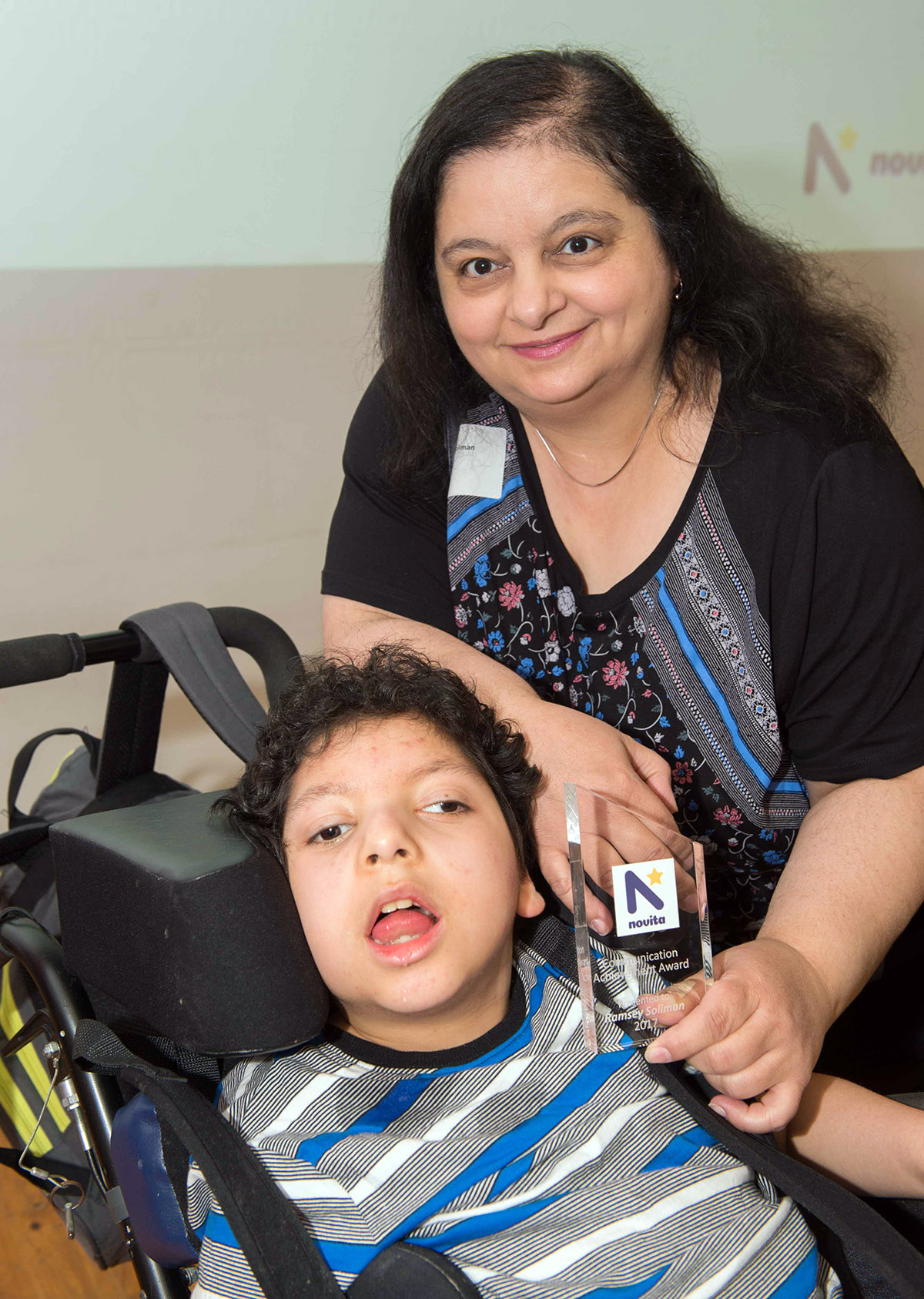 COMMUNICATION ACHIEVEMENT AWARD
The Communication Achievement Award, sponsored by Novita member and past Board member Dr Deborah James, acknowledges a Novita client who has overcome considerable personal or environmental barriers to make significant progress in their communication, which has led to greater community participation and the creation of new circles of communication partners.
The recipient of the 2017 Communication Achievement Award is
Ramsey Soliman
11 year old Ramsey has a great sense of humour – which he has only recently been able to share with the people around him, thanks to the introduction of communication devices.
Ramsey lives with migratory partial seizures and has complex medical needs. He is unable to use his arms or legs and uses a wheelchair for mobility. Ramsey is also unable to attend school and regularly needs to go to the hospital.
At home, he loves spending time with his brothers, watching TV and listening to music and stories.
Over the last year, Ramsey has worked really hard to be able to use his head switches, and has learnt the meaning of the words "yes" and "no". He also plays with a range of switch toys which he really enjoys.
Ramsey has also learnt to use a PODD communication book to communicate with his mum and other people around him. He can now use his PODD to get his message across, and it has allowed him to share his great sense of humour, which his family and therapy team didn't know about before the introduction of the PODD.
Ramsey's Novita therapy team are now exploring a high tech device for him to use with his switches.
Ramsey, we are so pleased that you've found communication devices that work for you, and that you can now communicate with your family, and the people around you, more fully.
Congratulations Ramsey.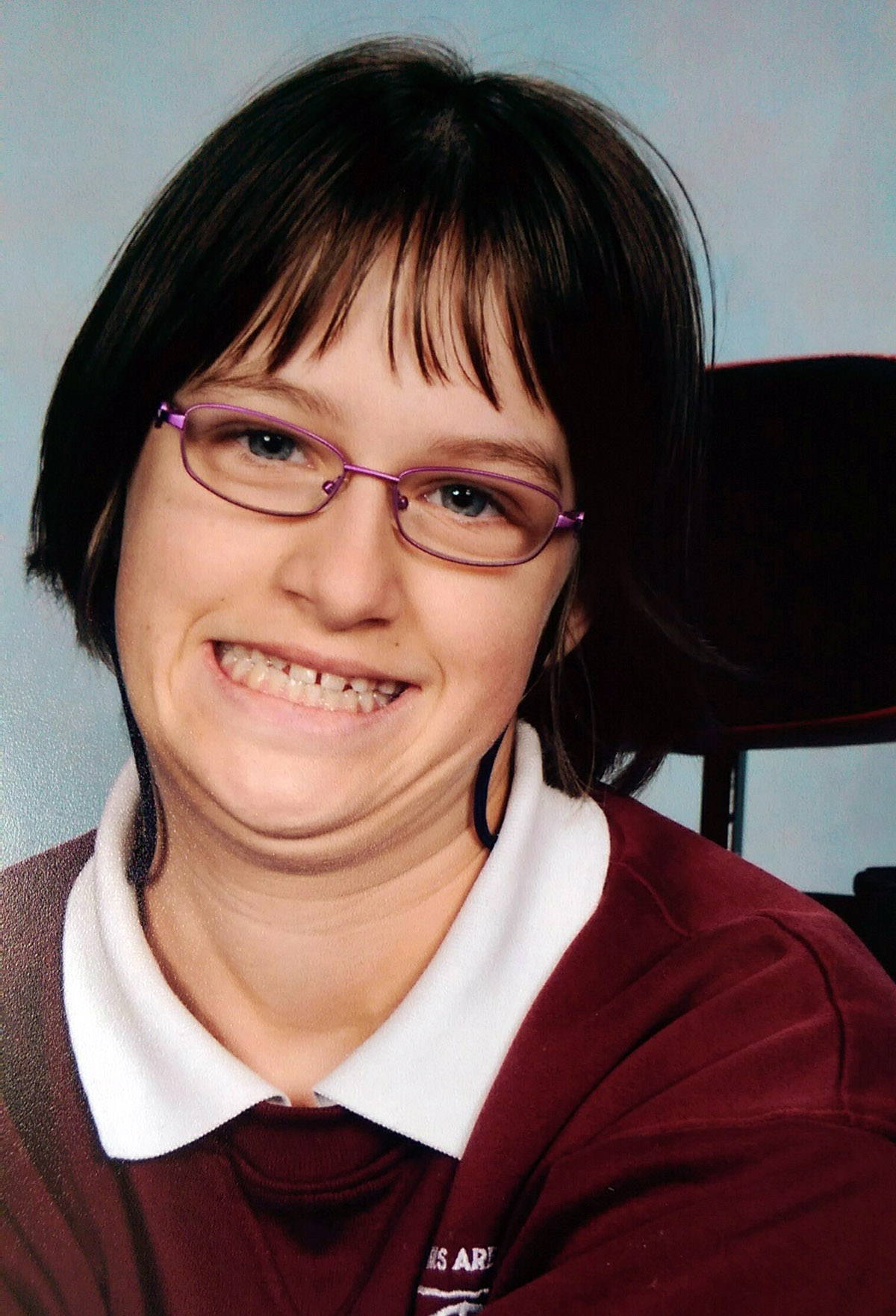 MARGORY HEAD ACHIEVEMENT AWARD
This Award is in honour of Margory Head, a person who spent over 40 years of her life dedicated to improving the lives of children with disabilities within regional South Australia. The Margory Head Achievement Award acknowledges a regional Novita client aged 12 to 18, who has overcome significant challenges to be able to achieve their personal goals in order to participate fully in their community.
The recipient of the 2017 Margory Head Achievement Award is
Kasey Rule
15 year old Kasey Rule lives with her family just outside of Cummins on the Eyre Peninsula.
Kasey lives with cerebral palsy and has been with Novita since she was a little girl. She is described by her therapist as an incredibly engaging and hardworking young lady, who actively participates in her local community and works really hard on her physical rehabilitation.
Kasey's speech is affected by her cerebral palsy, but she doesn't let this stop her from communicating and engaging with her classmates at school – she uses verbal communication and a PODD communication book. She loves participating in a range of school activities.
Kasey is a popular figure in the Cummins community and is often involved with local fundraising and events.
Congratulations Kasey.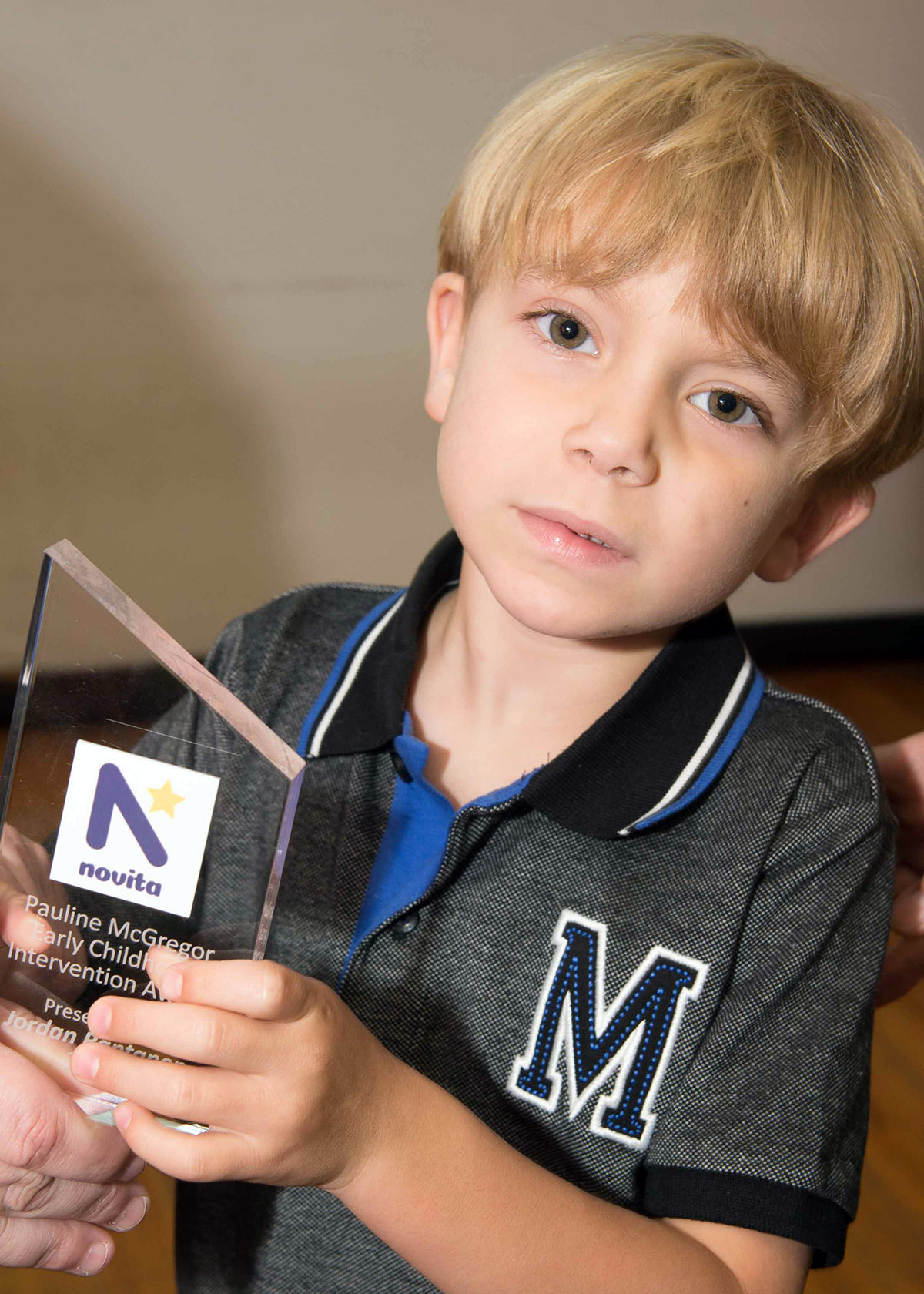 PAULINE MCGREGOR EARLY CHILDHOOD INTERVENTION AWARD
The Pauline McGregor Early Childhood Intervention Award commemorates the dedication and commitment of the late Pauline McGregor, a former Novita staff member who made a lasting contribution to the area of early intervention. The award recognises the outstanding achievements of a Novita client under the age of eight.
The recipient of the 2017 Pauline McGregor Early Childhood Intervention Award is
Jordan Rantanen
Five year old Jordan, who lives with autism spectrum disorder, is a delightful and happy boy who has recently shown tremendous improvements in his speech and occupational therapy goals.
Jordan's initial therapy sessions focussed on activities that meet his sensory needs, help with attention and concentration when doing functional tasks, and early communication strategies. He has now progressed to a level where he is able to sit and attend table-top activities and complete tasks such as drawing, cutting and puzzles. He has also learnt to wait his turn when playing games with other people!
Over the past year, Jordan has become more independent. He can now perform more self-care tasks at home and successfully toilet trained before starting school.
Jordan has taken the transition to school in his stride and attends a special unit within a mainstream school.
This award also recognises the significant contribution Jordan's family have made to his therapy. They have integrated therapy ideas into Jordan's daily life, and his mum, Mandy plays an active part in therapy sessions and attends Novita workshops.
Jordan's therapists say they are very privileged to work with his family in a way that demonstrates early childhood best practice.
Jordan – we are very pleased to present you with the Pauline McGregor Early Childhood Intervention Award.
Congratulations Jordan.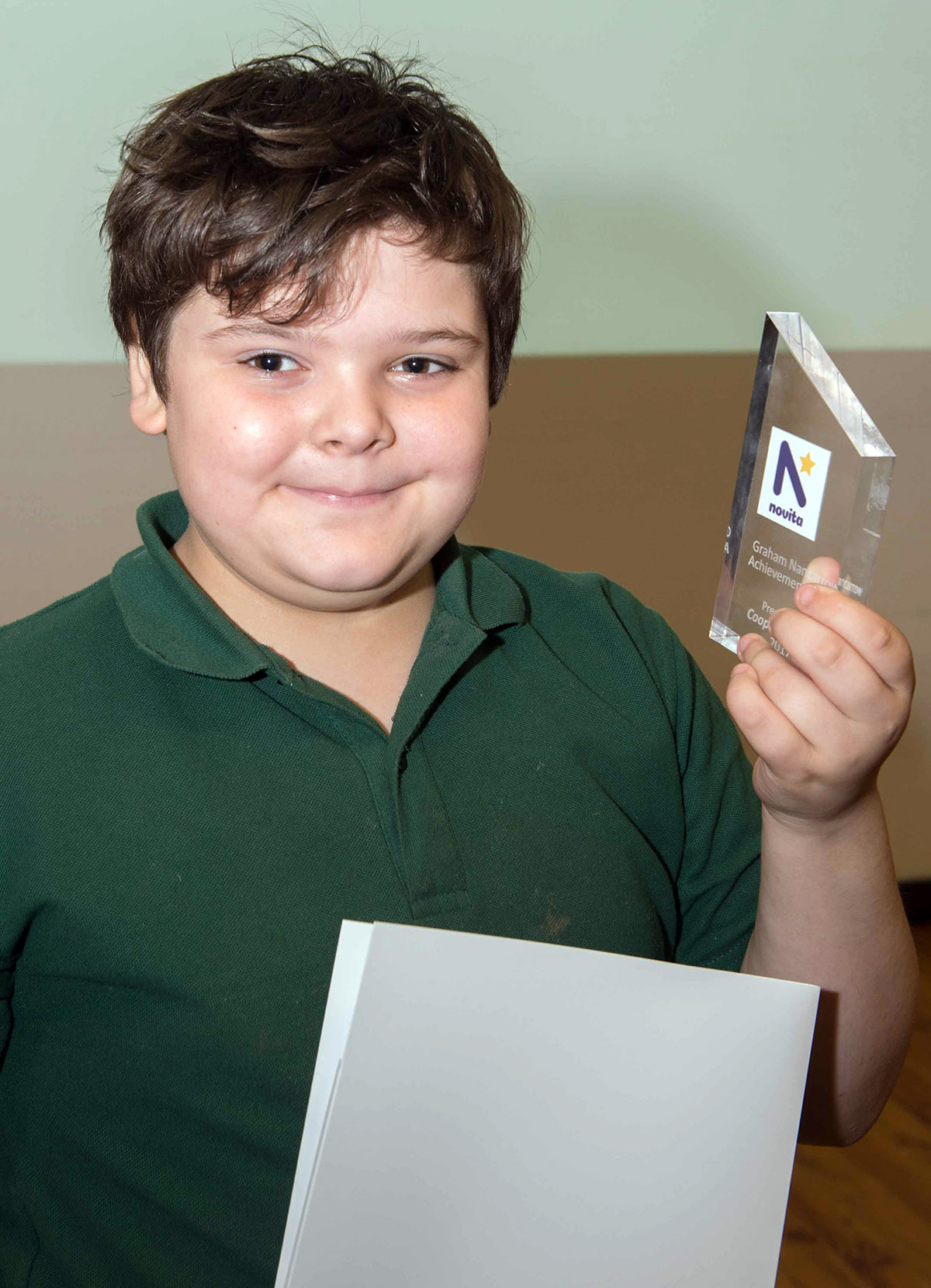 GRAHAM NANCARROW ACHIEVEMENT AWARD
This award is in memory of Graham Nancarrow, who was a member of Novita's long-serving Achieving for Children Auxiliary, and one of Novita's most generous benefactors. The award is presented to a client aged five to ten, who has worked to develop a specific new skill.
The recipient of the 2017 Graham Nancarrow Achievement Award is
Cooper Dockerill
Eight year old Cooper has conquered the water!
Cooper lives with developmental delay and started with Novita to learn water safety skills because he was tentative about the water.
At first, he was afraid to go in the deep end or put his face in the water. But now Cooper can float, tread water, swim in the deep end, and is working towards learning different strokes.
He has been so successful in his water safety class that he's been referred to a Novita swimming instructor to develop his swimming style.
Cooper has displayed a strong work ethic and determination. He has continually and persistently pushed himself to meet his aquatic therapy goals. His therapists say it has been a delight to watch Cooper grow his confidence in the water over the past two terms.
Cooper's brother is also one of our Novita kids, and Cooper has loved showing him, and his family, the new skills he has learnt in the water.
Cooper, we are very proud of the water skills you have learnt and wish you all the very best for your swimming lessons. You are a very deserving recipient of the Graham Nancarrow Achievement Award.
Congratulations Cooper.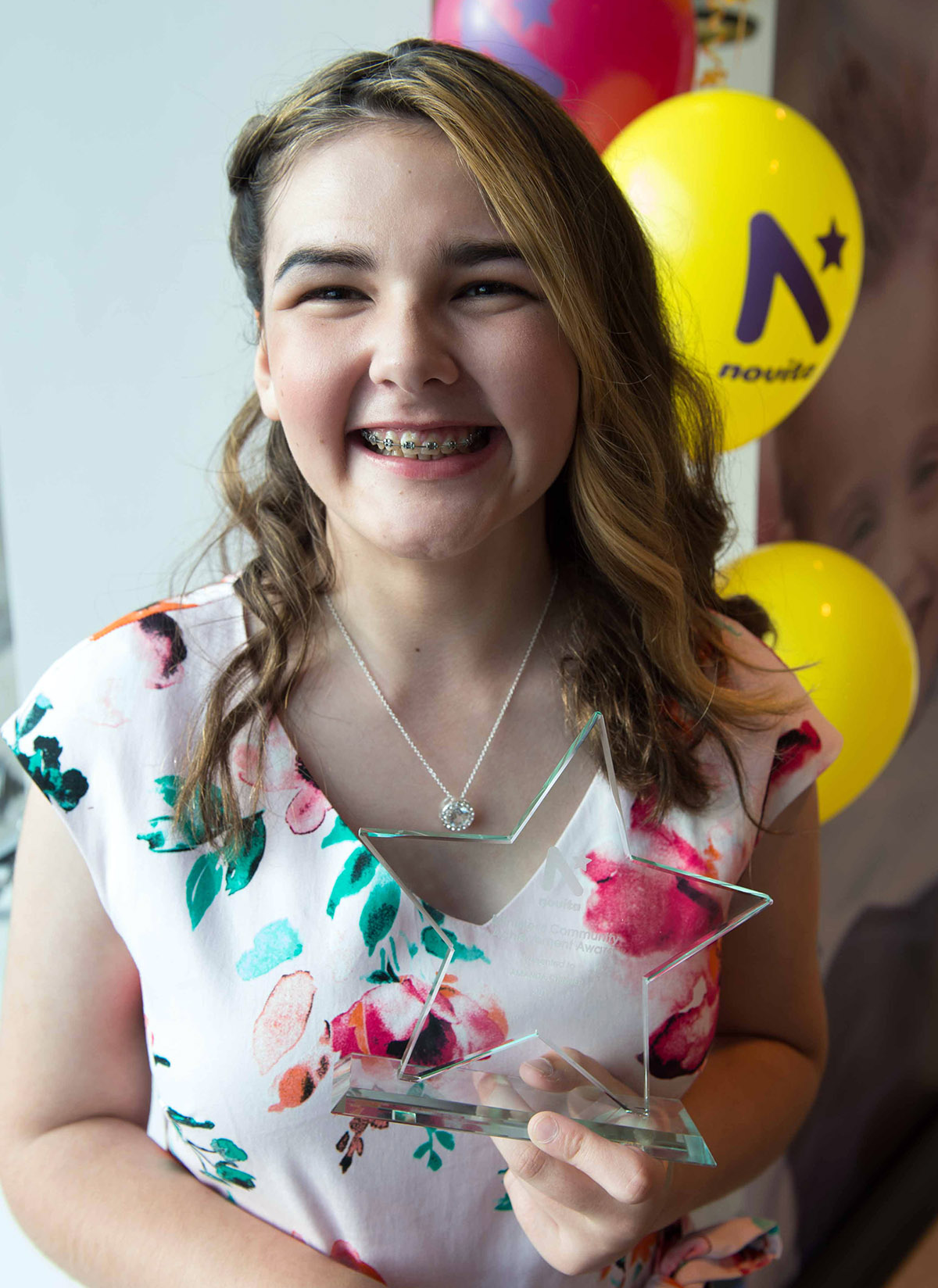 MINISTER'S COMMUNITY ACHIEVEMENT AWARD
The Minister's Community Achievement Award is presented to an outstanding Novita 'all-rounder' who has demonstrated a commitment to personal independence and taking part in community activities.
The recipient of the 2017 Minister's Community Achievement Award is
Amanda Chinner
For 16 year old Amanda, karate has been life changing.
Amanda lives with cerebral palsy – hemiplegia, which affects the right side of her body. She also lives with vision impairment and epilepsy. She attends numerous medical and allied health appointments, receives regular Botox injections, has serial castings, therapy and surgeries, to straighten her wrist and hand, and improve her everyday function.
She's a regular attendee at the Novita and Girl Guides Camp Amity, which has provided her opportunities to learn new skills, make friends, and hone her leadership skills. But it wasn't until Amanda started karate that her confidence and leadership skills really took off.
Amanda has been attending the National Karate Academies program for just under a year. The training environment allows Amanda to push herself and gain self-satisfaction with her increase in skills.
She has already been graded to achieve her second senior level – a Green Belt. The grading was held in June, and Amanda was required to demonstrate skills in a variety of movements, including push ups, which she insisted on doing herself. She also performed a variety of punches and kicks, free sparring and demonstrated self-defence skills including a release from various grabs and grasps. Amanda performed these skills in a high pressure environment with great tenacity and professionalism – all in front of a crowd of 300 spectators!
Since starting karate, Amanda says her arm and hand feel more functional, stronger, and even a bit straighter, as a result of the exercises she does as part of her training.
Amanda has also taken on a mentoring role within her karate club, to teach others the meaning of resilience, hard work, dedication and how to achieve your goals.
Amanda, what you have achieved over the past twelve months is extremely impressive. I have no doubt your strong work ethic and persistence will result in many more impressive achievements throughout your life.
Congratulations Amanda.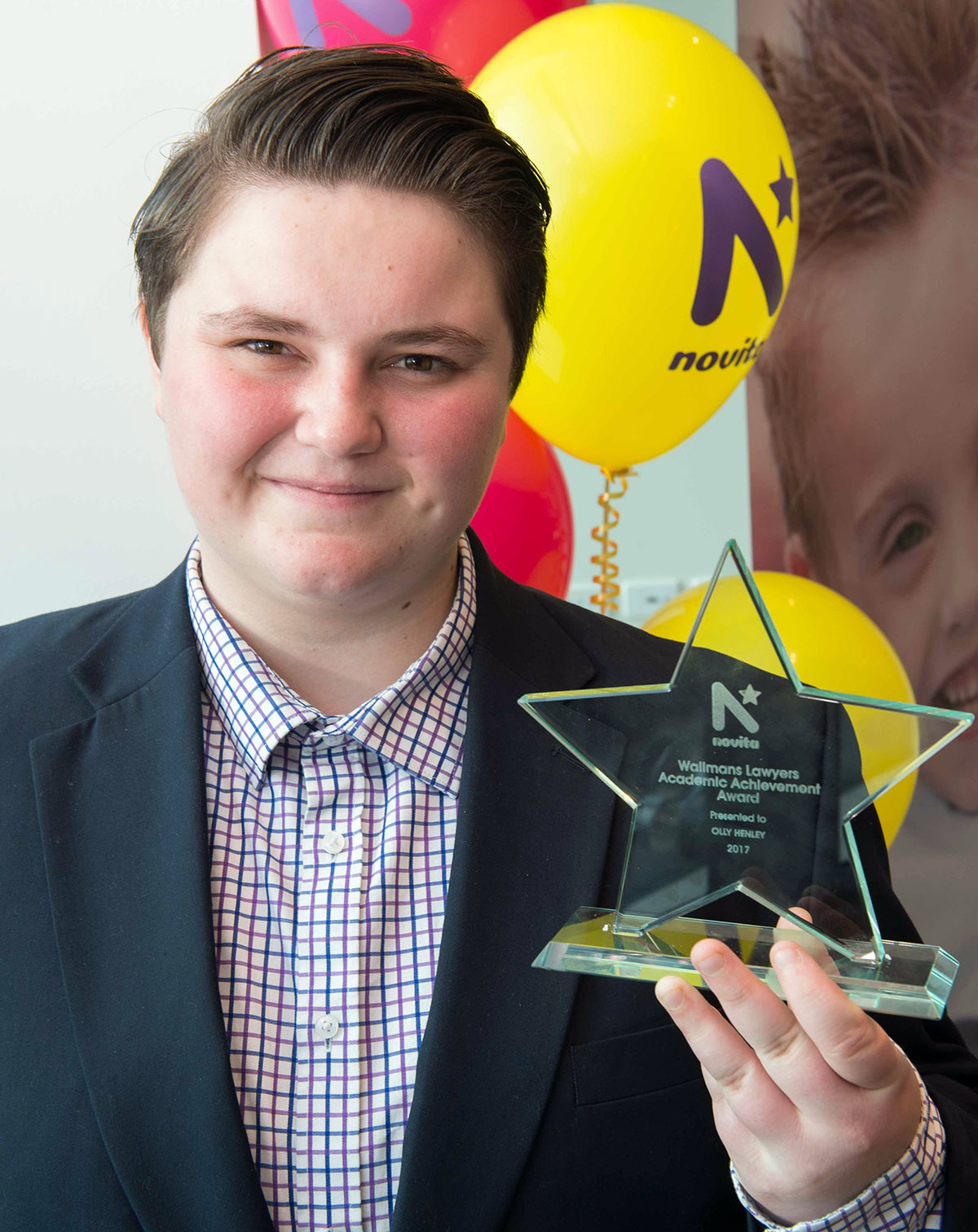 WALLMANS LAWYERS ACADEMIC ACHIEVEMENT AWARD
The Wallmans Lawyers Academic Achievement Award recognises the consistent academic excellence of a Novita client over the age of 10.
The recipient of the 2017 Wallmans Lawyers Academic Achievement Award is
Olly Henley
17 year old Olly is a determined self-starter who loves cooking.
Olly experienced bullying when she was in primary school which impacted her mental health. In year eight, she was diagnosed with autism spectrum disorder (ASD) and was accepted into the Autism Program at Blackwood High School.
Here, she was given the opportunity to pursue her keen interest in cooking, before transitioning to mainstream schooling at Blackwood High where she undertook a VET course in cooking.
This year Olly took on work experience in the hospitality industry which confirmed her intent to pursue a career as a chef. She has since independently sought out an apprenticeship and successfully interviewed for a position.
Olly now works five days a week as an apprentice chef while finishing her year 11 South Australian Certificate of Education. She will be attending TAFE as part of her three year apprenticeship.
Outside of school and cooking, Olly is a member of the Royal Australian Navy Cadets. Through the Cadets she has had the wonderful opportunity of sailing on the Young Endeavour!
Olly, you have demonstrated great determination in your pursuit of becoming a chef, and have admirably navigated your way through many emotionally difficult situations in the process.
You are indeed a very worth recipient of the Wallmans Lawyers Academic Achievement Award.
Congratulations Olly.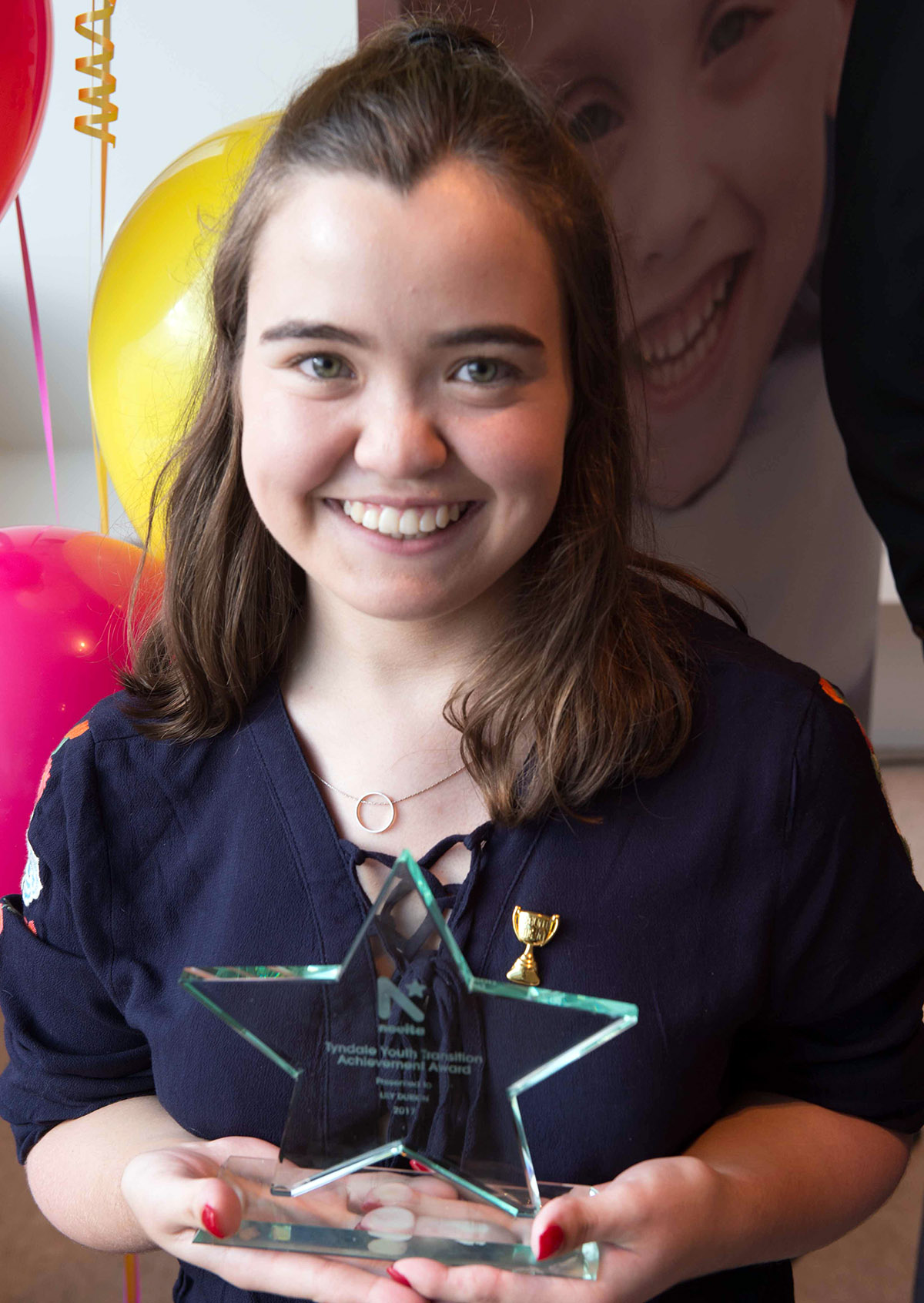 TYNDALE YOUTH TRANSITION ACHIEVEMENT AWARD
The Tyndale Youth Transition Achievement Award acknowledges a Novita client who has completed their education and successfully transitioned to post-school options, such as tertiary education, or employment.
The recipient of the 2017 Tyndale Youth Transition Achievement Award is
Lily Durkin
19 year old Lily is hardworking, popular and lives a full and busy life enjoying many extracurricular activities, especially music and drama.
Lily lives with Larsen syndrome, which causes hypermobility of the joints. For Lily, this is particularly evident in her hips, knees and ankles. The condition puts increased stress on her joints when she's doing everyday tasks and causes constant ankle and back pain, which is exacerbated by the cold.
Lily has endured many medical and therapy appointments, including several surgeries to improve her daily function – but this has never slowed her down.
Lily graduated from St John's Grammar with an ATAR score of 95.15, and was accepted into the University of Adelaide to study Law and Sciences. She unfortunately missed O Week to undergo spinal surgery, but quickly settled into university life, achieving high grades for her assignments.
That same year, Lily moved in with her boyfriend, to whom she's recently got engaged (Congratulations!) and underwent multiple additional surgeries.
After her first year of study at the University of Adelaide, Lily decided to expand her education, and deferred her Law/Science degree to study Psychology, with a focus on Disability Studies and Developmental Education, at Flinders University.
In her spare time, Lily works as a volunteer with President of the Dignity Party, Rick Neagle, for his Count Me In foundation – a not for profit organisation that provides the community with accessible public places and buildings.
Lily, you have demonstrated an extremely successful transition from high school into young adulthood, and you are a very worthy recipient of the Tyndale Youth Transition Achievement Award.
Congratulations Lily.