Stories
2022 Novita Achievement Award winners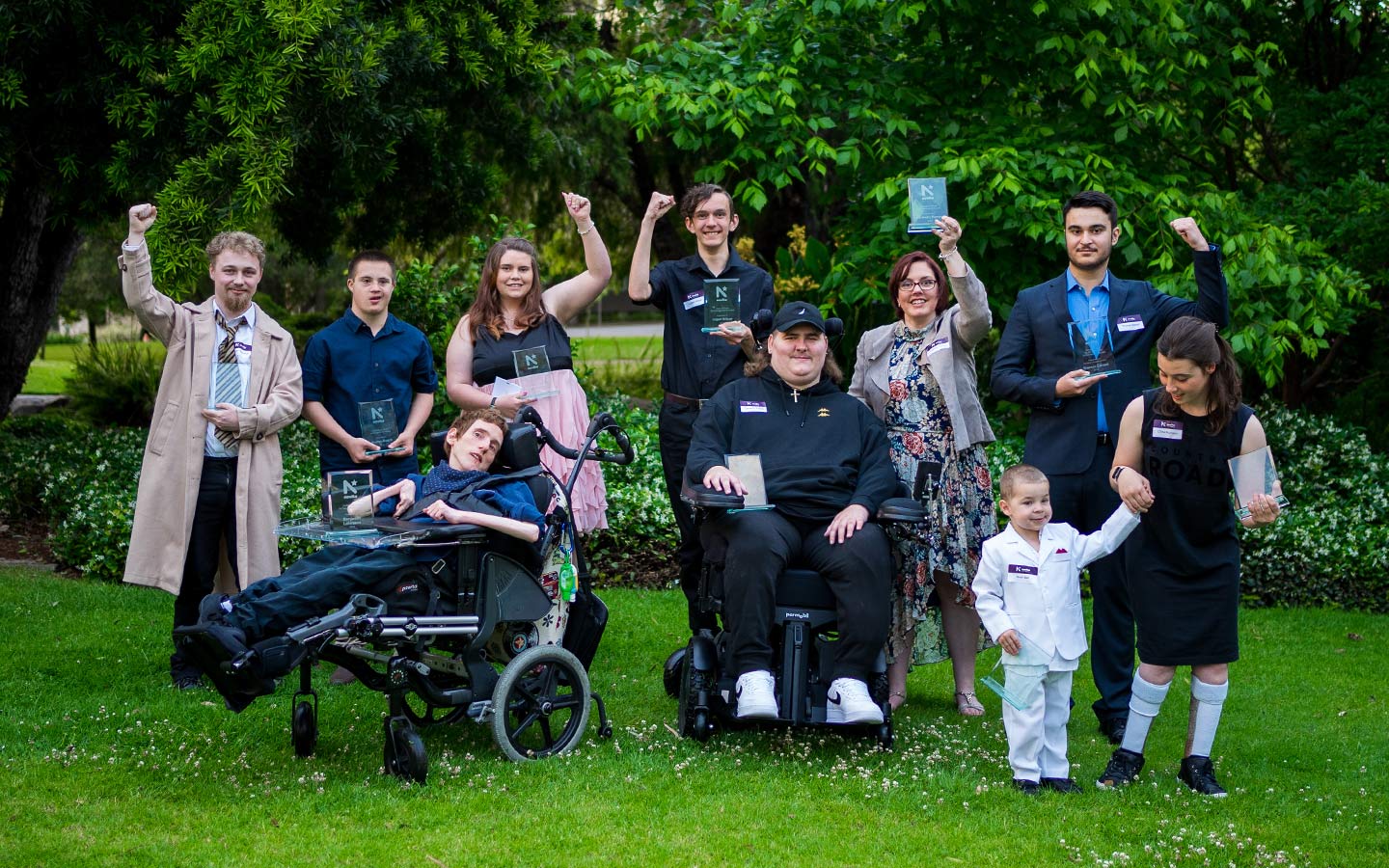 Eleven South Australians living with disability have been recognised for their commitment to achieving their goals at the Novita 2022 Achievement Awards presentation ceremony.
The 2022 Achievement Award winners are:
Pauline McGregor Early Intervention Award
The Pauline McGregor Early Intervention Award commemorates the dedication and commitment of Pauline McGregor, a former Novita staff member who made a lasting contribution to the area of early intervention. The award recognises the outstanding achievement of a Novita client under the age of eight.
The 2022 winner is NOAH!
Noah is 3 years old and has a diagnosis of Autism Spectrum Disorder and Global Developmental Delay. Noah currently accesses Occupational Therapy and attends the GROW Early Intervention group. Since beginning OT and group at Novita, Noah has improved his sensory regulation, now communicating verbally with 30-50 words. He is able to play for 20 minutes in an activity, he is sitting to eat, progressing with sleeping overnight in his own bed, has begun toilet training and is now initiating playing with peer in group.
Congratulations Noah!
President's Achievement Award
The President's Achievement Award is presented to a Novita client of any age who lives with physical or intellectual disability and has made outstanding progress in their rehabilitation.
The 2022 winner is CAMERON!
Cameron suffered a catastrophic high level spinal cord injury at age 16 as a result of a serious motor vehicle accident in 2020. His level of injury has meant that the only voluntary movement control he is left with is a small range of head movement. He has demonstrated great determination and a positive mind set right from the beginning. Cameron has mastered controlling his phone, a tablet and laptop with the use of a combination of a Glassouse Bluetooth head-controlled mouse and voice control. Using this technology, of his own initiative, he started and now runs his own online business, buying and selling sports shoes.
Congratulations Cameron!
Wallmans Lawyers Academic Achievement Award
The Wallmans Lawyers Academic Achievement Award recognises the academic excellence of a Novita client over the age of 10.
The 2022 winner is JACKSON!
Jackson is 20-year-old young man who lives with Cerebral Palsy. He has been a long time Novita client, currently receiving services through Exercise physiology and Aquatic Therapy. Jackson completed mainstream high school and is currently studying a Computer Science Degree at Adelaide University, where he has excelled in his studies. Jackson is an active volunteer with the Salvation Army where he works in reception to answer calls two days a week.
Congratulations Jackson!
Graham Nancarrow Achievement Award
The Graham Nancarrow Achievement Award is presented to a Novita kid aged five to ten who has worked to develop a specific new skill. This may be related to sport, recreation, school or areas of self-care such as tying up shoelaces.
The 2022 winner is JEREMIAH!
Jeremiah is a 6-year-old boy who has a diagnosis of developmental delay and was delayed in most areas. Since attending Novita, Jeremiah has improved his communication and can now speak much more clearly. Jeremiah has thrived and shown immense progress and recently was able to write his full name correctly, independently with no prompting.
Congratulations Jeremiah!
Communication Achievement Award
The Communication Achievement Award acknowledges a Novita kid or young person who has overcome considerable personal or environmental barriers to make significant progress in their communication, which has led to greater community participation and the creation of new circles of communication partners.
The 2022 winner is HAYDEN!
Hayden is a sociable and determined 14-year-old living in the regional town of Broken Hill in Far West NSW. Hayden attends speech pathology with Kat, where he has demonstrated remarkable resilience and is always willing to give things a go. His confidence in communication allows him to participate in the local footy club, attend regular group programs with Novita and make and maintain lovely relationships with his peers at school and in the community.
Congratulations Hayden!
Sara D'Cruz Youth Transition Achievement Award
This Sara D'Cruz Youth Transition Achievement Award acknowledges a young Novita person who has completed their education and successfully transitioned to appropriate post-school options, which may include tertiary education, work, volunteering, or a day activity program.
The 2022 winner is THOMAS!
Thomas came to Novita in 2021 as a very reserved shy young 18-year-old. Romy, his mother voiced that he was extremely depressed, he never left his room in years, was isolated and completely disengaged from the community. Since attending Step Up Life Skills and Transition to Work, Thomas has dramatically transformed. He no longer covers his face with hats, hoodies and scarves. He is engaged in the community and has learned indispensable independent daily skills. Thomas now has confidence, is making effort in his appearance and is going home with a smile and excited to talk to his mum about his day. Thomas has gone from not being able to attend school since year 8 to having something on every day that has him leaving his house.
Congratulations Thomas!
Judith Worrall Award
The Judith Worrall Achievement Award provides significant recognition of a Novita client, aged 25 years and over, who lives with disability and has worked diligently to achieve a new skill which has made a significant impact on their daily life.
The 2022 winner is BENJAMIN!
Benjamin is a 30-year-old man with a diagnosis of Cerebral Dysgenesis, Spastic Quadriplegia, and Epilepsy. With hard work, persistence and the help of family, his Novita Speech Pathologist, Kelly and Support Workers, Benjamin is mastering the use of his Eye Gaze device. He has learnt how to navigate through the pages of his PODD to effectively communicate his needs, wants and thoughts. He tells staff when he wants a drink, or if he is uncomfortable. Benjamin communicates stories from home and joins in conversations with his peers. Benjamin also uses his eye gaze device to play music, and everyone enjoys him being the hub DJ.
Congratulations Benjamin!
Carol Dibben Achievement Award
The Carol Dibben Encouragement Award is presented in memory of Carol Dibben, a former Novita client and long-term employee, to recognise a senior student who has worked diligently to achieve their personal goals.
The 2022 winner is LOGAN!
Logan is a 15-year-old boy who is involved in his schools STEM extracurricular program. Through consistent success in this program, Logan had the opportunity to compete at a state level against other schools to which he won. By winning this competition, Logan then qualified to compete at an international level where the competition was held in Texas. Logan spent the very early hours of the 8th of May at school competing over zoom. Logan received a special mentioned for his projects throughout the competition.
Congratulations Logan!
Michael Wooley Recreational and Sporting Achievement Award
The Michael Wooley Recreational and Sporting Achievement Award is presented to a Novita client of any age who has shown determination to achieve in a sporting or recreational capacity.
The 2022 winner is CHLOE!
Chloe is a young 18-year-old woman who has lived with significant mobility limitations due to her diagnosis of Cerebral Palsy and learning difficulties. This obstacle has not stopped Chloe from participating in a range of sports. Chloe began surfing lessons and now trains 4 hours a week at Middleton. She became passionate about this sport, and this led to her attendance at the Adaptive Surfing Professional World Championship Tour Event in Hawaii in June, where she finished third in the prone assist division. This well-deserved achievement represents Chloe's determination and energy, and the incredible support of her mother. Chloe's goal now is to beat her surfing coach!
Congratulations Chloe!
Margory Head Award
The Margory Head Achievement Award acknowledges a regional Novita client aged 12 and over who has overcome significant challenges to be able to achieve their personal goals in order to participate fully in their community.
The 2022 winner is KIMBERLY!
In 2017 Kimberly suffered a Traumatic Brain Injury after a horse-riding accident that left her fighting for her life in hospital. It was unclear if she would ever recover, and she spent 8 months in hospital in Adelaide. Since her accident Kimberly is now able to communicate with others, live independently, continue to be a mum to her two daughters and be physically mobile. Her goals now are to become more independent at home, access the local community in Port Lincoln, find employment, volunteer as well as wanting to explore starting horse riding again.
Congratulations Kimberly!
Minister's Community Achievement Award
The Minister's Community Achievement Award is presented to an outstanding Novita 'all-rounder' of any age who has demonstrated a commitment to personal independence and taking part in community activities.
The 2022 winner is AMBER!
Amber is a 17-year-old young lady, who lives regionally in Balaklava. She volunteers at the local foodbank, as well as a school community outreach program where she sells lanyards to raise money. Amber engages in activities with her church group as well as participates in a group for young people who identify as Aboriginal or Torres Strait Islander. Amber does this all whilst currently completing a TAFE course on Wednesday's and year 12 at Balaklava High School.
Congratulations Amber!