Stories
Ryker's new powered wheelchair is changing his life!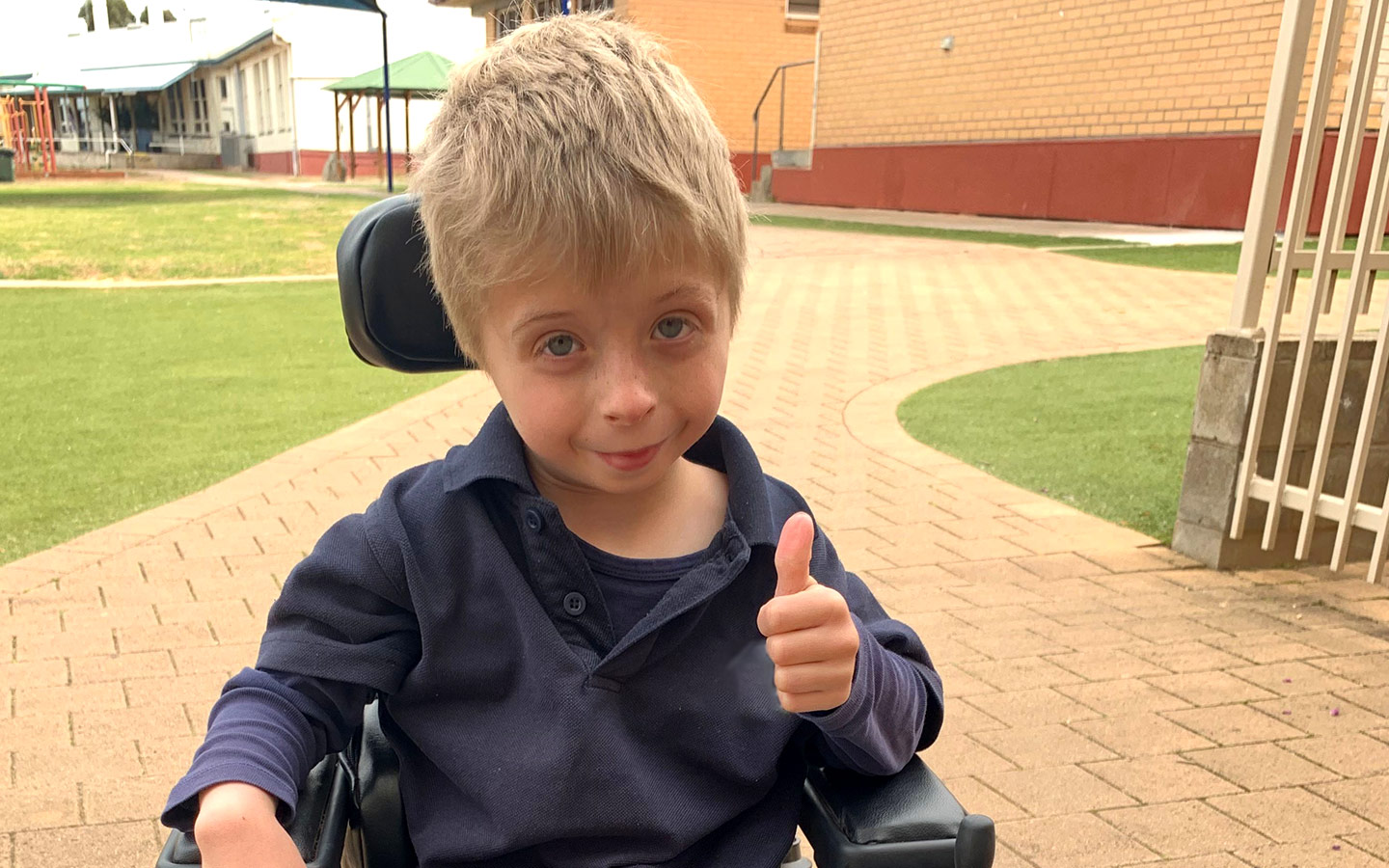 Gaining independence is critical to building confidence and self-esteem, while also promoting personal development. With the ongoing support of family, his Novita therapists, teachers and friends, Ryker Harris is defying the odds and making incredible progress.  
Ryker lives with Meier-Gorlin syndrome, which is characterised by short stature, altered facial features and no patella (kneecap) which means he is unable to walk long distances. Working with Ryker since February of 2018, his Occupational Therapist, Josie Sherriff, began advocating for funding from the NDIS for a powered wheelchair to enable greater independence over longer distances.
"Maximising Ryker's ability to participate and be included at school, in the community and at home with his family is very important," says Josie.
"We knew that Ryker had the potential to be a really skilled powered mobility user thanks to a previous trial through Novitatech".
"Ryker and his family were keen on the idea, so with the support of Novitatech and NDIS funding approval, I was able to prescribe the powered wheelchair to Ryker from Port Lincoln, so he and his family didn't have to go all the way to Adelaide," Josie added.
"Having a local service on the Eyre Peninsula has been fabulous. Accessing the Novita hub at Port Lincoln, combined with visits from Novita therapists to Ryker's school and our home in Cleve has been so important for his development.
"We mainly use physiotherapy and occupational therapy which has being very effective, and Josie put in a lot of work in getting Ryker his powered wheelchair, including working on our behalf with the NDIS," says Lana, Ryker's mum.
"The height adjustments that come with the wheelchair mean that he's been able to sit at the same level with his friends at school, rather than being confined to his own table. He can also use the wheelchair to access many parts of the school, like the library, without tiring easily.
"He also loves going onto the oval. Before he was really limited to what he could and couldn't access – having more freedom is something he's really appreciating and enjoying," added Lana.
Ryker's teacher, Sarah said "The powered wheelchair empowers his participation in the classroom, allowing him to be a lot more independent to complete tasks that he might not have been able to do beforehand."
"Things like switching a light on, getting a book from a high shelf and being able to work at a computer has also been made much easier by having the powered wheelchair."
Josie, accompanied by her fourth year Occupational Therapy student, Emma, have gone out to Cleve to support the introduction of Ryker's wheelchair into his home and school environment, as well as developing powered mobility skills in his regular therapy sessions.
"The seat is comfy and I can stop really well when Josie tells me to stop," says Ryker of his new powered wheelchair.
"I spoke about the wheelchair in front of my class. We put the seat up to measure how high it could go and some kids were higher and others were lower. The other kids think it's cool and one of them wishes that they could have one!"
Novitatech has a wide range of assistive technologies that complement our extensive range of therapy services to enhance the lives of people living with disability – and we now have a brand new Novitatech showroom at 1 South Road, for you to explore.
If you would like to find out more about Novita or Novitatech services, you can call one of our friendly staff on 1300 668 482 or email us directly services@novita.org.au