Novita kid Brodie was all set for a day of football and excitement on Saturday, 11 August – little did he know he'd was also going to meet one of Australia's most famous singers!
At the annual Central District Football Club charity match with Novita, Brodie, 8, got to do the all-important coin toss and warmed up earlier in the week handballing the footy with Captain Trent Goodrem.
Watch: Brodie meets Trent Goodrem to warm up for the big day
It was a great opportunity for Brodie to show off his skills since honing his handballing techniques with Novita occupational therapist, Joel O'Rielly. A keen footy fan, Brodie plays for the Angle Vale Football Club (Home of the Owls), and was stoked to be involved in the Central District's "Doggies" SANFL game. Brodie lives with cerebral palsy and has accessed services at Novita's Elizabeth hub including physiotherapy, occupational therapy, speech pathology and orthotics.
He and his family attended the pre-game President's Lunch, where Brodie was invited to the stage to practise his coin toss before the big game and have a chat with MC David Martin.
Then Delta Goodrem – chart-topping Australian singer and judge on talent show The Voice, and Trent Goodrem's sister – surprised Novita families and volunteers by dropping by! Not only did she stop to chat and pose for photos, she also placed the winning bid on the signed guernsey auction item, contributing to valuable funds raised for Novita's work.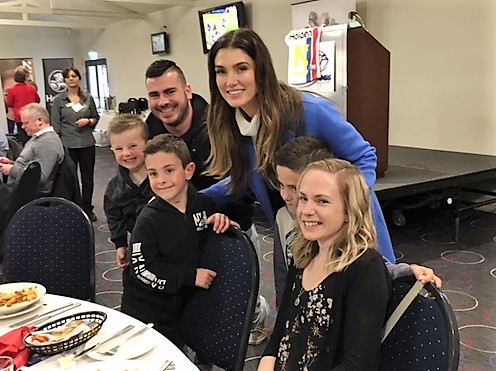 While the Doggies sadly could not outdo the Norwood Redlegs on the scoreboard that day, there were still smiles all round from Novita families and our generous volunteers Patrick and Sharleen. It was a fun day for a great cause – made especially memorable for the unexpected brush with fame.
The online auction to purchase the one-off personally signed Novita commemorative player guernseys is currently live on galabid.com/cdfc and will close on Sunday, 19 August at 6pm. Get your bids in now!