Stories
Mel's achieving her goals through Supported Independent Living Program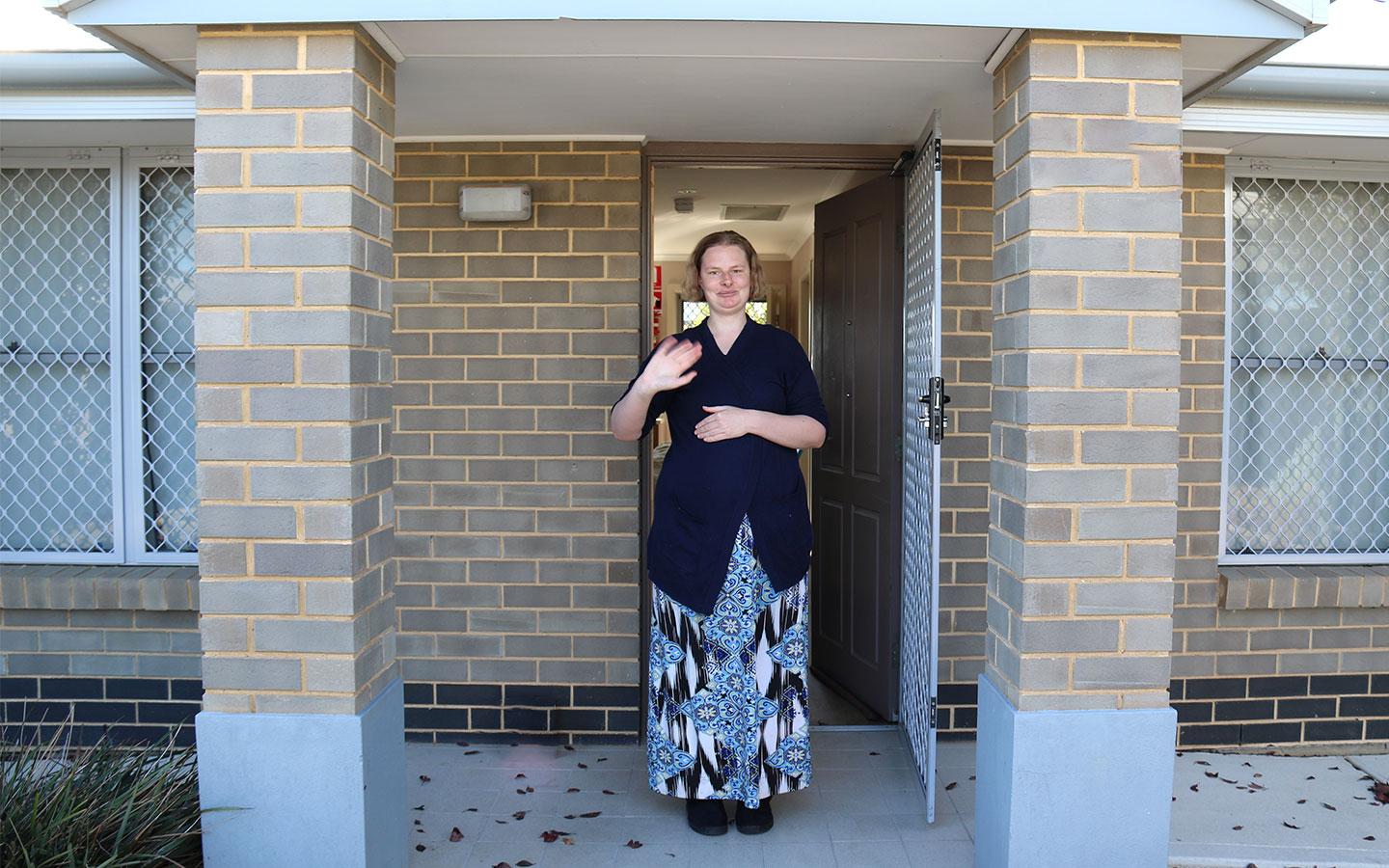 Novita client Mel has always wanted to have a job and with the help of our Supported Independent Living (SIL) Program, she has achieved that very goal and is continuing to thrive.
The SIL program offers clients who wish to live independently in their own home the opportunity to be supported 24/7 by professionally trained Novita staff to assist with daily living tasks, all of which can be tailored to the individual needs of the client and their goals.
Mel has found plenty of success in different areas of life through the SIL program, and her stepmother Sharon attests to this saying, "It's been fantastic working as a team together with Novita to ensure the best life for Mel."
"I look back to when she was 18 and what she's doing now and what she's achieving – like her having a job. She has always wanted to have a job and it's amazing that she's doing that."
Mel lives in an independent unit and is supported by her Novita support workers Tamika, Donna and Adam, and Mel says, "I'm grateful to my support workers who have helped me a lot. They support me, are very nice to me and take me out."
Each of Mel's support workers assists Mel to successfully undertake daily tasks such as hanging out the washing, going shopping, taking her to work and cooking meals for herself and visitors.
"I have a good routine in the morning; I hop in the shower and wash my hair and then Donna comes over to help me with my breakfast and I have a cooked breakfast on Sunday mornings, which is banana pancakes," says Mel.
"Normally I cook dinner and my favourite thing to cook is pizza – I cook for my step mum, dad, my brother Thomas and my big sister Sarah who has a new boyfriend, Ben."
Mel's stepmother, Sharon says that having constant routine and familiarity, which has been achieved through the Novita SIL program, has helped Mel to find success and reach her goals.
"We needed to maintain continuity for Mel so that's been something that we've really worked on.
"Novita's support has been great, I am part of everything and everyone at Novita works very closely with me to make sure it's really successful.
"Novita has also supported Mel in partnering with her psychologist – that whole package has been put in place to help Mel achieve her goals."
Mel goes to work every Tuesday at Careship Coorong in Coonalpyn, where she works on the snail farm as a farm helper. This enables Mel to get involved in the entire snail farming process, vegetable gardening and cooking whilst being able to make friends and socialise with her co-workers, including Sophie.
"Sophie goes with me to help set up," Mel says of her work at Careship Coorong.
"I can't go there at the moment because of the COVID-19 crisis, but I can't wait to go back."
The individually tailored model of the Novita SIL Program has allowed Mel to flourish as a social and outgoing young woman who loves to make friends. Mel says that she's "in a good place now" and really enjoys the things that she gets to do each day, as she works towards achieving her goals.
To other families who think that Supported Independent Living could help to improve the life of a loved one Sharon says, "Have a look at it and advocate for your child or family member. Get a team around you who understands what your child needs. Communication and honesty is what you want to be shared so you can enjoy the good times but also overcome the hurdles along the way."