Events
Bulldogs v Redlegs to support people living with disability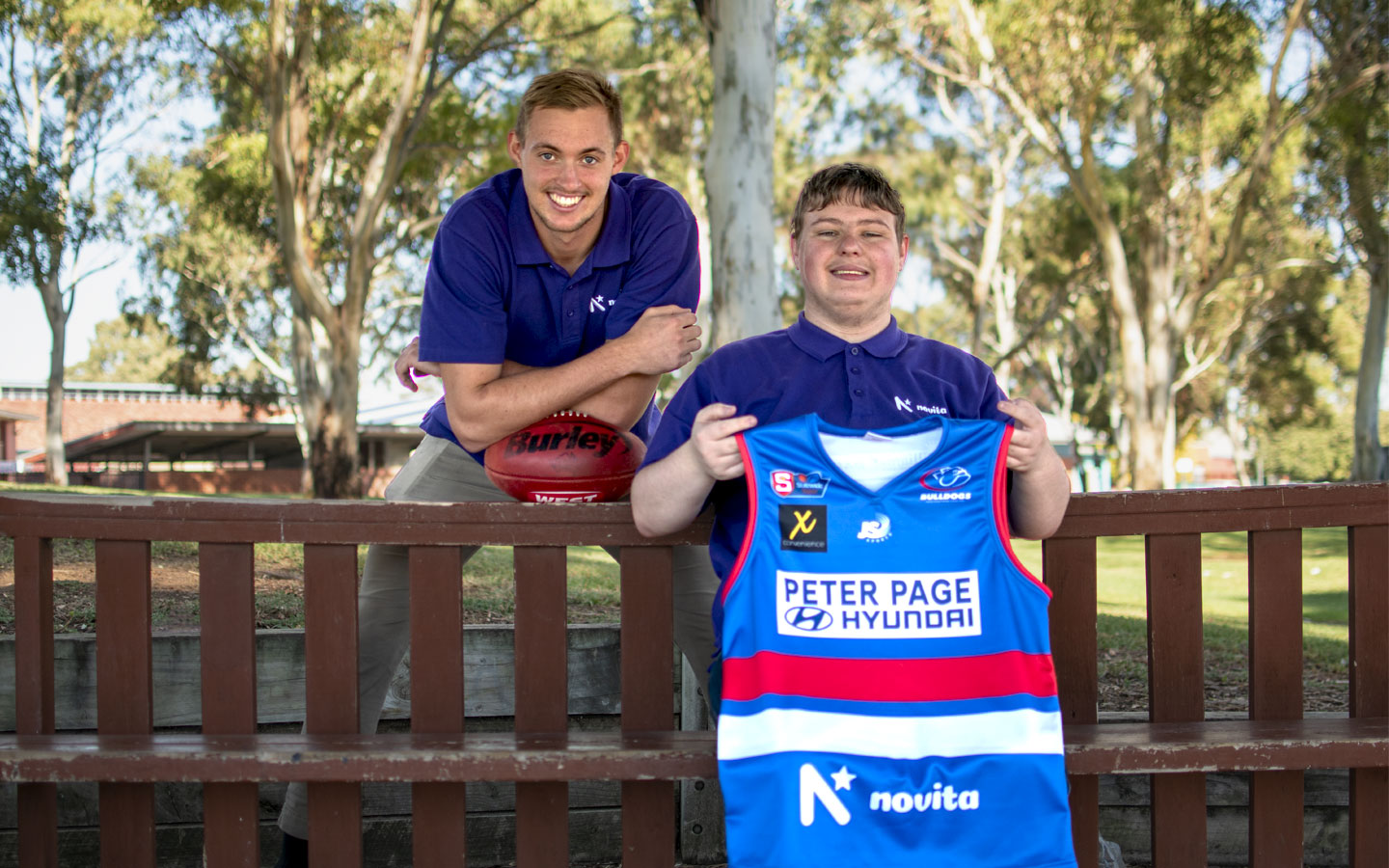 The annual Central District Football Club charity match to support Novita is back for 2021, with the big clash with Norwood at X Convenience Oval this Saturday (May 8) set to raise funds for kids, young people and adults living with disability.
The SANFL Statewide Super League round six game – to be telecast by Channel 7 – is a must-win for both clubs, and will also be a special day for Bulldogs ruckman and Novita staff member Jonathan Marsh, as well as 20-year-old Novita client Cameron Bibl.
Jonathan is a highly-skilled Orthotics Technician at Novita's Assistive Technology unit Novitatech, and it will be the first time in the more than decade-long partnership between Centrals and Novita that a staff member has taken the field.
"I didn't work for Novita when I played in my first charity match, but now that I've been here for around 16 months and have seen first-hand the impact our work can have on the lives of people living with disability, Saturday's match becomes much bigger for me," says Jonathan.
"I design and make customised orthotic devices for our clients who might need some extra support for their muscles and bones to achieve their mobility goals, such as ankle and foot orthoses and a range of different shoe modifications.
"Every week we play with the Novita logo on our shorts, and so to have an opportunity to wear the specially-designed Novita jumper this Saturday is pretty special."
Cameron is a participant in Novita's Transition to Work program, which supports young people living with disability with the skills and experience they need – including communication, money-handling, customer service and personal grooming – to find and maintain a job.
A Port Power fan, Cameron is Novita's ambassador for the match, and will have a number of responsibilities on the day.
"I've been looking forward to tossing the coin before the match and making a speech. I really want to work in event management, and the Transition to Work program is helping me to achieve that," he says.
Novita Chief Executive Officer Greg Ward says the partnership between Novita and the Central District Football Club has been a great success.
"Novita has a strong presence in Adelaide's northern suburbs, with one of our largest therapy hubs located at Elizabeth, not far from the Bulldogs' home at X Convenience Oval, as well as a therapy hub at Parafield Gardens," he says.
"Through those hubs we support many kids, young people and adults living with disability and their families with the latest therapy techniques, Assistive Technology and equipment, and accommodation and community programs.
"The Bulldogs charity match has become one of the highlights of our annual fundraising calendar, so it's great to have it back after missing out last year due to the pandemic. We're also delighted that retired Bulldogs captain Trent Goodrem continues is his role as an ambassador for Novita.
"The best of luck to all the Bulldogs and Redlegs players and officials for the match, and a big thank you to everyone at Centrals for their on-going commitment to Novita and South Australians living with disability."
In the photo: Novitatech Orthotics Technician and Bulldogs ruckman Jonathan Marsh and Novita's charity match ambassador Cameron Bibl